CHEO's Emergency Department is located at 401 Smyth Road, Ottawa Ontario.

CHEO's Emergency Department is a safe, clean space for you to come if you need urgent, in-person care. To learn about the extra precautions we have in place right now, visit our COVID-19 page.
Does your child or youth need emergency care?

As a parent or guardian, you know your child best. CHEO's Emergency Department is always here for you. Here are some examples to help you decide if your child is in need of emergency care.

Emergency:

Fever in infants less than 3 months old; children with immune system problems or complex chronic health problems; child is very sleepy or difficult to wake despite fever medicine
Breathing problems including respiratory distress (working hard to breathe, breathing faster than normal, pale skin, whiteish or blue lips); asthma or wheezing not responding to usual puffers
Vomiting or diarrhea in infants less than 3 months, child with repeated vomiting and unable to keep any liquids down for more than 8 hours, vomiting or diarrhea containing large amount of blood, signs of dehydration with dry mouth or no urine more than 8 hours
Injuries such as:

head injury with severe headache, loss of consciousness (passing out), confusion or repeated vomiting
cuts that may need stitches, bleeding that won't stop
burns that blister and are larger than a Loonie
injury to arm or leg causing large swelling or inability to use the limb, obviously broken or dislocated bones
eye injuries
injury causing chest or stomach pain.

Rash with fever that looks like tiny or expanding bruises
Sudden weakness or difficulty talking
Severe abdominal pain

Not an emergency:

Fever in healthy and vaccinated babies and children who appear generally well and playful when the fever is down with ibuprofen (Advil®, Motrin®) or acetaminophen (Tylenol®, Tempra®). Most fever in children is due to viral infection and lasts 3-5 days
Symptoms of the 'common cold' including nasal congestion and cough (even if it interrupts sleep), mild asthma or wheezing that responds to usual puffers
Vomiting or diarrhea less than 3-4 times a day if child is peeing well; ongoing diarrhea from the 'stomach flu' can last for up to two weeks.
Injuries such as:

minor head injuries (with no loss of consciousness, no confusion and no vomiting)
scrapes and bruises where the injured part can still be used
Sprained ankle if child is still able to walk, even if limping

Recurring rashes or skin problems; rashes with cough and cold symptoms if the child looks well, mild hives without difficulty breathing or throat/ tongue swelling.

For more information to help you decide if your child or youth needs to visit the Emergency Department, read through this handout.

As a parent or guardian, you know your child best. For more information to help you decide if the Emergency Department is right for you, or if your child or youth's symptoms can be treated by a primary-care provider, walk-in clinic or other non-emergency services in our community, visit our Where to go for same-day care page.

You can also see the current Emergency wait times online, to help you plan ahead:
Emergency Care
Our staff and doctors are committed to providing the very best care to the children and youth who come through the doors of our Emergency Department (ED). In fact, we have been providing emergency care since 1974 and we see more than 75,000 kids a year.
When to come to the ED pamphlet
What to expect
CHEO's Emergency Department is there for you when your child is very sick and in need of emergency treatment. It is open 7 days a week, 24 hours a day. Hopefully you or your child will never need to pay a visit to our emergency department. But if you do, hopefully this website will provide you with the necessary information to make your visit a little easier.
Triage
Upon your arrival in the Emergency Department, you will be welcomed by a triage nurse, whose responsibility is to prioritize care for patients. The Emergency Department does not function on a first come first serve basis. Policy is that the sickest patients are seen first. Triage is a dynamic process.
The process of triage is one of sorting and involves the assessment of patients through a brief interview to obtain a history, and perform a brief physical assessment. The pediatric assessment triage includes assessment of the child/youth's appearance, work of breathing, circulation and mental health status.
Triaging involves communication with patients/families regarding priority of care and treatment, notifying patients of potential delays, reassessing waiting patients, and instructing patients and families to notify the triage nurse if there is any change in the child/youth's condition. It is important to note that waiting times will vary and the staff is not able to provide you with a time frame of how long you will wait as there are many variables that may occur without advanced warning. Please appreciate that they continuously evaluate the status of patients and availability of staff and always try to provide the best and earlier care possible.
Reference: Canadian Pediatric Triangle and Acuity Scale, Implementation Guidelines for Emergency Departments, Canadian Journal of Emergency Medicine, October 2001. Vol. 3 No. 4
Registration
After triage, you usually go to the registration area. The clerk will ask you questions, such as your address, your telephone number and the name of your family physician. It is important to give complete information. You will be asked for your Ontario or Quebec health insurance card, or other health insurance information if you are visiting from another jurisdiction.
Waiting room
You will be asked to wait in the waiting room if an exam room is not available. The triage nurse may recommend that you not to give your child anything to eat or drink while waiting, if it is believed some specific tests will be involved. Please follow these instructions.
The length of time your child's wait depends on several factors, including the significance of the illness or injury, availability of medical and nursing staff, availability of treatment room, and acuity and/or volume of patients in the department.
There are several areas where you may be directed to wait, including the main waiting room, an acute care treatment room, an isolation room, and the ambulatory zone (AZ).
Usually, the ED is busiest during the evening hours. Please be aware that even though the department might appear quiet, there could be very sick children being cared for in acute care rooms.
Ambulatory zone (AZ zone)
This is a special area for those patients who are less sick or with minor injuries. By separating the less sick from the sicker, CHEO is able to see all patients more quickly than ever before. The AZ is staffed by emergency physicians, nurse practitioners and registered nurses.
Exam room
As soon as possible, you and your child will be brought to an exam room where a team of doctors and nurses will care for your child. If your child needs blood tests, X-rays or other tests, it may take an hour or more to get the results. Please be patient. You may be asked to return to the waiting room during this time.
A parent or guardian must stay with his or her child at all times.
Going home
If needed, you'll be given printed instructions once your child is ready to leave. These instructions have information on how to care for your child's illness or injury and will tell you about follow-up care. We send a copy of the record from the visit to your child's primary care provider to explain to the provider what was done for your child and what was recommended.
We ask that you do not call the Emergency Department for your child's test results.
CHEO has specially trained nurses who will follow up with you if it is required for such items as:
abnormal laboratory results
some X-ray reports
other follow ups with specialty clinics both within and outside of CHEO
What you should bring
Bring your health card (OHIP or RAMQ). There are many specialty services at CHEO and often children are prescribed equipment or medications, which may not be immediately accessible. If your child requires hospitalization or is required to stay at CHEO, it would greatly assist his/her care if you bring any specialized equipment or medication with you.
To help us care for your child and prevent disruption to your child's routine, please bring any of the following that your child may need:
medical equipment used by your child
current, labeled medications
specialized formula your child is taking
any tubes or devices needed to care for your child
In addition, be sure to bring your own books, toys and snacks to keep your child busy while you wait. To prevent the spread of germs between children, we have removed all the books and toys from our waiting rooms.
Please ask any of the health care staff before giving your child anything to eat or drink, in case a special test (requiring an empty stomach) may be needed.
Who you will meet
Here are some of the people you will meet when visiting the Emergency Department at CHEO:
Registered nurse
A triage nurse assesses your child on arrival and prioritizes the care. The ED nurses provide nursing care for a variety of patients from those with minor medical problems to emergency resuscitation cases.
Emergency room physician
Provides medical assessment and directs treatment for all children, and youth who present to the department. They also receive referrals and provide advice to physicians in other hospitals, clinics and doctor's offices.
Nursing students
As a teaching hospital, CHEO provides educational opportunities to nursing students from university and college programs working with ED nurses to develop and enhance their pediatric skills and knowledge. This enables them to fulfil the pediatric clinical component of their educational programs.
Health care aids
Specially trained personnel who assist the medical/nursing team in many aspects of their day's activities, such as wheelchair rides, a stretcher ride, or helping to hold and calm your child still while a procedure is being performed.
Emergency fellows
Are physicians who are specializing in pediatric emergency medicine.
Emergency residents
Are focusing on caring for patients in the Emergency Department, as part of their medical training program.
Medical students
Are beginning their study in medicine and have been provided dedicated clinical time in the ED.
Nurse practitioner
The nurse practitioner is a registered nurse with advanced knowledge, training and health care management skills. In collaboration with the physician, the nurse practitioner in the ED provides health assessment and treatment to children and youth with minor illness/injury. The nurse also follows up the results of tests and X-rays once the patients have been discharged.
Child life specialists
Provide opportunities for procedural support and preparation for medical interventions through diversion and play. They also provide emotional support to children and their parents while encountering difficult experiences such as trauma and/or hospitalization.
Social worker
For emotional support and care, an emergency Social worker may be asked to meet with a patient/family in the ED. In a time of crisis, the Social worker is able to assist in the provision of support and helpful resources within the hospital as well as the community.
Crisis intervention social worker
Specialized social workers will provide assessments of children and youth who present with mental health concerns. In addition, recommendations for appropriate follow-up will be addressed.
Other personnel
Other personnel you may meet include a Spiritual advisor and Cultural interpreter who may provide language or sign interpretation, and other students from various programs such as military personnel and paramedicine.
Parent, caregiver and visitor presence policies
Please review the following information before arriving at CHEO.
Parents and caregivers are important members of the care team. They actively work with us to provide vital health information only they know and give emotional support in the way only a parent or caregiver can.
For infection prevention and safety reasons, we have limits on how many parents, caregivers and visitors can be onsite at one time. We also limit the number at the bedside.
We appreciate your patience and understanding in keeping everyone safe, particularly during the peak viral season.
Allowed number of parents, caregivers and visitors
Last updated: October 5, 2023
Clinic and Surgical Day Unit appointments

ONE parent or caregiver is allowed to accompany children and youth while at CHEO.

Emergency Department visits

ONE parent or caregiver is allowed to accompany children and youth while at CHEO's Emergency Department.

Staying at the hospital (admitted to CHEO's inpatient units)

For children and youth admitted to CHEO's inpatient units

During the day, a maximum of TWO parents or caregivers (from the patient's designated list) are permitted at the bedside at a time.
Overnight, only ONE parent or caregiver (from the patient's designated list) is permitted to remain onsite.
Each patient can have TWO parents or caregivers on their designated list.

Note: caregivers must be 12 years old or older.

Visitors

At this time, no visitors (including siblings under 12) are allowed. Parents and caregivers are not considered visitors because they are a vital part of the care team.

Exceptions to these rules

We recognize that some families (e.g., people with disabilities) require additional support to help the patients, parents or caregivers. If you are coming to Emergency, please discuss your need for an exception upon arrival at CHEO Emergency. If you are staying as an inpatient, please discuss this with your care team.

Who can't enter

Parents and caregivers who do not pass the entrance screening.

It is important to us that your child or youth receives the care they need. If you require an exception to any of our caregiver/visitor policies to ensure that your child/youth can access care, please contact a member of your care team or reach out to CHEO's Patient Experience team (experience@cheo.on.ca or 613-737-7600 ext. 3078).

Self-screening

To make sure we are always putting safety first and minimizing any chance of transmission of infections, we ask anyone who comes to CHEO, to self-screen before/upon entering.

Fill out the self-screening form online ahead of time and follow our signs when you arrive. Greeters will be available at the entrance to help if you have any questions.

Where to enter

All children, youth, parents/caregivers and visitors must enter through the Main Entrance unless you are seeking care from our Emergency Department. Other entrances are closed.
Frequently asked questions about coming to CHEO
What is the difference between a parent/caregiver and a visitor
Parent/caregiver: Someone who is over 12 years old and helps a child or youth with activities of daily living – e.g., parent, grandparent, older sibling, legal guardian, etc. A parent/caregiver can be designated by a patient. A parent/caregiver is never considered a visitor because they are a vital part of the care team.
Visitor: Someone who is part of a child's or youth's family or support network (e.g., sibling, extended family member, friend, etc.) but not a designated parent or caregiver.
Will I be required to wear a face mask while at CHEO?
Yes. Masking is required in all clinical and waiting areas, and in all shared spaces where 1 metre of physical distance cannot be maintained. This is an important part of our peak season protective measures to keep kids, families and our community safe.
Masks are given to all patients, parents, caregivers and visitors at CHEO. Anyone is welcome to wear a personal KN95 or other mask when coming to CHEO, but we will ask you to put the procedural mask we give you on top as we can't quality check everyone's personal mask.
Preventing the spread of infection
If your child has been exposed to one of the following, please report directly to the nurse's station as soon as possible upon your arrival:
COVID-19
chickenpox
measles
mumps
MRSA
Please do your part to help prevent the spread of infections by staying in your room, once assigned. Use the alcohol-based hand sanitizer often and cough or sneeze into your sleeve rather than your hand. Always sanitize your hands after coughing or sneezing, wiping your child's nose, changing a diaper or cleaning up after your child if they throw up. If children have any respiratory symptoms (like a cough, cold, or runny nose) they will need to wear a mask during their visit.
Frequently asked questions
The following answers can help you with questions you may have before you visit emergency.
What do I do when my child is sick?
The following are suggestions which may help you decide how to manage your child/youth's illness:
First decision: Do I consider this health concern severe, moderate or mild?
Severe
If this is an emergency (i.e. severe difficulty breathing) call 911.
Moderate
If child is looking unwell and I am concerned. My options are: to phone my family doctor or pediatrician, phone Telehealth or CLSC (Quebec). Is this requiring a visit to the Emergency Department or a community clinic? Do I need to call an ambulance or will I drive to the hospital?
Mild
Is this something I can manage at home on my own? (i.e. simple cold with no change in condition) Phone my family doctor or pediatrician, phone Telehealth (Ontario) or CLSC (Quebec) for advice.
I want to bring my child but I don't have their health card in my possession — what do I do?
Go to the Emergency Department. We will look after your child and the health card issue will be resolved once your child has been cared for.
We live in Quebec, can my child still be seen at CHEO emergency?
Yes. In the event of an emergency, any infant/child/youth can be seen, regardless of where they are from.
When should I worry about a fever?
You'll need to come to the emergency department if your child is:
under 3 months and has a fever
is very irritable or sleepy and doesn't improve with fever medication
has trouble breathing
has signs of dehydration, like dry mouth or is not peeing for at least 8 hours.
has a headache or sore neck that does not go away with fever or pain medication.
You'll need to see your family doctor when your child:
has a fever for more than four days
is not getting better after one week of symptoms
develops an ear ache
How long is the wait in the Emergency Department?
Nursing staff can provide rough estimates about waiting times, but please keep in mind that in the ED, the "first come, first served" rule does not necessarily apply. Urgent Cases, involving critically ill or injured children / youth (e.g. motor vehicle traumas, severe asthmatics, to name a few) take priority. Please be patient and you will be seen as soon as possible. Please notify an ED nurse if you feel your child/youth's condition has deteriorated while you have been waiting.
Can I give Tylenol and Advil together?
Try ibuprofen first, and then acetaminophen if the ibuprofen does not help. Ibuprofen and acetaminophen can make your child more comfortable by bringing down the fever a little. Most children will not need to have both medications.
When your child has a fever:
try ibuprofen first, as it works better for most children
if your child does not improve one hour after ibuprofen, you can try acetaminophen
if your child has a fever due to chickenpox, use acetaminophen instead of ibuprofen
do not use aspirin
Can I give my child their puffer more than every 4 hours:
Visit the Childhood Asthma website.
My child is being treated for an ear infection and I think my second child has one too — can I give my second child the antibiotic that has been subscribed to my first child with the infection?
No, never give or share a prescription medication that is not specifically prescribed to your infant/child/youth. See your physician.
How do you know when to come to the Emergency Department?
See CHEO's "Deciding to come to the Emergency Department" pamphlet, or visit our wait times page.
For information on where else to access same-day care for non-urgent needs, visit our Where to go for same-day care page.
My child who has diabetes has a fever and is vomiting. Who can I call?
For CHEO diabetes patients there is a 24 hour Hotline number: 613-737-7600, press 0 immediately to reach the operator.
The on-call diabetes physician is available for urgent medical advice (for example illness, insulin errors, severe hypoglycemia). Note: this is not for routine insulin adjustments.
If your child is not a CHEO diabetes patient, you can call your child's physician or Telehealth Ontario (1-866-797-0000).
Telehealth Ontario is a free, confidential telephone service you can call to get health advice or general health information from a registered nurse 24 hours a day, 7 days a week. Visit the Telehealth Ontario website.
I have a newborn baby. Where can I get information about the "normal" things I should expect?
Following birth there are normal changes that your baby goes through, which may cause you concern. There are community resources which can help you in understanding your newborn's growth and development and which you can go to for information. You should address any immediate health concerns with your family doctor or pediatrician, who would be happy to answer any of your questions as well.
In Ontario, each city has a Health Department with a Public Health Nurse visiting program. In Ottawa it's known as the Healthy Baby Healthy Children's program and is located at 100 Constellation Cr. You may contact Ottawa Health Information at 613-580-6744; Toll free: 1-866-426-8885 or TTY: 613-580-9656 (text telephone for the hearing impaired) for more information. You may also contact Ottawa People Services at 613-580-6744 for more information. The La Leche League of Canada is a mother-to-mother network with over 40 years of history of practical breastfeeding and mothering wisdom. They can be reached at 613-238-5919. These programs provide resources, education and support for parents with respect to general baby care, safety and breastfeeding issues.
Where can I access emergency dental services for my child?
Emergency dental treatment may be rendered to a patient through CHEO's Dental clinic, during regular working hours of 8:45 a.m. to 4:30 p.m. After hours emergencies need to be assessed in the ED by an emergency physician who will determine whether a dentist needs to be called. There is also a 24-hour dental emergency number which you can call at 613-523-4185. In general, dental services are not covered by OHIP.
Where can I get health advice regarding pediatric illness?
Visit the Telehealth Ontario website or call them at 1-866-797-0000. This is a 24-hour service provided to residents of Ontario. A registered nurse can answer your questions and direct you to appropriate resources. The Health Department also known as the City of Ottawa People Services has a Parent-Child Info Line which can be reached at 613-580-6744 extension 28020 and is operated to service the public from Monday to Friday from 9:00 am to 4:00 pm. This is a telephone health counseling service where you can obtain information about any health-related issue regarding adults and children from a Registered Nurse. You can call and get advice on such topics as:
general health: adult/children
speech and language concerns with your preschooler
nutrition and healthy lifestyles
smoking cessation
injury prevention (such as car seat safety)
prenatal classes
For Quebec residents there is the CLSC which can be reached at 8-1-1. Listen to the complete message for after hours services.
Training and research
Our mission is to provide family-centered, professional emergency pediatric care which embraces teaching, research and health promotion.
Patient care is our main focus, however, we do provide an educational and training center for various health care professionals interested in expanding their pediatric knowledge and skills for example paramedics, nurses, nurse practitioners, social workers, child life specialists, medical students, nursing students, medical residents, and pediatric emergency medical fellows. Our department is also very active in research which enables us to provide up-to-date emergency care.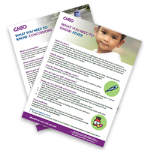 Need more information?

Visit our online resource section to learn about a variety of health topics for children and youth and access CHEO recommended websites, books, apps, videos and more!

Resources and support