Pediatric health care is an exciting, challenging and rewarding field. If you are driven by a desire to help create the best life for children and youth, consider applying for a position at CHEO. At CHEO you will discover a supportive environment, a great team and a rewarding career.
Exceptional workplace and recognition awards
CHEO continues to be selected by local, national and international competitions showcasing employers who lead their sector in offering exceptional workplaces for their employees.
Forbes Magazine has named CHEO among Canada's Best Employers in 2023
The Forbes Best Employers in Canada is prestigious, employee-led recognition based on survey data compiled by Statista. CHEO was the number one pediatric health-care organization to work for in Canada, number one hospital in Ontario and in the top three of all the country's health employers.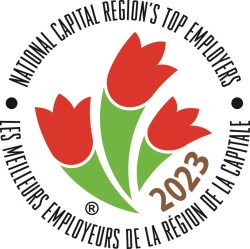 For the twelfth time, CHEO has been recognized as one of the National Capital Region's Top Employers.
We are among a select group of organizations at the forefront of their respective industries who offer exceptional places to work.
View the full list of awards and recognition received by Team CHEO
What we offer
CHEO is much more than a hospital. Our commitment to outstanding care and continued development impacts every part of a child and youth's health and well-being. We play a crucial role in building a healthy future for our community. Working at CHEO means a rewarding career.
A career at CHEO provides a:
competitive salary and comprehensive benefits package
unique culture that fosters dedication, communication, respect and teamwork
place where your opinions will be respected, contributions valued and your initiatives rewarded
family-friendly environment that supports you and your own family, as well as the children, youth and families we serve
chance to grow — personally and professionally — through our comprehensive orientation program and on-the-job learning
support for continued education and learning
potential for a relocation reimbursement benefit
truly unique work environment
Please note that all new hires will be required to obtain either a Criminal Record Check or Vulnerable Sector Check as a pre-condition of employment. We will inform you during the interview process which record check you require
How to contact Human Resources
If you are having problems completing your online application, please contact the Human Resources Department at 613-737-7600 ext. 1345.
CHEO thanks all applicants for their interest, but will only contact candidates who best match the requirements of our job opportunities. CHEO does not accept or retain resumes on file for future openings.