Kids Come First Health Team
The Ontario Ministry of Health supports our new Kids Come First Health Team!
Infants, children, and youth are not adults — their health-care needs are totally different. They are still developing, they live with different illnesses, experience mental health and addictions differently. They require a wider range of health-care providers, have parents or guardians who co-manage their care, and attend daycare or school. For these reasons and more, we need to better connect health services for kids, making it easier and faster to access.
Kids Come First includes over 60 organizations, nearly 1,100 physicians, and thousands of individuals including children, youth and families. As one of the member organizations, CHEO will deliver services in ways that matters to children, youth, and families and we will work with our partners to do the same.
At the top of the list of things to do, Kids Come First will implement its integrated home and community care plan which includes connecting care and providers in hospital, home, school and community settings. Kids Come First will also implement a regional, bilingual, Coordinated Access and Navigation Service - One Call/One Click - for children and youth with complex mental health and/or addiction needs and the families and physicians that care for them.
The new model for health care in Ontario will have everyone connected to an Ontario Health Team (OHT). Coming together as an organization focussed only on children and youth, our Kids Come First Health Team will enhance, not replace, other OHT's by offering them pediatric expertise and working collaboratively with them to provide seamless care for children and youth.
To see everything we have planned for children, youth, and their families, read the complete Kids Come First Health Team application.
Here are the organizations that have been working on this important project:
Almonte General Hospital
Arnprior Regional Health
Bayshore HealthCare Ltd.
CANImmunize
Carleton Place & District Memorial Hospital
Carlington Community Health Centre
Centre de santé communautaire de l'Estrie
Centre des services communautaire Vanier
Centre of Excellence for Child and Youth Mental Health CHEO
Centre Psychosocial
Centre Youville Centre
Centretown Community Health Centre
Champlain LHIN
CHEO-OCTC
Children's Mental Health of Leeds & Grenville
Citizen Advocacy Ottawa
CMNRP
CommuniCare Therapy
Community Primary Care/Consulting Pediatrician
Coordinated Access
Cornwall Community Hospital
Crossroads Children's Mental Health Centre
Dave Smith Youth Treatment Centre
Deep River & District Hospital
Division Head, Community Pediatrics CHEO
Eastern Ontario Regional Laboratory Association (EORLA )
Extendicare (signs on behalf of ParaMed Home Health Service)
Family Advisory Committee RNH
Family Physician - Dept. of Family Medicine, University of Ottawa
Family Services Ottawa
GEM HealthCare Services
Hawkesbury & District General Hospital
Hôpital Glengarry Memorial Hospital
Inuuqatigiit
Kemptville District Hospital
Lanark Renfrew Health & Community Services
Maison Fraternité
Open Doors for Lanark Children & Youth
Orléans-Cumberland Community Resource Centre
Ottawa Child and Youth initiative - Growing Up Great
Ottawa Children's Coordinated Access and Referral to Services
Ottawa Community Housing Corporation
Ottawa Public Health
Pediadent
Pembroke Regional Hospital
Pinecrest-Queensway Community Health Centre
PLEO - Parent's Lifeline
Rainbow Valley Community Health Centre
Renfrew Victoria Hospital
Rideauwood Addiction and Family Services
Roberts/Smart Centre
Roger Neilson House
Sandy Hill Community Health Centre
SE Health Care (Saint Elizabeth)
Seaway Valley Community Health Centre
Somerset West Community Health Centre
South East Community Health Centre
St. Francis Memorial Hospital
St. Mary's Home
The Children's Aid Society of Ottawa
The Ottawa Rotary Home
The Phoenix Centre for Children and Families
The Safehaven Project for Community Living
Valoris for Children and Adults of Prescott-Russell
Wabano Centre for Aboriginal Health
Winchester District Memorial Hospital
Your Health Votre Santé Family Practice
Youth Partner
Youth Partner
Youth Services Bureau of Ottawa
Inspired by children, youth and families
Katherine Stevens' story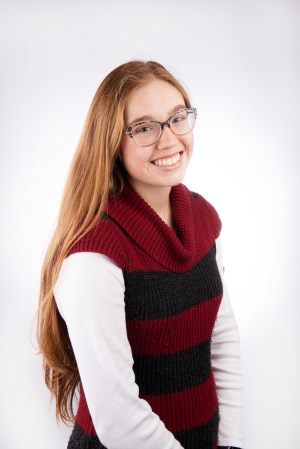 Katherine Stevens, a Grade 11 student at Colonel By High School in Ottawa, has become engaged in improving health care for young people. "I would like to see better communications between everyone involved in my care," she says.
After surgeries in 2016 and 2017 to treat hip dysplasia, along with frequent visits to the CHEO's gastrointestinal clinic for other health issues, she was tired of retelling her story every time she needed care. She saw that better integration of care would improve her experience.
Katherine joined the CHEO Youth Forum — volunteers who partner with CHEO to ensure youth experience is integrated into everything that CHEO does.
The Kids Come First Health Team's has a digital health plan:

All of our partners that are planning a digital health investment in the next 18 months, will be supported in evaluating existing regional investments in order to identify which existing instances would be the best fit for their needs.
Kids Come First will help young people like Katherine by ensuring that health records are seamlessly shared among all of her health-care providers.
Stephanie Paravan's story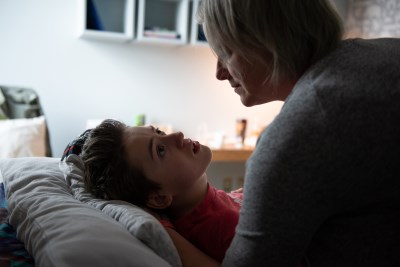 Stephanie Paravan wants more time to just be a mom to Matthew, her 12-year-old son with complex and serious health issues.
"I spend too much time navigating Matthew through the health-care system," says Stephanie. "There are lots of programs but too many points of access. Some days I feel like I'm an administrator, not a mom."
Matthew is a Grade 8 student in Ottawa. Cognitively, he is a typical 12-year-old boy, but he has an autoimmune condition and an undiagnosed neurological condition which result in frequent seizures, loss of mobility and speech, and constant pain. He depends on a wheelchair and communicates using cards, apps and other devices. He is not able to sit up or eat on his own. He receives palliative care.
Matthew frequently needs inpatient care at CHEO and Roger Neilson House. When it's time to go home, Stephanie gets printed copies of his care plan so she has them in hand to share with Matthew's home-care providers. Often, she and Matthew are home with the rest of the family before their home-care providers even knows that he has been discharged.
The Kids Come First Health Team's first-year goals include:

Establish a fully-integrated pediatric home-care program, focused on the needs of patients and families, and connecting care and providers across acute, post-acute, home and community settings.
Kids Come First will help moms and sons like Stephanie and Matthew by integrating home care with hospice and hospital care so that families can focus on each other, not arranging for caregivers.
Christie Kopczyk's story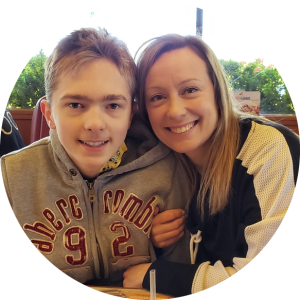 "Some days I feel like I am his case coordinator, instead of his mom," says Christie Kopczyk of her 14-year-old son Troy.
"As a parent, you have to learn about all of the care you can get for your son to give him his best opportunity to thrive."
Before birth, Troy was diagnosed with hydrocephalus. By the time he started Grade 1 Troy had seven brain surgeries and hours of speech language therapy, physiotherapy, and occupational therapy. More recently, he has had some mental health challenges with ADHD impacting his academics and social skills.
"Once Troy started school, there were gaps in his care," Christie says. "The school system tries but you wind up with a visit from therapists once every six weeks for 25 minutes that gives some suggestions on exercises and how to help him in the classroom. "
With the support of his mom, along with dad Greg and brothers Tristan, 11, and Jake, 6, Troy is succeeding in Grade 9.
The Kids Come First Health Team's first-year goals include:

Establish a fully-integrated pediatric home-care program, focused on the needs of patients and families, and connecting care and providers across acute, post-acute, home and community settings.
Kids Come First will help families like the Kopczyks by integrating health care in the community, including school systems.
Michelle March's story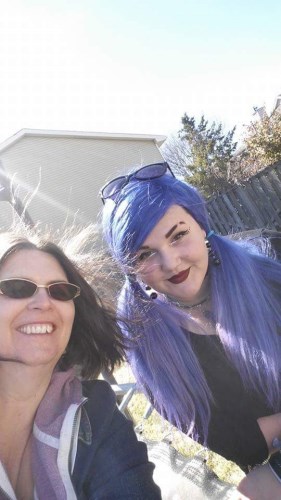 Michelle March, 19, and her mom Amélie moved to Ottawa hoping for better access to health care. Michelle is an articulate, self-aware young woman who understands that her health needs are complex. She needs support dealing with depression, anxiety, PTSD, insomnia and dissociative personality disorder. Mom, Amélie, is loving and supporting.
Michelle's first family doctor in Ottawa was not well versed in the supports available for a young woman dealing with issues like Michelle.
"It was a frustrating experience," says Michelle. "I needed help but my first doctor did not seem to believe that a young person like me could have such severe mental health issues. She did not know what to do. She did not know what was available or where to send me."
The Kids Come First Health Team's first-year goals include:

Implement a regional "One phone number/One click" resource for those looking for service information including children, youth and families/caregivers, as well as service providers.
Kids Come First will help young women like Michelle by equipping primary-care providers with better access — they will know who to call, for what, and when, to support their children and youth.