For best results make sure background graphics are enabled.
CHEO has 2 masking zones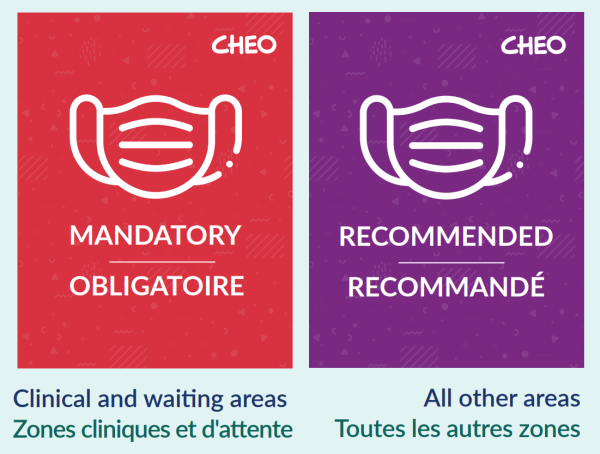 Masks work. They help prevent the spread of illness. And that matters at CHEO because we care for children who are extremely vulnerable to viral illnesses like flu, RSV and COVID-19.
Our guidelines for masks recognize this, but also the evolving nature of the viral illnesses circulating in the community.
Please use face masks in addition to good hand hygiene.
When do I wear my mask?
Masks are mandatory in all clinical and waiting areas. The signs above will let you know when you are entering a mandatory masking zone. The only exception is when you are in your child's or youth's patient environment and no one else is there.
What is considered a patient environment?
exam or clinic rooms (excluding the Emergency Department)
inpatient rooms
bed space in shared rooms when the curtain are drawn
What if I am in a double room?
If your child is in a shared room with another child, you are required to wear your mask when the curtain surrounding your child's hospital bed is not drawn or when you need to cross into the designated space of the area shared by your child's roommate. For example, when you need to use the washroom that is shared with your child's roommate and when you are leaving your child's room.
What do I do when I need to eat or drink?
Here are the proper steps:
Before eating and drinking, please get a new mask to put on after.
Take off and discard your mask.
Wash your hands.
Eat or drink.
Wash your hands.
Put on your new mask.
Have you registered for MyChart?
MyChart is a FREE secure, online patient portal that connects patients to parts of their CHEO electronic health record, anywhere, at any time.
To apply for MyChart access, visit cheo.on.ca/mychart and fill out the MyChart access request form. Once your application has been approved, we'll send you an email with an activation code and instructions on how to log in and get started.