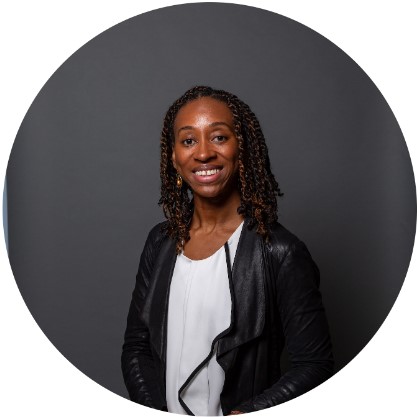 February is Black History Month, a time to honour, remember and learn about the contributions of Black people in Canadian society. This year, CHEO is celebrating Black History Month by focusing on Black Canadians in health care. Each week we feature stories of Black CHEO staff, giving a glimpse of their profession and what Black History means to them.
We hope to inspire everyone at CHEO to learn about the many contributions of Black Canadians to Canadian Society.
Meet:
Dr. Simpson is a pediatric hematologist/oncologist at CHEO and has been an assistant professor at the Department of Pediatrics at the University of Ottawa since August 2012. As physician lead for the CHEO Sickle Cell Disease Program, she is a passionate mentor and educator and co-authored the 2014 Consensus Statement on the Care of Patients with Sickle Cell Disease in Canada for the Canadian Haemoglobinopathy Association.
Dr. Simpson's primary research interests relate to health systems improvement for children and adults with hemoglobinopathies and other chronic hematological conditions. She is Treasurer for the Canadian Haemoglobinopathy Association and a board member for the Black Physicians' Association of Ontario. In 2017, she received an award for medical excellence from the Sickle Cell Awareness Group of Ontario and since 2018, she has been a research mentor for the American of Hematology Minority Medical Student Mentorship Program.
Dr. Kwadwo Kyeremanteng is a critical care and palliative care physician at The Ottawa Hospital and a CHEO Elected Board Member. As a researcher, he is interested in using ICU resources more efficiently and improving access to palliative care in the ICU. To help do this, he founded the Resource Optimization Network, a multidisciplinary research group working to reduce health spending in this area without compromising care.
In September 2019, Dr. Kyeremanteng launched his ever-growing podcast Solving Healthcare with Kwadwo Kyeremanteng, featuring interviews and discussions on the topic of improving health-care delivery in Canada. Underpinned by the values of cost-effectiveness, dignity, and justice, his podcasts challenge the status quo, leaving no stone unturned as he and his guests explore gaps, assumptions, and different perspectives in the pursuit of finding solutions to problems in Canada's health-care system.
I am a clinician-scientist who divides his time between clinical care in the NICU at CHEO and The Ottawa Hospital (TOH) General Campus. I also conduct lab research, finding new treatments for neonatal lung diseases.
On campus, babies are delivered at TOH, meaning their NICU provides care for preterm babies who struggle mostly with chronic lung disease of prematurity. These babies often require a ventilator for months. Our lab research has discovered a cell therapy using the umbilical cord with the potential tosubstantially improve the outcome of these babies. A phase 1 trial, the first of its kind in the world, is currently under way.
Babies requiring complex care and input from multiple pediatric sub-specialtiesare transferred to our CHEO NICU. In addition, our neonatal program includes the critically important regional Transport program that helps babies within Ottawa and across a large part of Ontario. Most of these babies are admitted at the CHEO NICU for further care. Our lab research is looking into innovative cell and gene therapies to eventually cure some of the diseases seen in these babies, including pulmonary hypertension or genetic lung diseases.
What is the best part of your job?
The most exciting part of the job is to find - every day - the best way to providing care for these babies. At morning rounds, together with a team of nurses, RTs, dieticians, pharmacists, residents and fellows, we use everyone's expertise and ideas to come up with the best possible management. Compared to other disciplines, there is relatively little evidence in neonatology. Thus, it is a constant process to identify the best possible therapeutic approach for each patient while taking into account the short- and long-term perspective. Early interventions will have life-long consequences. This process is also an excellent learning opportunity for the next generation of neonatologist and pediatricians. The most fulfilling moment is the day when parents come to take their babies home and you hope you contributed to setting them up for becoming the best they can.
Another exciting aspect about my work is the ability to go beyond current standards of care and discover new treatments in the research lab. Our lab focuses on neonatal lung diseases and we try to understand how a normal lung develops, what goes wrong during disease and how can we fix it. We were lucky to make a series of cool discoveries that are now being translated into the clinic. This is a dream come true and we hope to drive not just one, but three of our innovations into patients over the next five years. It is a very ambitious plan, but possible, since we have already started one clinical trial. If we stay the course, more will follow. It's a long process and perseverance is the most important ingredient of success. Together with amazing people from all over the world that display a can-do attitude, and share the constant outlook of moving the needle, we are bringing true progress into the NICU to substantially improve the outcome of these babies.
What does Black History Month mean to you?
For me, Black History Month is a fantastic opportunity to remember, to educate and to celebrate progress. Much more needs to be done though, and it is a very long process as indicated in this latest CMAJ editorial. For a time, I hoped that Black History Month would become obsolete one day. It would mark a milestone for humanity. Unfortunately, most recent world events are a sad reminder that history repeats itself. Thus, Black History month is here to stay and plays a critical role in constantly reminding humankind about the importance of respect, integration and the richness of diversity.
Hi, my name is Marie-Ange Janvier. I've worked as a Clinical Engineer at CHEO for the past 11 years. As a clinical engineer, my job is to help CHEO's heatlh professionals and leaders research, evaluate, procure, implement, plan and offer training for our medical equipment. Basically, Clinical Engineers make sure the equipment meets clinical & technical needs and is safe for patient use before it enters CHEO! Equipment projects we manage can be as simple as an electronic thermometer and as complicated as an MRI or the CathLab. Clinicl Engineers works closely with Biomedical Engineering Technologists who help maintain and repair our fleet of medical devices throughout the hospital and in the Eastern part of the region through our Regional Clinical Engineering Program. Our team is growing and contains dedicated individuals who have a mission to serve CHEO through providing and maintaining safe medical equipment management that impacts patient care.
What's the best part of your job?
What I love most about my job is that I get exposed to a variety of projects. "There is never a dull moment!" as my boss, Mr. Kim Greenwood would always say. From the variety of projects, there is different complexity, different group of professionals I'm exposed to and always an opportunity to learn. As technology evolves and health practices keep changing, these innovations keep me humble and on my toes . My favorite projects are the ones that require work with a multidisciplinary team, like new construction projects. I love the variety of work that medical equipment offers and the indirect but important impact it has on patient care.
What does Black History Month mean to you?
For me, Black History Month means remembering how far the Black Community has come forward in gaining rights and recogninzing how far society still needs to go to uphold those rights. I'm a firm believer that progress is ever evolving and that by first recoginizing the foundations we stand on from history, we will gain purpose and drive to span our wings and fly higher impacting future generations. Also Black History in the community is a celebration of the brilliance, normalcy, resiliance, resistance and perseverance of all Black Afro descendants in Canada. Being a child of Haitian immigrants myself, I do acknowledge the courage and tenacity of my parents choosing Canada as a country for their children to be able to thrive. Finally, I think having different perspectives and voices contributing to the meaning of Black History Month is essential as we have diverse thoughts within the Black community.