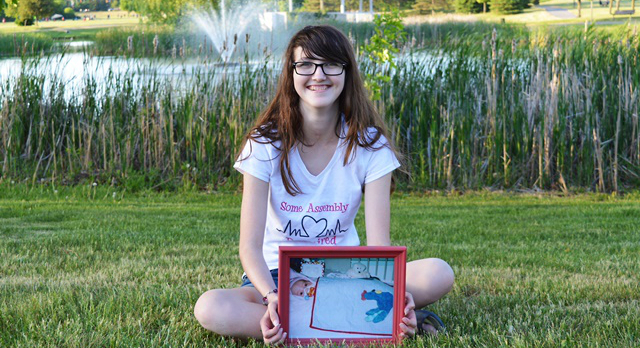 Whenever Abby MacMillan falls asleep, she stops breathing.
Imagine.
It's why she was first admitted to CHEO's ICU when she was five hours old.
It's why for the next 18 years she and her family have returned to CHEO many, many times.
Abby's mom, Teresa, never thought a door would improve things for her eldest daughter. In fact, doors and separation create anxiety. For Abby's first months they slept side by side and to this day they still sleep with their doors open. "We need to be able to see, hear and have quick access to Abby at all times," says Teresa.
Abby has Central Congenital Hypoventilation Syndrome (CCHS), a disorder of the autonomic nervous system. Teresa and Rob MacMillan, are intimately familiar with Abby's extraordinary equipment needs — tracheostomy, ventilators, suction machines and much more. Abby's service needs are also demanding — from all her medical appointments and procedures to speech and occupational therapy.
Her condition is habitually central to the family's everyday life.
But now with 1door4care, there's a door that could mean Abby's health needs are all housed under one roof — something that would really simplify the MacMillan's lives.
"With all the appointments and procedures Abby has needed, she has already missed almost two years of school," Teresa says. "She still requires four appointments a month, spread all over the city. It is impossible for her to keep up with her studies."
Despite the many challenges, Teresa and Rob strive to give Abby the best childhood possible, all the while doing the same for Abby's younger sister, Olivia. As soon as they were able, they switched her from a tracheostomy to a nighttime mask. They enrolled Abby in swimming lessons, she has gone zip lining and is an avid skier. They even went on a camping trip — pushing a wheelbarrow of medical supplies through the woods. You know, the stuff that parents do for their kids.
Still, treatments and surgeries continue to monopolize Abby's time and interfere with school. Coordinating appointments in multiple locations with equipment in tow is extremely challenging.
For the MacMillans, a single building for kids and teens like Abby — with complex care needs — will be a dream come true.
"You can't underestimate just how valuable it is to simplify things in the lives of families like ours," says Teresa. "Imagine the support Abby would have if all her specialists and services were under one roof, working as one team."
Teresa wishes such a hub for care existed when Abby was born — a youth-friendly environment full of resources to help families connect and navigate their complicated paths together.
"It would be a place where everyone — professional and familial — has lived knowledge of what it means to provide 24/7 care for kids with complex needs. That is a real bond, a real connection we don't find anywhere else," says Teresa.
Teresa is now using her lived experience to provide peer-to-peer support for other families. She advocates information sharing among parents and caregivers, and coming together socially to overcome the isolation that is a by-product of parental devotion to children with complex needs.
Teresa believes every child deserves to reach their full potential and that a single building that houses all services for complex conditions will support parents in helping children and youth like Abby achieve that goal.
"It's not just the promise of a single building that's exciting — it's the promise of building a community," says Teresa.
Related
No login? Please enter your details below to continue.