Who comes to mind when you think of love? You might think of your parents, your partner, your children, your grandparents, or your pets. For Dawn Pickering, she recently discovered a different kind of love – one for the medical team that saves your child's life.
(Photo: Ollie, CHEO's therapeutic clowns and his dad, Mario).

In the summer of 2019, Ollie's family discovered a bump on his neck. That November, after four months of not being able to find out the cause behind the bump, the ENT Clinic at CHEO diagnosed the seven year old with anaplastic large cell lymphoma ALK+ (anaplastic lymphoma kinase positive). He would spend the next six months at CHEO for cancer and relapse treatments. During this time, the cancer would render Ollie blind, forcing him to re-learn everything he's ever known. The journey that Ollie and his family were about to go on would be the most testing, agonizing time of their lives.
In March 2020, he and his family went to The Hospital for SickKids in Toronto for stem cell treatment. Because this was the start of the pandemic, planes were grounded and no travel was allowed so they couldn't use one of the three perfect matches on the international stem cell registry. So who stepped in to become Ollie's half match stem cell donor? None other than his big sister, Abby.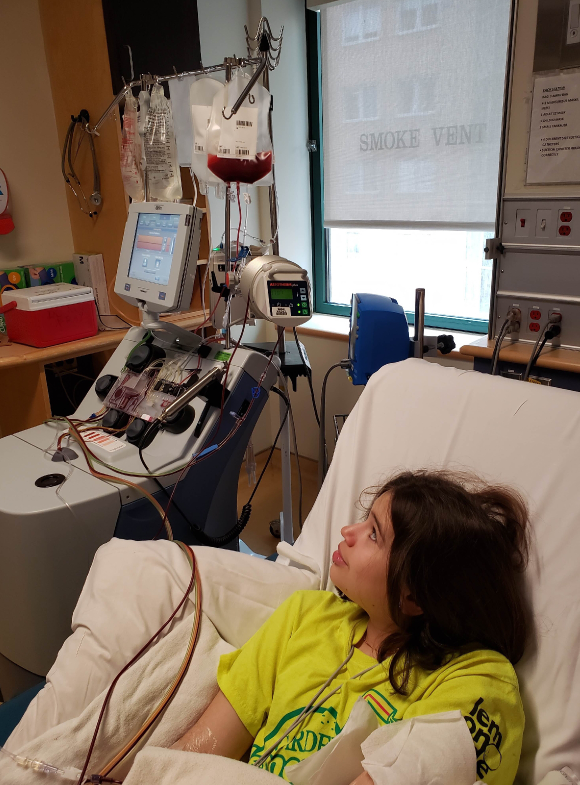 On March 31, her cells were harvested, but a week before he was supposed to start total body radiation in preparation for transplant, Ollie relapsed a second time in his brain.
The family would spend the next five weeks in Toronto trying a cancer inhibitor drug that ultimately wouldn't work. They were told that there were few options left.
(Photo: Abby gets her stem cells harvested at SickKids).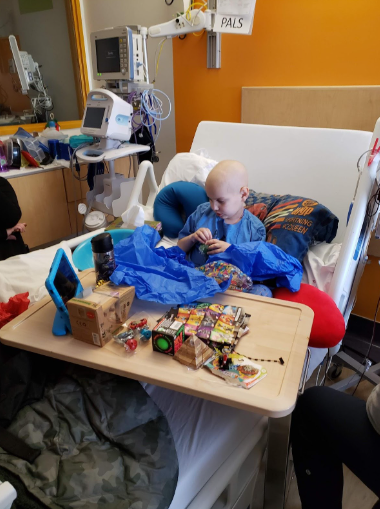 After a consultation with CHEO's oncology team, they decided to come back to Ottawa to try brain and spine radiation combined with a brand new tyrosine kinase inhibitor (TKI), a type of targeted therapy. This drug was identified by the genetic testing of his cancer done at CHEO as part of the PROFYLE study. To everyone's relief, this works! By the end of June 2020, he was back in remission and off to SickKids for their second try at a transplant.
No one can imagine the stress of going through cancer treatment and a stem cell transplant during the first few months of a pandemic. But much to everyone's delight, the transplant went smoothly.
(Photo: Ollie after his first relapse).
"Chimerism (which measures the number of donor cells present in the recipient) was 100% from the first test and has remained so the entire three years since. Our cheeky daughter promised us her cells would be overachievers, and they certainly were," said Dawn.
After three years of countless blood tests, scans, consults, frequent hospital visits, multiple relapses and undergoing all of his childhood vaccines again after transplants wiped his immunities out…Ollie is a survivor. He only has to come once a year to see his oncology team at CHEO, a thought that makes Dawn emotional. "You feel incredible gratitude and a special kind of love for the individuals who saved your son's life."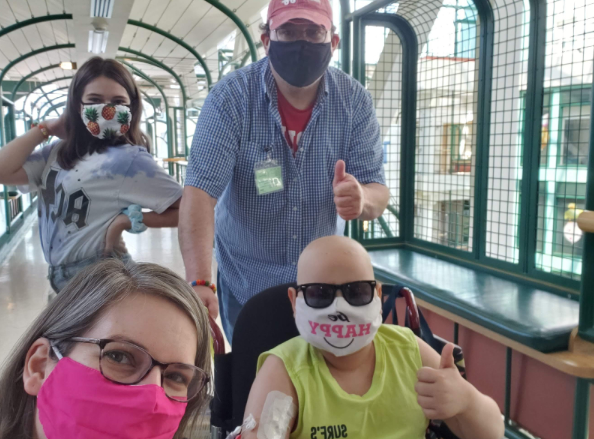 (Photo: Abby, Mario, and Dawn surround Ollie in his wheelchair at Sick Kids on discharge day).
So where is Ollie now?
You won't find someone busier or more accomplished than Ollie. He skateboards, has an orange belt in karate through Kids Kicking Cancer Canada, plays beep kickball, floor hockey, track and field, and plays with the Ottawa 67s Blind Hockey team through the Canadian Blind Hockey Association.

He's also an advocate for childhood cancer and vision loss awareness. He speaks at many public events and does countless media interviews – he was featured in
Canadian Cancer Society's palliative care campaign
in January and spoke to Parliamentarians on behalf of children with cancer at their Day on the Hill in April.
He and his Canadian National Institute for the Blind (CNIB) Buddy Dog Hope were also featured in AMI-TV's Blind Trust: A Guide Dog's Journey back in August. He has so much to be proud of.
What's next for Ollie?
He will speak at the upcoming International Society of Pediatric Oncology (SIOP) Congress in Ottawa this month on patient-centred care. We can't wait to see you there, Ollie! He's also been asked to speak at the CNIB's Day on Parliament next month.
To read more about Ollie's story, read Dawn's blog "Ollie's Bump in the Road." She's penned a most heartfelt letter to all the staff and medical staff at CHEO, the Ottawa Hospital, SickKids and Princess Margaret Hospital. There were countless doctors, nurses, oncologists, aides, therapeutic clowns, pharmacists, lab technicians, pathologists, researchers, image technicians, radiologists and many others who all helped to save Ollie's life.
(Photo: Ollie and Dawn pose in front of the Canadian Cancer Society backdrop on their Day on the Hill).

Here is part of Dawn's message for all of them:
Gratefully, we remember all of you and your contributions every time we look at Ollie, as he is living proof that an army working together with science and hope makes miracles. We will never be able to adequately thank you all for saving his life, so we will keep doing whatever we can to help you save others, too, through our advocacy and fundraising efforts. Know that we will never forget the thousands of kindnesses that you sent our way.

With love and gratitude always,

The Acosta-Pickering Family: Dawn, Mario, Abby and Ollie
No login? Please enter your details below to continue.