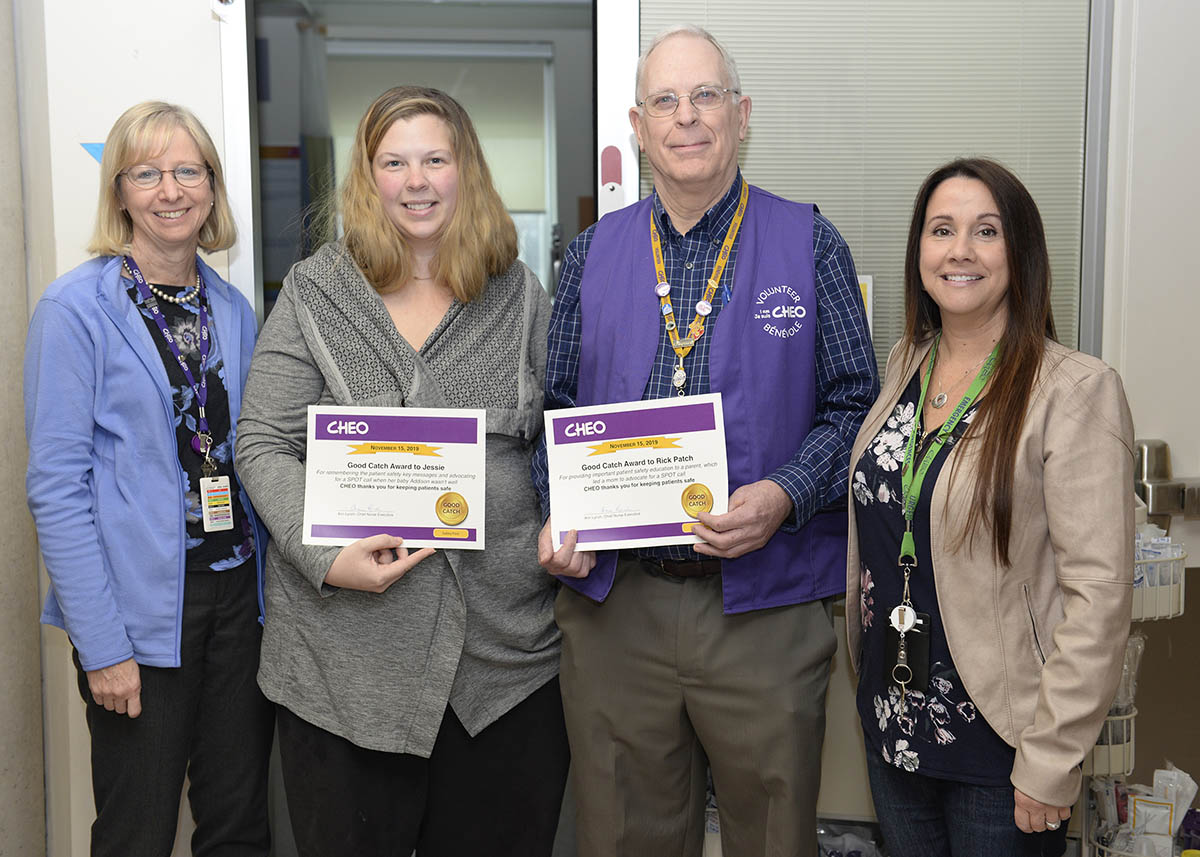 Photo (L – R): Ann Lynch, Chief Nurse Executive and Vice-President Acute Care, Jessie (Addison's mom), Rick Patch, Patient Safety Ambassador, and Stephanie Poirier, Manager of Patient Safety and Clinical Risk.
Today, December 5, is International Volunteer Day — a global celebration of volunteers, highlighting the impact of volunteer efforts everywhere.
At CHEO, volunteers play a valuable role in everything we do.
Volunteers like Rick Patch, one of our Patient Safety Ambassadors, recently helped Jessie ensure that her infant daughter Addison was getting the right care.
Rick let Jessie know about the CHEO SPOT Team — a critical care physician, nurse and respiratory therapist who respond quickly any time there is a question about a child's breathing. Jessie was worried about her infant daughter Addison's condition. She told Addison's doctor about her concerns who then called for the SPOT Team. They responded and determined Addison would be better with the additional respiratory support that can be provided in the Intensive Care Unit. Addison was moved immediately.
Addison is back to good health and has been discharged.
So far in 2019, Rick has provided safety-related education nearly 800 newly admitted children, youth and their families.
Thank you Rick!
And, thank you Jessie for ensuring that Addison's care team were aware of everything that was going on with this little girl.
Nearly 800 volunteers invest tirelessly to enhance the services and resources that we provide to children, youth and their families. CHEO volunteer bring their talents and energy to support over 40 programs and resources across the organization, all helping to create a supportive and ever-friendly environment.
Thank you to all our CHEO volunteers.
No login? Please enter your details below to continue.