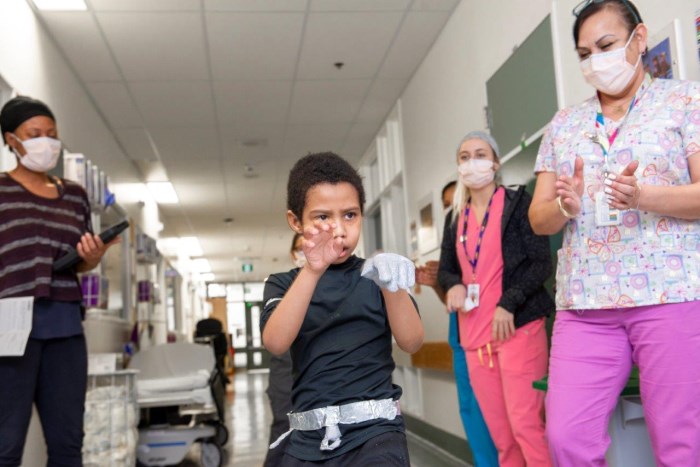 Whenever he gets the chance, seven-year-old Vitaly Rivas busts a move to bring a smile to staff and patients at CHEO.
When Vitaly Rivas was two years old, he heard the Thriller record for the first time and started to dance. His parents showed him a music video and since that moment, Michael Jackson hits are the only music Vitaly listens to.
Now seven, Vitaly has a seizure disorder that results in him visiting CHEO frequently. "I believe a way for him to cope with his condition is to dance," said Vitaly's mom, Shelly Rivas.
When Vitaly's condition worsens, he can have up to 60 seizures per day. That's what gets him admitted to CHEO. His parent's focus is for Vitaly to rest and recover, but the little shining star has bigger plans for his visit, despite feeling unwell.
Vitaly doesn't just dance — Vitaly performs. Before visiting the hospital, he picks a song and has his mother make posters and tickets around the theme of the song. "One time it was Bad, before that was Billie Jean. I make posters promoting the time of his performance and we put them on his hospital room door," said Shelly.
Vitaly doesn't only have the moves, he has a business mindset as well. Vitaly tells his mother "Ok mom, you need to make flyers and tickets. Then we'll need to go and promote." Vitaly promotes his performance to everyone on his floor with a demo of what to expect. Then, he returns to his room to practice, over and over. "We have to remind him that he needs to take it easy, but he just wants to practice," Shelly said.
When it's showtime, a crowd gathers in the hallway — doctors, nurses staff and even other patients and families gather for show time. The nurses will flicker the lights like a strobe, some waving clipboards to create a breeze so Vitaly's shirt will flap in the wind. And when the moment is right, Vitaly steps out of his room into his spotlight.
"ChildLife at CHEO always gets involved," said Shelly. "They are the best, they help us design his costumes and they even made him a glittery glove." Nurses, doctors, clerical staff and families dance and clap their hands while Vitaly dances for everyone — the moment he impatiently waits for. "He got a doctor to do the moonwalk," his mom said.
After Vitaly's most recent visit and performance at CHEO, he told his mom that he knows the pandemic has been hard on frontline workers. He doesn't miss an opportunity to pay it forward, share his talent and love of music with Team CHEO and make people happy.

He thought back to his performance on the drive home: "Mom, did you see how many people were smiling out there?"