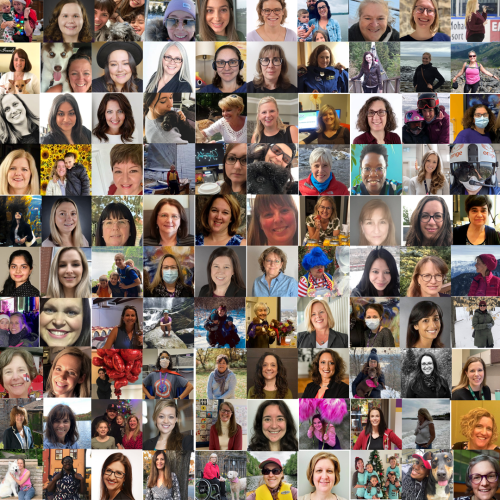 March 8 is International Women's Day — a global day to "celebrate women's achievements, raise awareness against bias and take action for equality." It's also a time each year to re-commit to acting, thinking and being gender inclusive in all that we do.
Meet some of the many SHEOs of Team CHEO!
We asked our staff, medical staff and community members to tell us about a woman at CHEO, the CHEO Foundation or the CHEO Research Institute who inspires them. Meet some of our many SHEOs: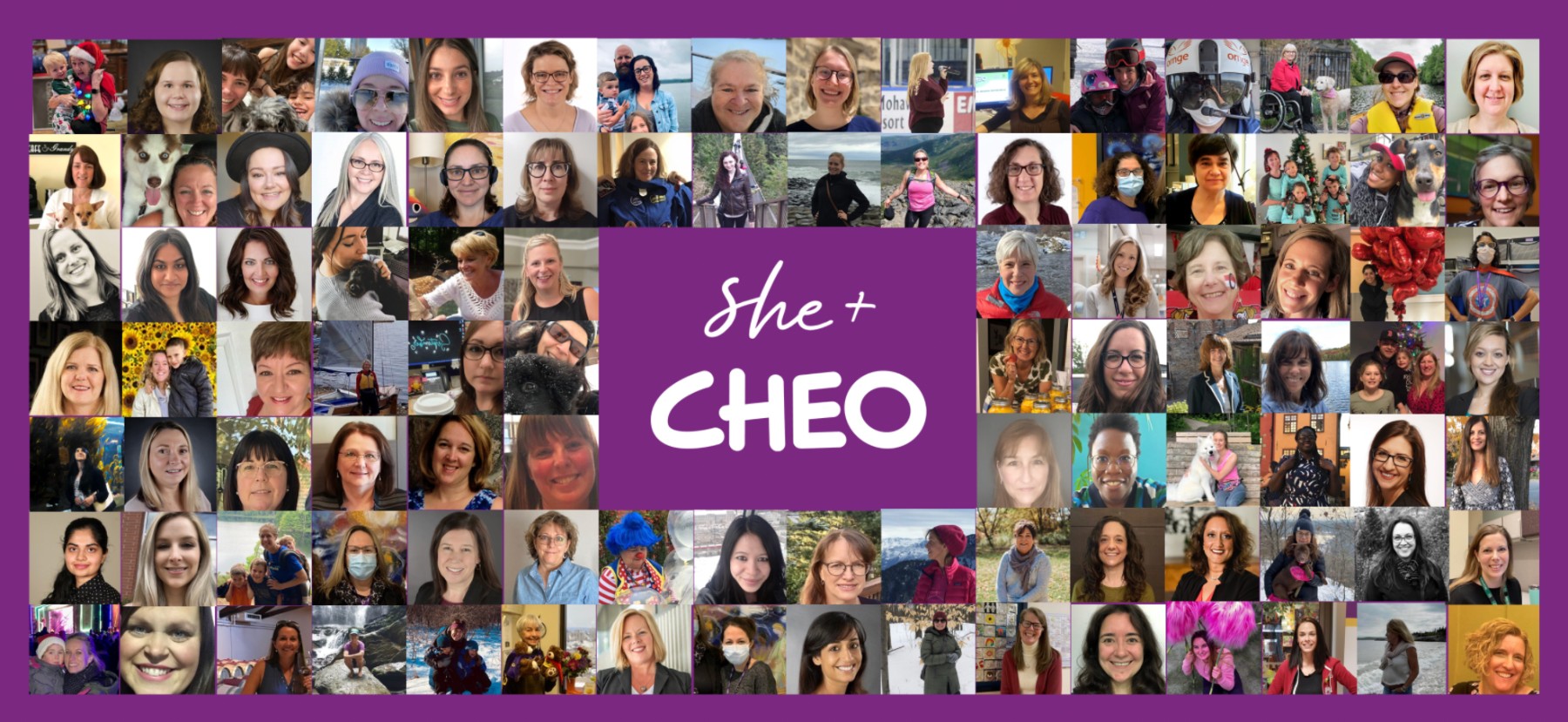 Did you submit a SHEO but don't see their photo or a quote from your submission here? Rest assured all submissions have been sent to your SHEO by email! Only those who consented to have their photo added on our site have been posted in this gallery.
Here are just some of the many quotes sent in from our staff, medical staff & community members that capture the spirit of our SHEOs:
"She inspires others with her professionalism, but also with her engaging personality and kindness. She represents well the beautiful values of our organization"
"She always goes above and beyond to make sure things are running smoothly in the lab, while also conducting research to help children with rare diseases and their families."
"She keeps delaying her much deserved retirement to ensure the kids, staff and medical staff are safe and well cared for. Her management of the student screeners, her commitment to getting vaccines in arms and her flexibility in taking on WHATEVER is needed is truly incredible. THANK YOU"
"Her 'swim like a duck' demeanor inspires me all the time! Her ability to do the really hard work, while being so completely calm and organized is incredible! Her team and the hospital broadly benefit from her wisdom & approach."
"She is an inspiration as a leader and a colleague. Her enthusiasm and energy to tackle some of our biggest challenges is truly commendable. She does this while remembering our staff, patients and families are the most important part of our work. CHEO continues to benefit from her passion and dedication!"
"She is the most amazing role model for residents and other physicians at CHEO. She is the hardest working doctor that I have ever met. In addition it is obvious that she has a special gift working with children and youth. She is the most amazing combination of professional in her work but playful with children in a genuine warm way which allows children and youth to trust that she will help them in whatever way that she can."
"She has made me feel so strong. She helps my bones grow and made them stop hurting and breaking with her magic bone juice. I used to use a wheel chair and walker and now I walk all the time."
"She is an incredibly compassionate oncologist. It's not just her job to get kids with cancer well, it's clearly a vocation. She works incredibly hard to save every patient and to make both patient and family feel like they are complete collaborators in the journey to wellness. She acknowledges from diagnosis day forward that hope is as important as the medicine and without it, kids can't get well. We are beyond grateful for this incredible woman."
"She was always there for me when I was struggling. She went out of her way to help my family and I. Although I have aged out of CHEO, I will always be grateful."
"She inspired me by always believing in me and cheering me on in order to achieve my goals. Her knowledge and guidance made me feel so much better, and I felt completely safe in her hands."
"She always saw the good in the bad! She showed me that life can be great and wonderful while I was in the eating disorder program at CHEO. She also made me feel like I was her friend and not just a patient and has now inspired me to go on to university in the field of psychology."
"She has been seeing our son for years. She is the 'puzzle maker' who brings people together. Not only is she a genuinely kind and respectful person to our son, but cares about parents' well being as well. She will bring in multiple people and specialties to brainstorm solutions together. We are so thankful for this. She is a very smart lady. So grateful for her."
"Kind, dependable, always willing to give advice and mentor. A wonderful leader and even better person."
"She is always willing to roll up her sleeves and get stuff done. A true leader by example! In addition to her ability to deliver, is her ability to do so with kindness and compassion. She is fair, considerate and always puts herself in others shoes. She inspires myself and others to lead with kindness! We need more of her."
"Although she's only been working at CHEO since October of 2020 she has already made a significant impact to our team. She has always been to pitch in whenever there is need. She volunteered at the inception of CHEO's Equity, Diversity, Inclusion and Indigeneity Committee and continues to contribute to this important work at CHEO. She has taught our team to be mindful of the importance of inclusivity in our workplace."
"She is a strong advocate for child health and social justice who consistently and fearlessly walks her talk. She stands up for what is right for her patients and colleagues while gently pushing us to reflect on our capacity to provide culturally safe and humble care. She is a wonderful human being and goes beyond her job description to support all of our patients. Working with and knowing her is like a breath of fresh air and CHEO is truly blessed to have her."
"She has been breaking ground on improving the mental health of Indigenous children in Ontario and across Canada. The collaborations she made with Indigenous communities have been impactful as she still hones and maintains those relationships even after the projects have ended. That was one of the reasons why I wanted to join her team, because maintaining those relationships are so important and it speaks volumes to her character not only as a Doctor, but as a human being. She is awesome."