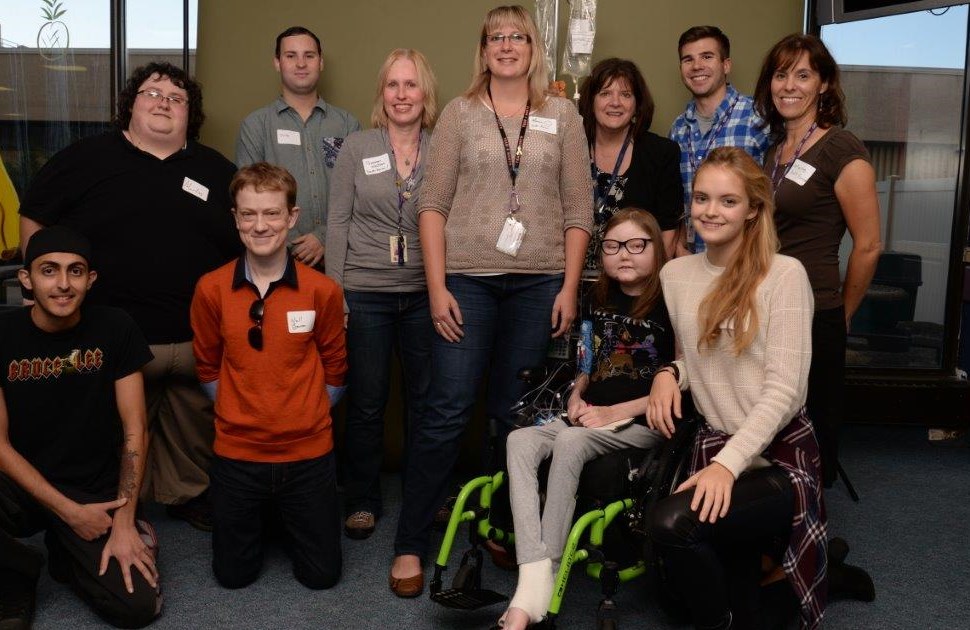 It was the year 2000…
We had all just survived Y2K (if you don't know what that is…ask your parents).
How the Grinch Stole Christmas would become one of the highest grossing movies.
The Razor scooter was the toy on every kid's wish list.
Most teens were more likely to still have a pager than a cell phone.
It was the new millennium and, little did we know, it was also the dawn of a new age at CHEO — one where youth would come together to create change. At the time, CHEO's Family Advisory Council represented the voices of parents and caregivers, but there was no group representing the youth perspective. Why not take advice directly from the people we are serving? They know their needs best!
To fill the gap, CHEO's Child Life program gathered interested patients and their siblings between the ages of 12-18 from all different medical backgrounds and experiences who wanted to make their voices heard.
CHEO's newly founded Youth Forum started out small by making recommendations for new hospital food items tailored to what youth like. Twenty-one incredible years later, Youth Forum has grown into a well-respected advisory group to CHEO, even presenting regularly to our Board of Directors.
"Other hospitals are often amazed by the momentum we've built," says Shannon Watson, Youth Forum co-founder and one of the two "Youth Forum moms" as the group likes to call them. "That's really both a testament to the youth who are dedicated to making a difference for their peers, but also to everyone at CHEO for seeing the value in what youth have to contribute."
A lasting footprint
One of Youth Forum's earliest projects has also been one with the most lasting impact. Based on their experiences at CHEO, the youth noticed there were lots of kid-friendly supplies, but something as obvious as adult-sized pajamas and toothbrushes that would meet the needs of youth were not available at the time. Since then, CHEO has been well-stocked with age and size appropriate supplies to meet the needs of everyone who walks through our doors.
Over the past 21 years, CHEO's Youth Forum have played a role in a number of key projects at CHEO. Some of their most notable being:
A top 10 list highlighting how youth want to be treated while in hospital — complete with educational videos to present to staff, physicians, medical and nursing students, volunteers and Board members on the best ways to engage with youth.
The Youth Friendly Award to recognize CHEO staff, physicians and volunteers who are champions for youth and go out of their way to make a difference for a youth patient.
Youth Friendly Grants Program to fund projects across the hospital that support youth, like new electronics, pizza parties, and supplies for Mollypenny (our therapeutic clown) and pet therapy program.
CHEO's Patient Declaration of Values and its accompanying video which they collaborated on with Family Advisory Council and CHEO staff.
And the list keeps on growing!
Despite their big list of accomplishments, Youth Forum knows when to stop for some much-needed fun. They regularly hold nights for youth who are staying in-hospital — from movie nights to video game battles, Youth Forum always serves up good snacks and lots of laughs! And every year Youth Forum members attend a Sens game together as a group.
"Seeing that Youth Forum has had such a great impact on each of our members is really the best feedback we can get," says Shannon Watson. "Everyone has faced their own health challenges and I'm so proud to get to see how far they have come."
Meet some of our current and former members
Fun facts
Since launching in 2000, Youth Forum has had 79 members, all with the common goal of making CHEO an awesome place to be.
CHEO's Youth Forum has held over 200 meetings to help influence change at CHEO.
Some Youth Forum members love CHEO so much, they have come back to work here!
Want to join CHEO's Youth Forum?
We're always looking for new members to join! If you're between the ages of 12 and 18 and are either a CHEO patient, former patient or sibling of a patient, then we'd love to hear from you.
A note from us
Congrats Youth Forum on reaching this amazing 21 year milestone! CHEO is so lucky to have had you guiding us over the past 21 years and we can't wait to see what the future brings for you together as a group, as well as individuals heading off on your own paths to make the world a better place.
Photo Gallery: Youth Forum 21st b-day will appear here on the public site.
No login? Please enter your details below to continue.