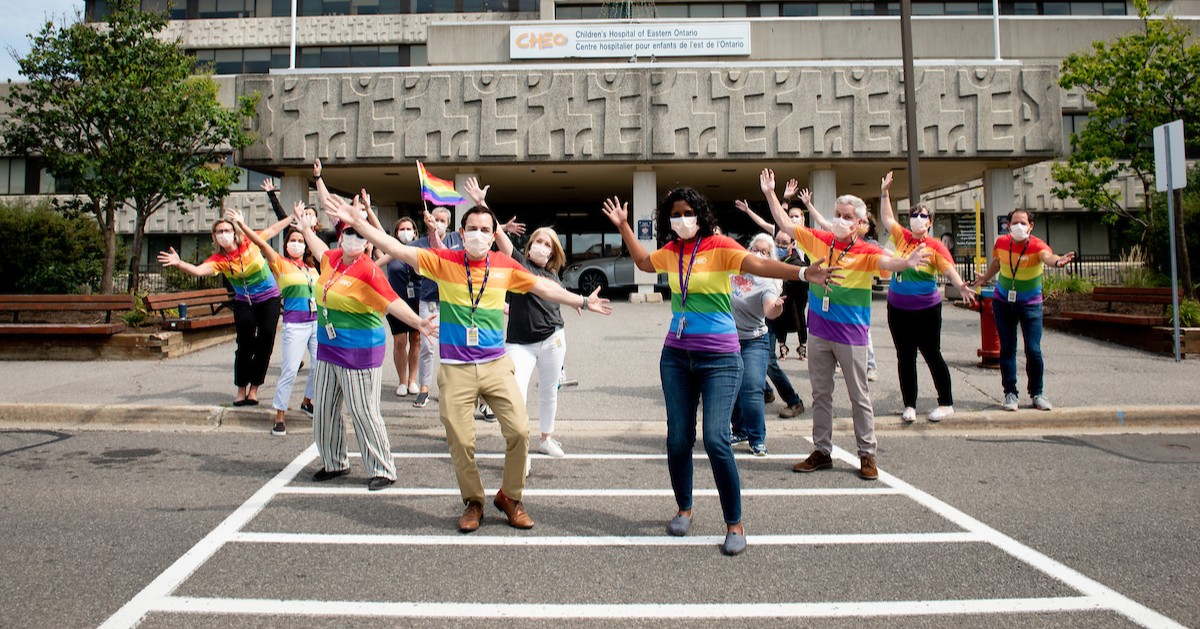 Pride at CHEO and in our region
What started as a small group has grown to nearly 300 staff, medical staff and family members who joined CHEO's contingent in the Capital Pride parade each year!

Team CHEO's new SOGIE Advisory Committee is made up of five Working Groups and 45+ members helping make us a more inclusive for 2SLGBTQ+ staff and medical staff and the patients and families we serve

One in 300 people in Canada aged 15 and older are transgender or non-binary, according to Canada's 2021 census

More than 430 trans and non-binary children and youth are supported by CHEO's Gender Diversity Clinic each year
Celebrating Pride Month 2022
A timeline of Pride in Canada
"When asked about the history of pride, often the first thing that comes to people's minds are the Stonewall Riots. Canada, however, has it's own rich history and turning points in the struggle for and eventual celebration of LGBT rights." — QueerEvents.

Check out QueerEvents.ca for a timeline of Pride milestones in Canada!
June is internationally recognized as Pride Month. In the National Capital Region, we also celebrate Capital Pride in late August.
Throughout the month of June, and again during Capital Pride in August, Team CHEO will be sharing information, resources and upcoming events to help foster belonging and inclusion for our 2SLGBTQ+ communities.
We encourage you to take this time to advance your understanding of the issues faced by, and stand alongside, 2SLGBTQ+ communities. Here's a few ideas to get you started:
Staff and medical staff are encouraged to add their preferred pronouns in email signatures and/or zoom names. Patients and families are encouraged to let their care team know their preferred name and pronouns.

Coming to CHEO? Feel free to wear your CHEO pride t-shirt, or pride flag stickers, pins and more!

RSVP for the upcoming SOGIE (sexual orientation and gender identity and expression) webinar by N4 (hosted at CHEO) which will outline the National LGBTQ+ Guidelines and how to support LGBTQ+ newcomers

Read through QueerEvent's timeline of Pride milestones in Canada

Check out Family Services Ottawa's Around the Rainbow website for services and suggested resources
Stay up to date with upcoming Pride events — this year Capital Pride is scheduled for August 21-28, 2022. You can find more info via the Capital Pride website.