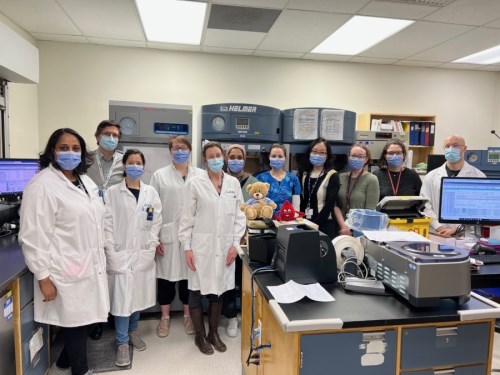 July 27, Ottawa - CHEO has been awarded the Using Blood Wisely designation by Choosing Wisely Canada, a national campaign aimed at reducing the inappropriate use of red blood cells.
"Blood is a critically important resource that saves lives and protects health," says Dr. Elaine Leung, Chief of CHEO's Division of Hematology and Transfusion Medicine. "It's used in surgeries and to support patients with illnesses. And it's donated by volunteers trying to do some good. We make sure blood is used for the right purpose, at the right time and in the right amount."
Choosing Wisely Canada challenged hospitals across Canada to conduct internal audits of their recent blood transfusions. This encouraged hospitals like CHEO to reduce unnecessary blood transfusions, saving time and resources, while also reducing risks for patients.
"Right away, CHEO's transfusion medicine team went to work implementing changes to match the Choosing Wisely Canada guidelines. It's a team effort and I'm incredibly proud that our team is helping conserve Canada's blood supply" says Dr. Leung.
Since participating in the program, CHEO reduced by 46% the number of blood units transfused in CHEO's Medical Day Unit, while still providing high quality care to patients and families.
"Receiving this designation means a lot to our team," continues Dr. Leung. "It validates our work to provide the best care for the kids and families we serve at CHEO. By being a Choosing Wisely hospital, we're not only helping to keep our children and youth safe, but also helping to protect Canada's blood supply. That's something we're all very proud of."
Help Contribute to Canada's Blood Supply
In June 2022, Canadian Blood Services (CBS) reported their smallest donor base in a decade, stalling efforts to replenish Canada's critically low blood supply. While programs like Choosing Blood Wisely help conserve and protect Canada's current supply, CBS is working to restore donations to pre-pandemic levels. There is an immediate need for donors across the country to fill the many open appointments to ensure patient needs continue to be met.
Interested in donating? You can join Team CHEO in supporting the Boom 99.7 Summer Blood Donor Clinic, July 25-30.
- 30 -
Media contact
media@cheo.on.ca
About CHEO
Dedicated to the best life for every child and youth, CHEO is a global leader in pediatric health care and research. Based in Ottawa, CHEO includes a hospital, children's treatment centre, school and research institute, with satellite services located throughout Eastern Ontario. CHEO provides excellence in complex pediatric care, research and education. We are committed to partnering with families and the community to provide exceptional care — where, when and how it's needed. CHEO is a partner of the Kids Come First Health Team, a network of partners in Eastern Ontario working to create a high quality, standardized and coordinated system for pediatric health care that is centred around children, youth and their families. Every year, CHEO helps more than 500,000 children and youth from Eastern Ontario, western Quebec, Nunavut and Northern Ontario.