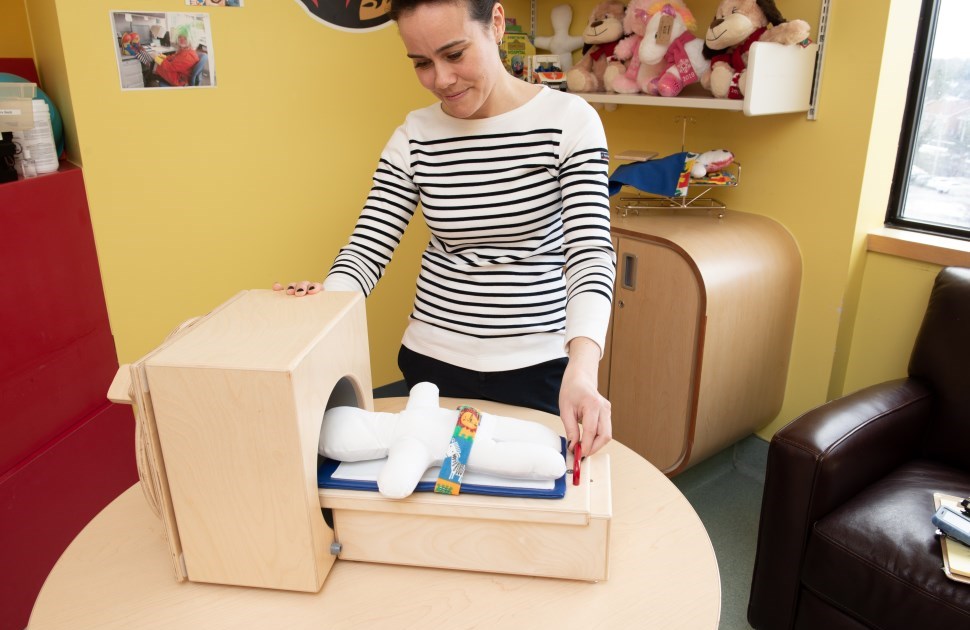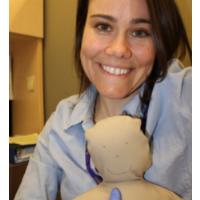 This post was written by Kimberly Courtney – Certified Child Life Specialist
March is Child Life Specialist Awareness Month!
Did you know there are now 19 Child Life Specialists at CHEO? And more importantly, do you know what a Child Life Specialist does? If you said play, you're on the right track. Play is the basis for how we assess, teach, prepare and support children, youth and their families on their health-care journey.
We help children, youth and families cope with the stress and uncertainty of short- and long-term illness, injury, trauma, disability, and loss. We do this through therapeutic play, which involves building trust with children and youth, and helping them use self-expression so that they always feel they are in a safe and comfortable space at CHEO. Our therapeutic play is evidence-based and suited to a child's age and needs. Play is used to help prepare them and their family for procedures, and provide education to reduce fear, anxiety, and pain.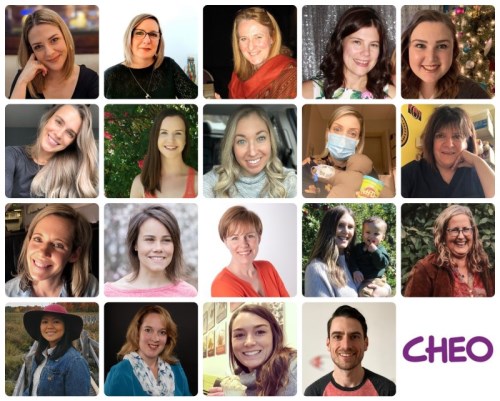 As Certified Child Life Specialists (CCLS), we are always here to support children, youth, and families who are adjusting to a new diagnosis, procedure or stay in hospital. But what you might not know is that we also work with children, youth and families to normalize coming to CHEO for care, offer words of assurance, actively listen and teach them about the hospital and the resources and services available to support them.
One of our main goals is to make sure children have opportunities to play, express themselves, and explore. We are always looking for ways to support children as they reach important milestones, both in their health and personal lives, while they are with us. When we meet youth, we work with the onsite schools at CHEO so that they can continue with their education.
And we can't forget siblings! We help siblings understand and cope with their brother or sister's hospitalization and/or diagnosis using books, activities and virtual visits. One of our favorite ways to include siblings is getting their input on how to decorate the room, including ideas for pictures to print and hang on the walls.
Here are a few more examples of how we help children, youth and families along their journey:
Preparing children and youth for medical tests and surgery – we do this by using their developmental age to guide the language and medical play materials we use (e.g., showing IV equipment or a special mask used to give anesthesia) to help them better understand what will happen while they're at CHEO.
Providing support and distraction during medical tests – e.g., with fidget toys, I Spy games, bubbles, guided imagery or deep breathing exercises.

Helping children and youth understand and cope with a new diagnosis – this can often feel scary, so we are here to explain what it means using age-appropriate language they can understand, and over time feel more confident and comfortable about what to expect.

Teaching coping skills for dealing with stress and fear of being in hospital – like belly breathing and grounding techniques.
Offering different activity options to promote a sense of choice for children and youth and to strengthen their self-esteem and independence in our playrooms and at the bedside.

Coordinating opportunities for school during extended hospitalizations.
Planning special events, so children can take part in birthdays and holidays even when they are away from home and school.

Creating memorial items like handprints, celebration of life traditions and milestone activities to help memories live on with families.

Teaching strategies for dealing with needle fear.

Organizing pet therapy.

Working with Molly Penny – CHEO's therapeutic clown.
Coordinating referrals to Spiritual Support Services and the Toy and Tech Library.
As Child Life Specialists, it is our joy to build the best life for children, youth and families here at CHEO. If you need us, please talk to your care team and they will reach out to us. We are here to support you!
Visit our Child Life page to learn more about what we do and get practical tips and tools for helping your child or youth prepare for coming to CHEO.
Did you know Child Life Specialists support patients preparing for surgery and anesthesia?
″Child Life Specialists are a key part of our team in Anesthesiology and Peri-Operative Services. Our Child Life Specialists assess patients and families in our pre-anesthesia clinic and help develop coping plans so everyone feels comfortable and prepared. On the day of procedures, our Child Life team creates an environment that supports the needs of the many different patients coming for surgery. They partner closely with and support our volunteers who engage with children waiting for their surgery. Child Life Specialists support the Parental Presence at Induction of Anesthesia (PPI) program. PPI means a caregiver can come with their child into the operating room for the beginning of their anesthesia. This program is very much appreciated by children, youth and families. We also regularly provide resources to other hospitals internationally about this innovative program." - Dr. David Rosen, Chief, Department of Anesthesiology and Pain Medicine.
We couldn't do what we do without all our amazing colleagues on Team CHEO—including the many volunteers who dedicate their time and energy to support the Child Life program. And of course, we can't forget our awesome donors who, through the CHEO Foundation, make sure the Child Life team can be present day and night at CHEO.
Hear from some members of Team CHEO and some kids, about how Child Life Specialists support them
Renée - Registered Nurse, Emergency
Kimberly - Child Life Specialist
No login? Please enter your details below to continue.