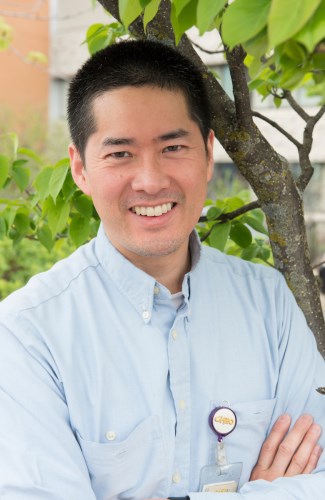 Ottawa, ON., Nov. 10, 2023 – On Mon., Nov. 6 one of CHEO's own, Dr. Michael Cheng was awarded the Order of Ontario, one of the province's highest honors that recognizes individuals who have made exceptional contributions to their communities and to the province.
Well-known at CHEO for his dedication and compassion, Dr. Cheng is a psychiatrist and an associate professor at the University of Ottawa. A fierce mental health advocate, he is passionate about improving mental health literacy. Thanks to his indigenous mentors, he works with children, youth and families to try to help them reconnect to that which gives belonging, purpose, meaning and hope. He is the co-founder of eMentalHealth.ca, a website that provides families and professionals with information about various mental health topics. He gives regular talks with the general public, schools and other community organizations about mental health and wellness. Working with school resource officers, he was involved in the creation of a guide for police on child/youth mental health.
"Dr. Cheng is a passionate advocate for the health and wellness of all children and youth, especially when it comes to their mental health", said Dr. Lindy Samson, CHEO's Chief of Staff and Chief Medical Officer. "Dr. Cheng's unwavering commitment to advancing care and improving the well-being of our community has been an inspiration to us all. Our heartfelt congratulations to him for this well-deserved honor," said Alex Munter, President and CEO, CHEO.
About CHEO
Dedicated to the best life for every child and youth, CHEO is a global leader in pediatric health care and research. Based in Ottawa, CHEO includes a hospital, children's treatment centre, school and research institute, with satellite services located throughout Eastern Ontario. CHEO provides excellence in complex pediatric care, research and education. We are committed to partnering with families and the community to provide exceptional care — where, when and how it's needed. CHEO is a partner of the Kids Come First Health Team, a network of partners in Eastern Ontario working to create a high quality, standardized and coordinated system for pediatric health care that is centred around children, youth and their families. Every year, CHEO helps more than 500,000 children and youth from Eastern Ontario, western Quebec, Nunavut and Northern Ontario.
Media contact
media@cheo.on.ca