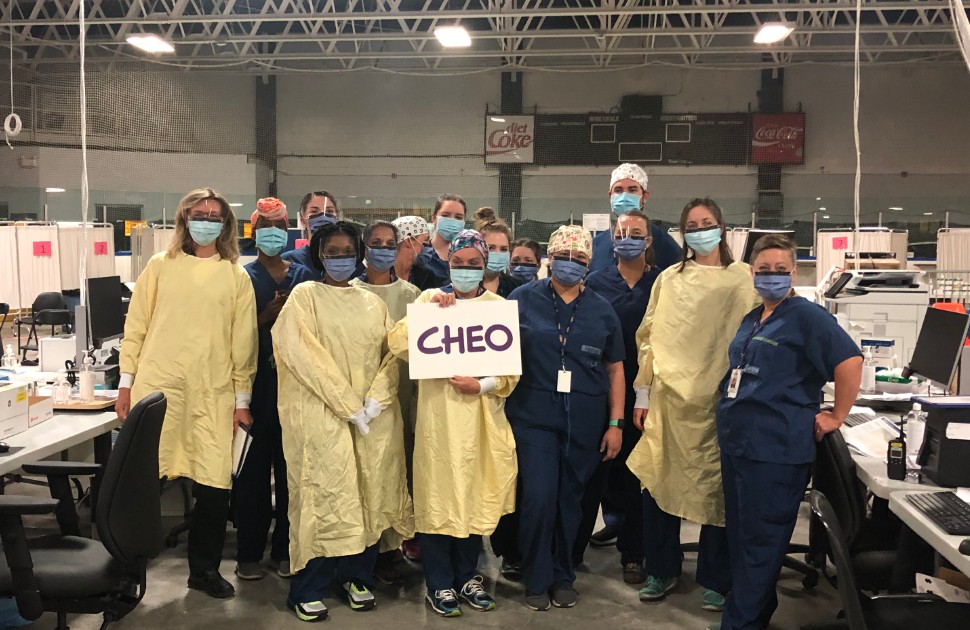 We saw so many big beautiful eyes and tiny feet in long line-ups, and then felt Mother Nature's chilly nip in the air; and we knew we had to do something to help families wanting testing for their kids at the Brewer Assessment Centre. In less than a week, we rolled out an online booking system (thanks also to some great feedback from you!) so that families could arrange for an appointment from the comfort of their own home. It wasn't a perfect solution at launch, but we knew it was better than the alternative of having no online option at all.
Furthermore, there's simply not enough testing in Ottawa – that's not a problem our new online system can fix. This means not everyone who wants an appointment right now can get one, unfortunately. At CHEO, we've quadrupled the number of tests each day since the beginning of September and are continuing to expand at Brewer. We know other hospitals are also expanding sites and hours of operation at assessment centres across town. We're all in this together!
It's so important to our team to say thank you to the families who have used the online booking system and shared their feedback so far. One of our core values at CHEO is to take lived experience to heart and to apply family feedback to make whatever we do better. We hear you and have already made the following improvements in the past 5 days since launch:
We can guarantee that only one appointment per child is possible (this helps to ensure that people aren't accidentally holding multiple spots)
Only children aged 2 months to 17 years old can book an appointment (adults cannot accidentally hold a spot)
We have removed some of the error message because it was false advertising. Most weren't errors, in fact the system was trying to tell people that the spot they want was filled by someone else.
We've enabled instant MyChart activation for those who are eligible, e.g. under 12 years old and never having been to CHEO (one less thing for caregivers to do themselves)
We continue to improve the language to be clearer throughout the tool, e.g. adding an OHIP label
We have heard that the CAPTCHA is frustrating when people are rushing to complete the form, however our cybersecurity policy requires that we use it – we can't have our medical records hacked. Your privacy is too important.
One thing we have noticed is that our servers overload when multiple people try to register the same child using multiple devices. We understand the reasoning is because you perceive this as helping your odds to secure a spot. Interestingly though, from our end it creates hundreds of duplicate records in our system which is actually a patient safety issue. For instance, if one person misspells something, another person adds a middle initial, and another uses a child's nickname – you can quickly see how it looks like three separate children were registered. The way we scrub the data and guarantee no.1 above is by matching name, birthday, address and insurance (OHIP) information.
Our behind-the-scenes team is as amazing as the CHEO staff you encounter at Brewer. We are all working very hard to enhance the testing experience for families. And we continue to partner with the region to build more capacity in Ottawa for testing children, adults, essential workers and everyone who needs it!
Thanks again for helping us to improve.