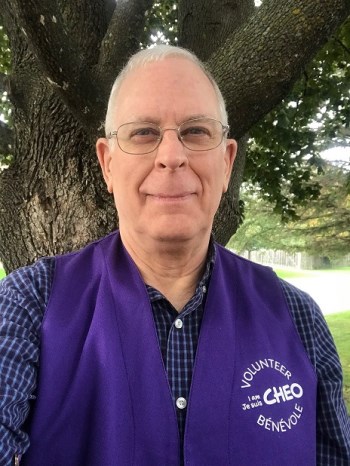 Rick's smile is amazing and his work ethic is second to none, but it's his ambition that we're celebrating today! Rick Patch has been a CHEO volunteer since 2012, and he set a personal goal for himself on day one to achieve 1,000 volunteer shifts at CHEO.
Today, is the day! And we're so happy to celebrate his personal triumph. He has interacted with hundreds of children, teens, caregivers, staff, physicians and other volunteers over the years and we are indeed the lucky ones.
His goal cumulates in 3,300 volunteer hours of service! To achieve this, Rick has supported families across CHEO from our playrooms, providing extra TLC to kids of all ages, the surgical day unit and now reviewing our safety protocols with newly admitted families. We know it can be intimidating to think about spending an overnight at the hospital, yet Rick and many other volunteers are onsite to help however they can.
Rick is no stranger to accolades. He is the recipient of a 5-year service award in 2017, a legacy award for most hours invested in 2018 and a Good Catch Award in 2019. For the latter award, Rick visited an inpatient family to deliver important safety information, including when to ask for an assessment by a special triage team. When a mom's gut instinct became concerned about her child's condition, she remembered the advice that Rick shared. It resulted in the child being moved to the intensive care unit – and the mom credited Rick for making it happen.
The COVID-19 pandemic has impacted our volunteer program like everything else at CHEO. We've reduced the number volunteers, modified shifts, placed helpers in many new roles that never existed before, and of course adhere to all of CHEO's exceptional safety precautions. But one thing hasn't changed and that's the strength, warmth and caring of our amazing volunteers. To those who returned and those who stayed home but continue to check-in and send their love to the kids at CHEO, we are so grateful for you.
On this your special day, Rick; the day you dreamed about so many years ago…congrats! We hope to work with you for a 1,000 more.