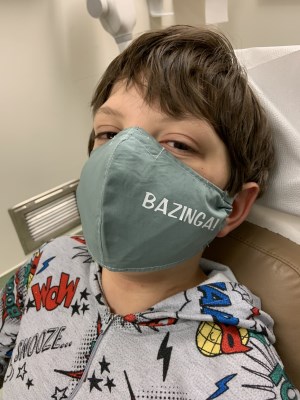 At CHEO, all of our doctors, nurses, staff and volunteers are working hard to ensure your safety from the second you walk through our doors right up until you say goodbye and head on your way. We have put several COVID-19 safety precautions in place as everyone's safety is our top priority—including screening everyone at our entrances for symptoms, providing masks for all, using physical distancing markers on our floors, wearing the appropriate PPE and more. Take a minute to learn about how we will keep you safe.
We welcome your feedback on your recent experience at CHEO and the safety measures we have in place. Please share your thoughts with our Patient Experience team.
Here is some of the feedback we've been hearing so far from families:
Yesterday we had a cardiology appointment. CHEO was very well prepared and organized. We were screened at the front doors, only one parent allowed in, sanitizer everywhere, not overly crowded, and everyone in masks. Our appointment was about an hour, because we had an ECHO and ECG. Brayden usually HATES both of these but luckily we got two amazing doctors who were so good with him. We're also so proud of how well Brayden did with his mask, not touching anything, and washing his hands! – Melissa C.
At CHEO this afternoon and very impressed with the extra protocols and precautions for safety! 👏👏👏 – Jaclyn
"I loved the screening at the front door and how it was set up. There was room for a small line up and everything moved flawlessly. The lineup of chauffeurs was also impressive and again, moved seamlessly. We were early for [my son's] test and were taken in right away. Everything was extremely clean. I've never seen it so clean. I loved it. It felt safe.


Most of all, EVERY single staff member we saw, everyone, was interactive, happy and smiling (under their masks) they were extra ready with stickers and toddler chitchat. He loved it as this was his first outing since early March. It was probably our best day at CHEO so far. So, whatever you guys are doing behind the scenes, it's working. It was noticeable today and really made our day better." – Renee P.
"We had a consult at CHEO this week, it was our first time back since surgery in March, just before the pandemic. The precautions in place wowed us, we felt safe and secure, and knew we were in excellent hands. As we always are at CHEO. Thanks, team!" – Angie H.
"I just stopped to pick up a prescription for my son at the KidCare Pharmacy. I'd like to thank CHEO for a number of things. First and foremost, thank you to the staff. I was greeted by a very friendly staff member at the main entrance, and then by a second happy and helpful staff member just inside the entrance. I then talked to the pharmacist briefly, and she was also very positive. I had one quick pick up to make but wasn't sure if it would be difficult due to the pandemic. As it turned out, I was in and out of the hospital in 5 minutes and had very positive interactions with three lovely people. Finally, thank you for having fabric masks available for people to take. I'm assuming they were sewn by volunteers. My thanks to them for their work and to CHEO for making them available." – Michele S. O.
"Just want to say that I recently had to bring my youngest high risk daughter to CHEO for bloodwork. I was very anxious about bringing her and concerned for her safety. The new protocols that you guys have implemented are amazing and put me at ease as soon as we entered! Thank you to all the amazing staff ♥" – Cynthia C. B.
"Had to bring my daughter in for tests and it was a very reassuring experience. Health is obviously and clearly their first priority. ♥ CHEO!" – Nathalie T.