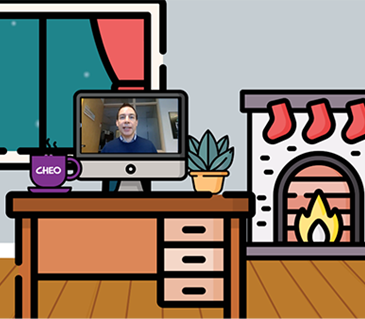 To celebrate the unusual 2020 holiday season Alex Munter, CHEO's President and CEO, shared the following message with staff:
It wouldn't be 2020 if I didn't end the year with a nod to the most popular communication tool of the year - a Zoom message!

Whether you celebrate Hanukah this week, or Christmas or Kwanza next week, I wish you and your loved ones the safest and happiest holiday season. As we prepare to turn the page on 2020 - with optimism and a positive spirit – let's always continue to remind ourselves that we are in this together and indeed, everything will be ok.

Wishing you a happy and healthy new year. Thank you for everything you do
Alex
From team CHEO, we're wishing children, youth, families and community members a happy and healthy holiday season.