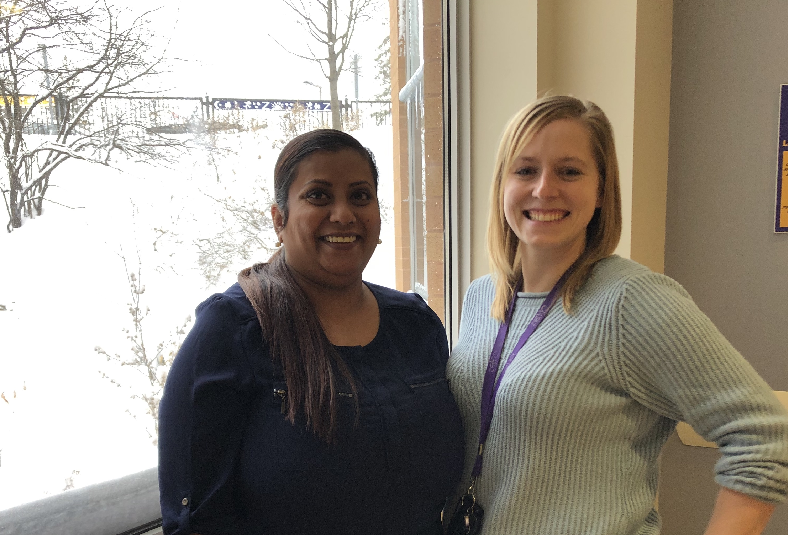 Pictured: Dr. Sinthuja Suntharalingam, Child and Adolescent Psychiatrist and Emily Smith, Registered Nurse
The new Head to Toe at CHEO Program (named by a parent) aims to identify youth who are starting to have suicidal thoughts and quickly get them the help they need. "Since starting this program, I think we have saved more than one life," says Emily Smith, Mental Health Nurse.
Patients admitted to CHEO for mental health problems have always been asked about suicidal thoughts. This new program extends screening for suicidal thoughts to youth admitted for medical or surgical care as well — not just mental health.
Early identification of youth who are at-risk of suicide gives CHEO mental health specialists an opportunity to provide care and support early — when a youth first starts thinking about suicide or who has already made a plan but not told anyone. Care can be provided while a youth is still in hospital.
Driven by ongoing research and innovation at CHEO, now, when a youth is admitted to a medical or surgical unit, a nurse takes just 20 seconds to ask four screening questions.
If they answer "yes" to any of them, a mental health professional trained in suicide prevention is called to talk with the patient to determine the severity of risk for suicide and provide whatever support and counseling is required. CHEO is the only hospital in Canada that has such a comprehensive early intervention program.
The four screening questions are:
In the past few weeks, have you wished you were dead?
In the past few weeks, have you felt that you or your family would be better off if you were dead?
In the past week, have you been having thoughts about killing yourself?
Have you ever tried to kill yourself?
Emily Smith is one of the CHEO mental health nurses who respond to positive screens. She has received thanks from grateful parents and youth for her help.
"I find that, for a lot of families, asking these questions opens a conversation that they might not otherwise have been comfortable having," Emily says. "When a youth responds 'yes' to any of these questions, it helps parents and caregivers identify those at risk of suicide and provide them with the necessary resources and appropriate monitoring of their child's mental health needs. In this way, youth can be given the tools they need to grow into healthy, thriving adults."
Suicide is the second leading cause of death among Canadian youth, 15-24 years of age. The majority of youth who take their own lives have had contact with a health-care provider in the three months prior to their death. But their contact is usually about physical complaints and unless someone asks them about suicidal thoughts, they don't bring the topic up. From now on at CHEO, every youth will have the chance to talk about this difficult subject.
The Head to Toe at CHEO Program is made possible with community support and donations through the CHEO Foundation.
No login? Please enter your details below to continue.