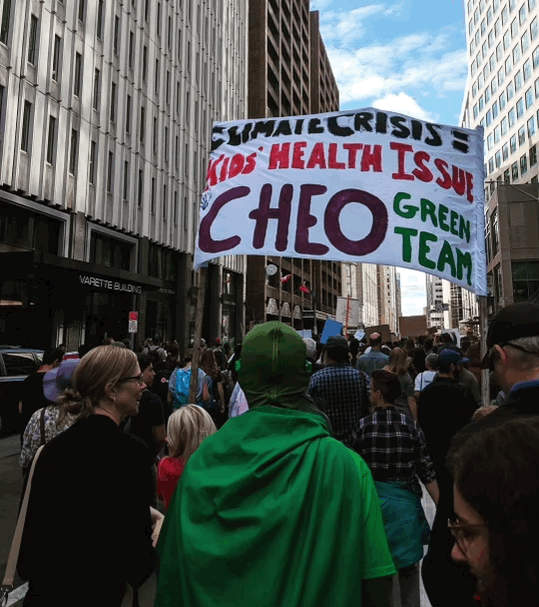 OTTAWA — As global leaders convene at UK COP26 to discuss strategies to tackle climate change, CHEO is implementing its own measures and targets to address the global crisis, directed by a mandate from its Board of Directors.
"As an organization with a vision of the best life for every child and youth, CHEO is inherently about creating a better future," says Daphne Fedoruk, CHEO's Chair of the Board of Directors. "That's what the Kick the Carbon initiative is all about; doing our part to help make this planet better for our kids. I'm proud that CHEO has clear targets to work toward."
The Kick the Carbon strategy aims to create a greener CHEO, using the organizations total emission in 2019 as its baseline. The recently approved targets will see CHEO reduce its carbon emissions by 5% each year, totaling 30% by 2025. This will amount to approximately 2,000 tonnes of emissions saved. To put in perspective, the amount of carbon emissions saved will be equivalent to*:
Total emissions produced by 468 homes' energy use for one year, or
Total emissions produced by the average gas-powered vehicle driving 9 million km, or
Total emissions produced by 83,000 propane cylinders used for home barbeques.
To achieve this ambitious target, CHEO is implementing multiple green projects, including installing energy efficient lights, optimizing heating and cooling, and using space planning strategies to reduce energy waste. These strategies, made possible thanks to donations from the CHEO Foundation, will generate savings that can be redirected to frontline care for kids.
"I can't tell you how meaningful it is to have this goal approved by our Board," says Dr. Curtis Lavoie, an emergency department physician and chair of CHEO's green committee, which leads and monitors the Kick the Carbon initiative. "The children and youth we care for are passionate about the environment and tackling climate change. They want to see real change from their communities. As an organization that provides care for children and youth to live their best lives, this commitment to green initiatives shows CHEO's devotion to building that future for them."
*Equivalencies are approximate and sourced from Natural Resource Canada's Greenhouse Gas Equivalencies Calculator.
Media contact
media@cheo.on.ca
About CHEO
Dedicated to the best life for every child and youth, CHEO is a global leader in pediatric health care and research. Based in Ottawa, CHEO includes a hospital, children's treatment centre, school and research institute, with satellite services located throughout Eastern Ontario. CHEO provides excellence in complex pediatric care, research and education. We are committed to partnering with families and the community to provide exceptional care — where, when and how it's needed. CHEO is a partner of the Kids Come First Health Team, a network of partners in Eastern Ontario working to create a high quality, standardized and coordinated system for pediatric health care that is centred around children, youth and their families. Every year, CHEO helps more than 500,000 children and youth from Eastern Ontario, western Quebec, Nunavut and Northern Ontario.