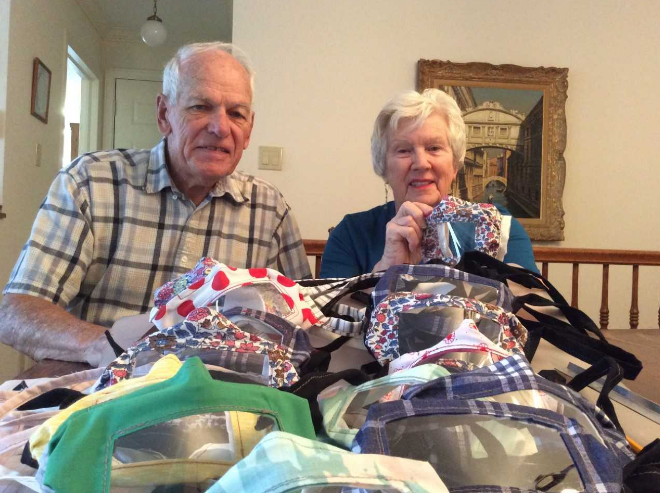 Nancy and Keith McGruer
Nancy and Keith McGruer's kindness and ingenuity created something amazing for children and youth in the Audiology and Emergency Departments at CHEO — masks with clear plastic windows, so that kids who are deaf or hard of hearing can still read lips.
When the urgent need for masks became apparent, Nancy and Keith started out sewing comfortable, three-layer, impermeable masks for personal support workers in Ottawa. After making masks for their children and grandchildren from Halifax to Vancouver, they started donating masks to the CHEO Foundation's . They have now made over 200 masks and continue producing them.
Nancy, who wears hearing aids and relies on lip reading, asked herself, "I wonder if we could make a mask with a clear window?" Together, Nancy and Keith figured out a design. For each mask, Keith prepares the clear Lexan window (donated by Canus Plastics in Ottawa) and two lengths of galvanized wire — one which allows the mask to be fitted over the nose and the other which keeps the plastic away from the wearer's mouth to reduce fogging up. Nancy does all the sewing, including two fabric ties prepared by Keith, one around the neck and one over the crown of the head because some health-care workers told them elastic around the ears can be uncomfortable.
So far, the McGruers have donated 24 of these special masks. As of May 21, the CHEO Audiology department will distribute these community-made, non-medical masks to families who best make use of them. And last week, five of the masks were provided to a CHEO researcher who is hard of hearing for his use in the community.