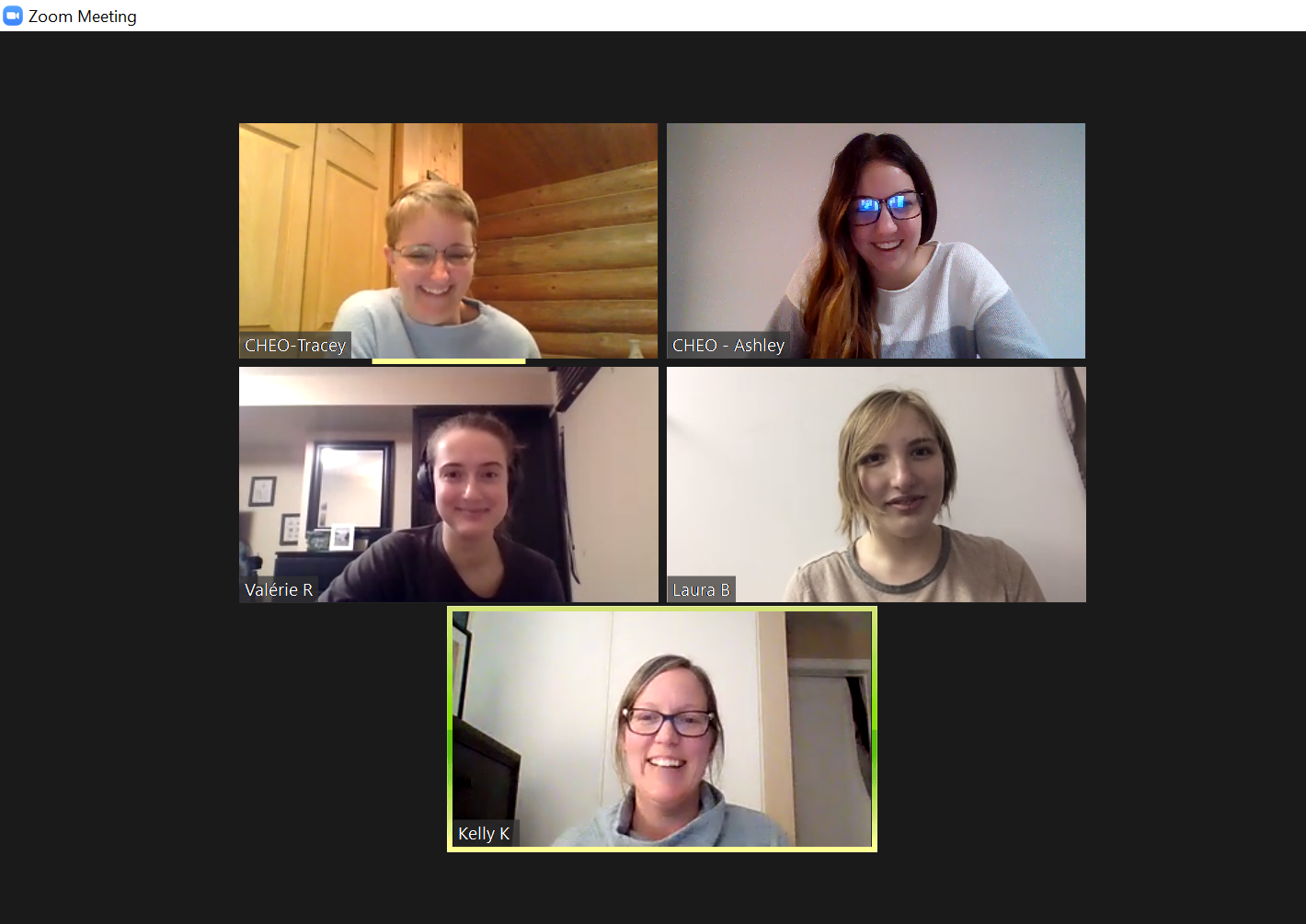 From the launch of the Virtual Emergency Department — the first of its kind in Canada — to outpatient clinic visits through Zoom or drive-thru, CHEO has hit the ground running to make our services more accessible to families during the COVID-19 pandemic.
As part of this shift, CHEO's Autism Program recently launched "Chill and Chat", a virtual hangout program to help teens with autism cope with the social isolation of the pandemic.
"My favourite part of the group is being able to tell some jokes and playing online games," said Brandon, who took part in one of the sessions offered last month.
Brandon's mom Gillian says the group has been instrumental in helping Brandon keep up with his social skills during the pandemic.
"It was wonderful to see my son raise his hand and wait to be called on to tell a joke, or to volunteer information! This is huge for him," said Gillian. "He's desperate to have friends and be able to do stuff with people who get it and don't judge, especially now in the age of isolation and covid. I cannot thank CHEO enough for this amazing opportunity!"
"Everyone has been hit hard by the isolation of the pandemic, but it has been particularly tough for teens with autism who rely on social interactions as part of their therapy program," said Monique Lugli, Vice President, Child Development & Community Services at CHEO. "We wanted to make sure youth in our community still had a way of practicing their social skills, even if just through video, so they don't face as many setbacks when restrictions are lifted."
The virtual sessions run every week for an hour. During this time, teens get to play online games with each other, chat about cool topics and meet new friends in their age group. Valérie Roumelis, a volunteer with CHEO's Child Life program and fourth year Biomedical Science student, also lends her time as a chat facilitator to help prompt conversations, lead online games and support
"Some of the teens only feel comfortable responding by chat, so I help them by reading their answers out loud to the group so they are heard and actively participate," said Valérie. "I'm really enjoying this role because of the teens who regularly register for the hangout. It is very enjoyable to see some familiar faces on a regular basis and help them improve their social skills!"
CHEO's "Chill and Chat" program strongly encourages youth with autism to consider lending their time as chat moderators.
"We encourage youth with autism to sign up to be moderators," said Lugli. "Not only is the experience a great way to practice interpersonal skills, it's an awesome resume building opportunity for teens with autism looking to enter the workforce."
Are you or a youth you know interested in becoming a "Chill and Chat" moderator?

No login? Please enter your details below to continue.