Ottawa – May 4, 2023 – Continually aiming to remove barriers for children and youth, as well as families, visitors and staff of all abilities, CHEO is proud to open a new universal washroom at its main building on Smyth Road. Located on Level 1, a few feet away from the elevators, this 150-square-foot washroom was built to be accessible to individuals with mobility devices. It is also gender inclusive and was designed to provide ample space for everyone.
This new space is in response to feedback from families of children and youth with complex needs. It was made possible through donations to the CHEO Foundation and by the Kim McLeod Accessibility Fund, in honour of Kim McLeod who was a tireless advocate for children and youth with complex needs.
The new universal washroom includes: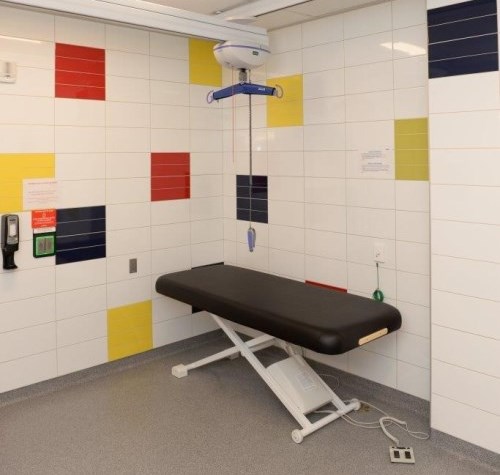 An adult-sized changing table;
A ceiling-mounted lift system that electrically hoists and moves a person 360 degrees around the room, from the changing table to the toilet, to the sink and to the door:

The lift can support the size and weight of children and adults (up to 600 lbs);
Disposable slings are available upon request for families who need one.

A mechanism that ensures dignity and privacy as it signals when the washroom is in use;
Emergency call buttons beside the toilet and changing table for anyone needing assistance.
"Our infrastructure was built almost 50 years ago and was not planned for the needs of everyone. Today, we must take action to remove barriers for families and our kids," said Alex Munter, CHEO President and CEO. "We're grateful for the feedback and patience of our families and proud of this new space at CHEO."
This is CHEO's second washroom to include a lift. The other lift was added in 2021 and is located on the main floor.
These initiatives are the latest improvements as part of CHEO's broader accessibility plan, developed in partnership with families.
-30-
Media contact
media@cheo.on.ca
About CHEO
Dedicated to the best life for every child and youth, CHEO is a global leader in pediatric health care and research. Based in Ottawa, CHEO includes a hospital, children's treatment centre, school and research institute, with satellite services located throughout Eastern Ontario. CHEO provides excellence in complex pediatric care, research and education. We are committed to partnering with families and the community to provide exceptional care — where, when and how it's needed. CHEO is a partner of the Kids Come First Health Team, a network of partners in Eastern Ontario working to create a high quality, standardized and coordinated system for pediatric health care that is centred around children, youth and their families. Every year, CHEO helps more than 500,000 children and youth from Eastern Ontario, western Quebec, Nunavut and Northern Ontario.