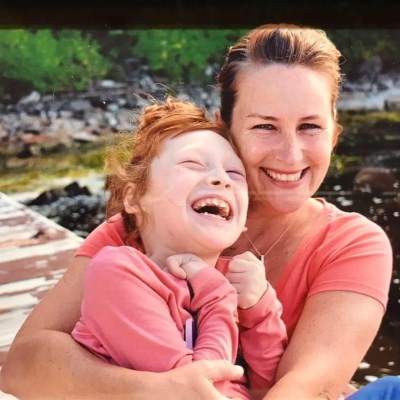 Linda and Chloé
Claire and Chloé
Early on, given the possibility of a pandemic on the horizon, CHEO started planning to care for children and youth who might become infected with the COVID-19 virus. By March, when the pandemic arrived and many services were forced to temporarily close, CHEO shifted focus to providing new services to families affected by the virus. Families like Linda Tabet's.
"Chloé is prone to lung infections. For her, even a common cold may require hospitalization," Linda says. "When COVID-19 became a real threat, I knew that the two of us had to isolate at home to keep her safe and happy."
Chloé is Linda's 7-year-old daughter — a beautiful redheaded girl with a million mile smile. She has a rare genetic disorder (about which very little is known) affecting just 12 children worldwide. Chloé requires a wheelchair. She is non-verbal, visually impaired, and needs help with simple daily tasks like eating.
In March, Chloé's school closed, daily home visits from personal support workers were stopped, and weekly visits by volunteers from Roger Neilson House were suspended – all as safety precautions facing COVID-19. Linda's parents helped out with grocery shopping and errands but, suddenly, Linda and Chloé were isolated at home, alone but together.
"With so many services being temporarily forced to close, we knew that families with kids who have complex needs would be particularly hard hit," says Bruno Perrier, Manager, Community Engagement and Volunteer Relations at Roger Neilson House (RNH). "CHEO and RNH partnered to brainstorm ways we could support these families as best we can."
A new program to provide in-home companionship for children and respite for parents was quickly developed. CHEO staff volunteered to redeploy from their usual jobs to make home visits to families most in need of support. At the suggestion of Stephanie Paravan, a family partner, CHEO social workers and other health care professionals were asked to identify families with the greatest need. Bruno called Linda to see if she would be interested in having a CHEO staff person care for Chloé three hours a week.
"I was grateful for Bruno's call," Linda says. "Chloé is really social. She loves her friends from school and this break in routine is very hard on her. She was really missing out on companionship because suddenly all she had was me."
Claire Lafleche-Breton, an occupational therapist at CHEO's Cornwall location, normally works in Development and Rehabilitation providing occupational therapy services for children ages 0 – 5 (until they enter school) and in the Seating and Mobility Clinic providing wheelchair and seating prescriptions for children and youth. When the pandemic began, Clair was redeployed to the new Respite Companionship Program. One of her assignments is to visit Linda and Chloé for three hours every Friday afternoon.
"When I arrive, I can hear Linda talking to Chloé," Claire says. "I ring the doorbell and Linda tells Chloé, 'Claire is here' and I can hear Chloé giggle. It is the highlight of my week."
Claire spends the next three hours taking Chloé for a long walk on a nearby bike trail, talking and singing, and enjoying tactile experiences like touching the flowers and grass. They sit together in the shade where Chloé enjoys the breeze and the sounds of kids playing. They spend time in the backyard gazebo playing with playdough, reading Chloé's favourite books and cuddling.
"The hours that Claire is here with Chloé are special," Linda says. "When it's just me and Chloé I am often distracted by laundry or some other task but when Claire is here, she is all about play and companionship just for Chloé. And it gives me a chance to cook our meals for the week."
Linda shares that the most unexpected part of being isolated with Chloé is the physical toll it takes on her — all the lifting to transfer Chloé from her wheelchair to the bed, all the bathing and toileting — some days she feels like she is wearing out.
"Some days I tell myself that I just need to make it until Friday when Claire will be here and I can get a break," Linda says. "I am grateful that CHEO and Roger Neilson House recognized our need and reached out to me and Chloé. It makes me feel that people do care and are here to help."