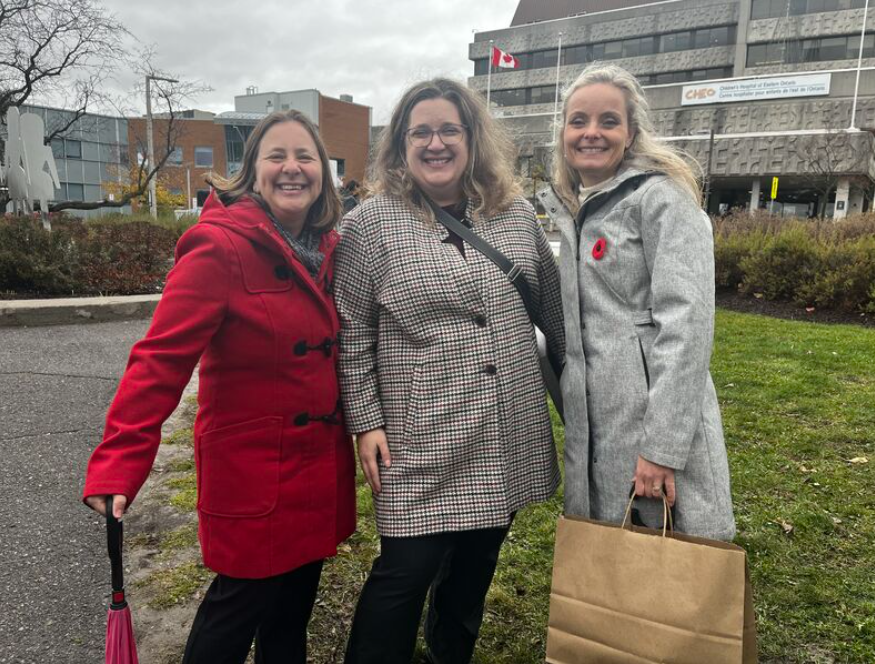 Although architects and engineers are primarily behind the design of CHEO's soon-to-be-built innovative Integrated Treatment Centre on the CHEO campus, families have already been playing a critical role in helping to inform the new state-of-the art space. That's right—parents of children on their journey of care have been contributing design ideas and feedback based on their real-world experience. And those ideas will come to life as the construction gets underway. The CHEO Integrated Treatment Centre will bring together a multidisciplinary team of healthcare professionals, including pediatricians, social workers, therapists, psychologists and speech and language pathologists, to bring comprehensive treatment programs for children. By bringing these services under one roof, the goal is to make the care journey easier for our young patients and their families.
Over the past 15 years, Judy Lincoln has become very familiar with CHEO as her child required many visits with doctors, specialists, and therapists. And while she never questions the quality of care, Judy remembers ways in which their journey could have been better. "We once missed one of our appointments because we couldn't find a parking spot. So, the next week, I rode my bike with my child in the trailer. Unfortunately we nearly missed our appointment because there was nowhere to lock the bike," she recalls.
With her own experiences in mind, Judy joined the Family Advisory Council who is working with the 1Door4Care team to discuss issues such as accessibility and how patients and family members could better manage during long appointments or stays.
Judy's input was incorporated into the design of 1Door4Care and a new large, covered parking garage (with a bike lock and storing area, of course!) will ensure that parents don't have to scramble to make it on time for their appointment.
Leanne van der Zweep has also been spending a lot of time at CHEO over the past decade with her son. And she too is part of the Family Advisory Council, where she offered suggestions to improve signage, a better waiting area and even sinks for cleaning medical equipment.
"Those things might seem small, but having a locker and a sink will make a world of difference. I'm so grateful to the design team for listening to our input and integrating some of our ideas into the design," says Findlay-Van Der Zweep. "For families, this is more than a building, it is a lifeline that will mean they will have support to get the best possible care for their child."
Christine Dalgleish, another long-standing Family Advisory Council member, couldn't agree more: "The world is not made for kids like my daughter. Everywhere you go, there are barriers to overcome. If there is one place in the city that should be built for kids, it is CHEO. The idea of having all these pieces into one puzzle is so comforting." ​
Leeanne, Christine and Judy are just three of the many volunteers who contributed their time and experience to ensure the 1Door4Care will help many families on their health care journeys in the future. With their input, as well as the expertise of the architects and engineers, this will be much more than just a new building. "Knowing that the space is designed with family comfort and needs in mind will be invaluable to the community that calls CHEO home," says Leeanne.
No login? Please enter your details below to continue.