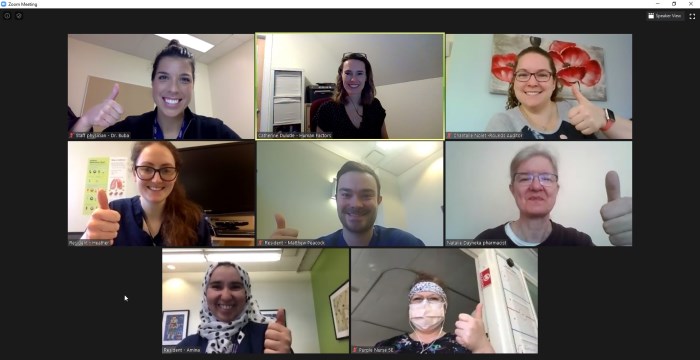 If you have never been part of family-centred rounds in a hospital, you have probably seen an example on a television show — a group of staff and medical staff move from room to room, patient to patient, discussing each child's care plan. For decades, this is the way family-centred rounds have been done in hospitals all over the world. But now, CHEO is doing it differently.
"With the arrival of the COVID-19 pandemic in mid-March, minimizing close personal contact became a priority safety precaution to protect against infection," says Dr. Melanie Buba, CHEO Pediatrician and the virtual rounds team co-lead. "Rounding is important, so we knew we had to figure out an alternative to traditional family-centred rounds as one more way to keep everyone at CHEO safe, while maintaining our high standard of care."
A multidisciplinary team co-led by Dr. Buba and Catherine Dulude, Human Factors Engineering Specialist, came together with Martha Pinheiro-Maltez, Clinical Manager for Inpatient Medicine, and Megan Sloan, Project Coordinator for Quality Improvement, to design a virtual family-centred rounds process that maintained the essential components of traditional family-centred rounds, most importantly including patients and their family caregivers. On April 5, just three weeks after the start of the COVID-19 pandemic, CHEO's first virtual family-centred rounds happened.
And it continues today. Now, first thing in the morning, unit clerks make and distribute a patient-by-patient rounding schedule, allotting 10 minutes per patient. Past research at CHEO shows, on average, this is the time required to review essential medical information and make a plan for the day. Following this schedule, physicians, residents, pharmacists and nurses sign into the virtual family-centred rounds — a secure Zoom meeting —and discuss each patient in turn. At CHEO, family caregivers are critical members of the care team so, the nurse caring for each patient delivers an iPad to the bedside and invites patients and their family caregivers to partner in rounds too.
The entire team meets "face-to-face" from wherever they are in the hospital, safely physically distanced from one another. The initial results and reactions have been great.
"Several families have told us that they prefer virtual family-centred rounds as it is easier for them to interact with the care team, without the stress and disruption of everyone gathering at the bedside or outside the patient's room," says Dr. Buba. "In the future, I can see being able to include family caregivers who are at home where they are needed to care for their other children."
The team has also noticed that families love the increased privacy of using headsets or earbuds with the iPad!
Virtual family-centred rounds will also be extended to include CHEO's other health-care professionals — occupational therapists, dietitians, respiratory therapists, and physical therapists, for instance. Families and medical staff see this as an opportunity to bring the entire extended care team together for a daily consultation without stress or risk of infection. It's yet another way that CHEO always puts safety first!