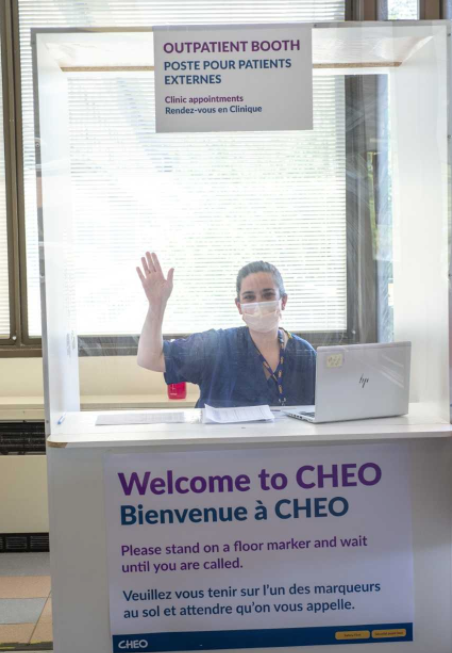 This post was written by Ross Brown and originally shared on his blog The Brown Knowser. It has been reproduced here with his permission. Thank you Ross!
This post is mostly directed to those of you who live in Ottawa with young kids. I hope that this situation applies to other cities.

With our city in Stage 2 of the COVID-19 lockdown, I am more stressed than ever when I'm out in public. I see so many people in stores who are not wearing protective masks and lots of people who do not respect the two-metre physical distancing. So when my youngest daughter had an issue where we needed to seek immediate medical help, not only was I worried about her condition but I was more worried about taking her into the hospital.

I don't like sitting in an emergency waiting room in the best of circumstances, but with COVID? Yikes!

Coming out of the experience (my daughter is better, by the way), I thought I would let those of you with similar fears know what to expect, should you need to take your young one to CHEO.

First off, if you need to take your kid to CHEO, don't bring a mask. Passing through the emergency entrance, you are assessed immediately at the door. If you're wearing a mask, they ask you to remove it and they issue you a fresh medical mask. They ask you if you've experienced any symptoms or have been near someone who has. They ask you if you've crossed over into Québec. They ask you if you've experienced a runny nose, sneezing, coughing, and sinus irritation.
I told them that I suffer from seasonal allergies, and that I have those symptoms, but I'm fine when I take my allergy meds.
You are given a sticker that indicates that you have been assessed, and you are sent to the triage line, which was empty when we arrived at about 9:30 in the morning. We were met immediately by triage staff, who took my daughter's health card, weighed her, and took her temperature and blood pressure while asking the reason for her visit.

The staff placed a wrist band on my daughter and we were sent down the hall, toward the examining rooms and waiting area, but by the time we reached the end of the hall, my daughter's name was called and we were sent straight into an examination room.

A nurse came in within a couple of minutes and asked my daughter a bunch of questions related to her reason for coming in. She was asked if she had taken any medication and when she said she hadn't, was offered some for her pain.
There was a bit of a wait before the doctor came in, but the wait seemed shorter than had we waited in a common area, as had been the norm for previous visits. At one time, I was asked to leave the room so that the doctor could have a private conversation with my daughter (asking about drugs and alcohol, my daughter told me when I returned). The doctor ordered blood tests and I asked for a spot ultrasound, as was suggested by my daughter's private doctor (we had spoken to her over the phone, and it was she who told us to go to CHEO).

We waited in the examination room until we could be escorted to the imaging section. I learned that the examination room would be ours until we were finished, when it would be disinfected for the next patient. Walking through the halls, we saw few people but passed no one. Everyone had masks anyway, and the nurses even had face shields. I felt comfortable and assured that my daughter was in good hands.

The ultrasound was performed right away, and then we were asked to wait in the imaging room until the doctor said he was satisfied with the images. With his thumbs up, we were escorted back to our examination room, where a nurse was waiting to take the blood samples.

The longest period was after the blood samples. We were told that it would take about an hour for the results to be ready, and we were instructed to stay put. My daughter played some games on her smartphone and texted her friends; I edited videos from a weekend kayak trip and texted DW with our progress.

It took just over an hour for the doctor to come back. For our case, there was nothing serious and the doctor told us that we could go home. Had the results been different and had more testing been required, I believe that my daughter would have been treated with the same care and that thorough precautions would have been in place throughout the hospital.
(Actually, we've always had a great experience at CHEO. The care givers really have a child's best interest in mind and they work tirelessly to ensure that the kid is made to feel comfortable, and to assure the parents that their child is in exceptional hands.)

No parent likes to be in a situation where their child needs medical attention. In this time of pandemic, we want to further protect our kids. But if you have to go to CHEO, you can rest assured that your visit will be met with safety measures in place.