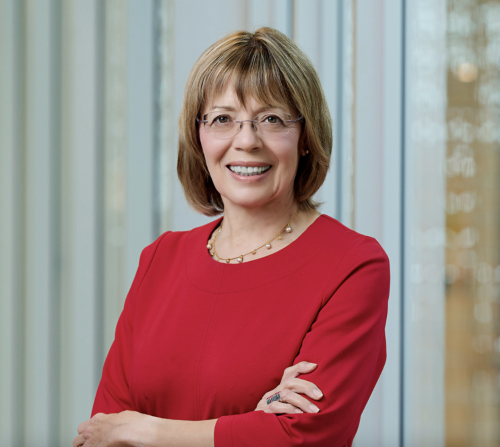 The Youth Services Bureau (YSB) and CHEO are excited to announce Dr. Joanne Bezzubetz will be joining the organizations on November 20 as Vice President, Integrated Mental Health and Addictions Care, a shared position between YSB and CHEO. YSB and CHEO share a common goal: to transform child and youth mental health services so children, youth and their families get access to quality care when they need it.
As Vice President, Joanne will be part of both YSB and CHEO's leadership teams and will ensure that services and programs are accessible to community members who face barriers such as culture, gender, age, isolation, homelessness, language, physical and/or cognitive disabilities, poverty, sexual identity, and race.
Joanne is an accomplished and innovative healthcare leader with more than 20 years of experience in delivering transformative change to enhance client and family experience. She was responsible for the delivery of community services and mental health programs on the West Coast, before joining the Royal Ottawa Health Care Group 10 years ago, where she led and delivered transformative operational change and a bold new strategy and research-based academic mandate for the organization.
"As the Lead Agency for the Ottawa region, YSB is thrilled to welcome Joanne to our team," said Wes Richardson, Acting CEO of YSB. "Through her leadership, we will work to improve the care experience for children, youth, and families by ensuring that Ottawa's community mental health and addictions services are well integrated." As Lead Agency, YSB oversees the development, implementation, and strategic direction outlined in the Child and Youth Community Mental Health Plan for Ottawa.
"Putting young people on the path to mental health and well-being changes the entire trajectory of their lives," adds Alex Munter, CHEO's President and CEO. "I've worked with Joanne since she arrived in Ottawa so I know she'll fit right in with our passionate, hard-working and imaginative mental health team." CHEO is the only pediatric hospital in Canada with a Vice President devoted solely to mental health and addictions care.
Joanne will also play a leadership role at the Kids Come First Health Team, a collaboration of over 60 organizations, youth and family partners that assembles nearly 1,100 physicians and other health providers to provide health services to children and youth. Part of this initiative includes 1Call1Click, a unique service in Canada that makes it easier for children, youth and families of Eastern Ontario to find the care they need for mental health and addiction.
Dr. Bezzubetz succeeds the role previously occupied by Joanne Lowe, who will be retiring at the end of the year, following a remarkable and impactful career serving youth mental health and addictions. We want to take this opportunity to wish Joanne Lowe all the best in this new chapter.
For more information, please contact Suzanne Fraser at sfraser@ysb.ca or 613-277-7103.
About CHEO
Dedicated to the best life for every child and youth, CHEO is a global leader in pediatric health care and research. Based in Ottawa, CHEO includes a hospital, children's treatment centre, school and research institute, with satellite services located throughout Eastern Ontario. CHEO provides excellence in complex pediatric care, research and education. We are committed to partnering with families and the community to provide exceptional care — where, when and how it's needed. CHEO is a partner of the Kids Come First Health Team, a network of partners in Eastern Ontario working to create a high quality, standardized and coordinated system for pediatric health care that is centred around children, youth and their families. Every year, CHEO helps more than 500,000 children and youth from Eastern Ontario, western Quebec, Nunavut and Northern Ontario.