Information for parents and caregivers re: pain and fever medication availability
(Last updated September 28, 2022)
Parents and pediatric health centres across Canada are responding to liquid Tylenol and Advil supply concerns. CHEO is not alone in this.
The availability of these products has fluctuated throughout the pandemic. CHEO is taking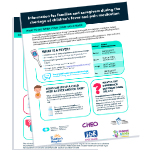 steps to ensure that any child or youth who needs pain and fever management during their stay with us will receive it.
CHEO experts have worked with pharmacists across Canada to prepare this helpful guide for parents as they search for options in the community.
One thing we know from the pandemic: hoarding does not help. Talk to your local pharmacist and/or health care provider to find options that are right for your loved one if liquid Tylenol or Advil are out of stock when you need them.
A fever is the natural reaction of the body when it's fighting an infection. Most fevers in children are caused by virus infections. They are also common after vaccinations. Fevers do not cause any harm. Your child or youth's actual temperature (the number on the thermometer) is not important. How they look and behave is most important. When their temperature is high, children will feel unwell and look tired, but should feel better after the fever is treated.
Below you will find resources to help you better understand, cope with and/or support someone with a fever.
Disclaimer
These resources are for educational purposes only. If you have any questions, ask your health-care provider.