Below you will find a variety of resources to help you better understand, cope with and/or support someone with inflammatory bowel disease (IBD).
Resources for children, youth and families
Books
Your child with inflammatory bowel disease: a family guide for caregiving / North American Society for Pediatric Gastroenterology, Hepatology and Nutrition - Baltimore: Johns Hopkins University Press, 2010. FAM RC 862 .E52 Y68 2010

This book provides parents with practical advice on how to tell their children about their IBD and discusses the challenges children may face at school and in their social lives, especially as they grow older.

Guts, by Raina Telgemeier [En français : Cougage par Raina Telgemeier]
The Anxiety Workbook for Teens: Activities to Help You Deal with Anxiety and Worry, by Lisa M. Schab LCSW
The Chronic Pain and Illness Workbook for Teens: CBT and Mindfulness-Based Practices to Turn the Volume Down on Pain, by Rachel Zoffness MS PhD
Maladie chronique : Ce n'est pas juste, mais on s'ajuste ! par Marie-Eve Chartré, Johanne Gagné, et Vanessa Destrempes
Videos
Information handouts
Mindful tips for those with IBD
Nutrition for children with IBD
You are free to copy and redistribute these materials in any medium or format. This work may not be used for commercial purposes. View the full Creative Commons license.
Transition to adult care
Learning modules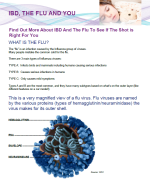 Find out about IBD and the flu to see if the flu shot is right for you.
This educational module is free for non-profit use, and brought to you by the care team at the CHEO IBD Centre. It is protected under terms of the Creative Commons license.
Websites
Blackboards and bathrooms - a comprehensive resource to help teachers support the education of children with IBD.

Camp Got2Go - Crohn's and Colitis Canada's one-week, overnight summer camp for children and youth living with Crohn's disease and ulcerative colitis
Articles
The impact of IBD for children in Canada
To tell or not to tell others about your IBD
Apps
GoHere washroom finder
Available for iPhone and Android

Doc4Me
Local contacts
Crohn's and Colitis Canada - Ottawa
613-806-7956
ottawa@crohnsandcolitis.ca
Disclaimer
These resources are for educational purposes only. If you have any questions, ask your health-care provider.
Resources for health-care professionals