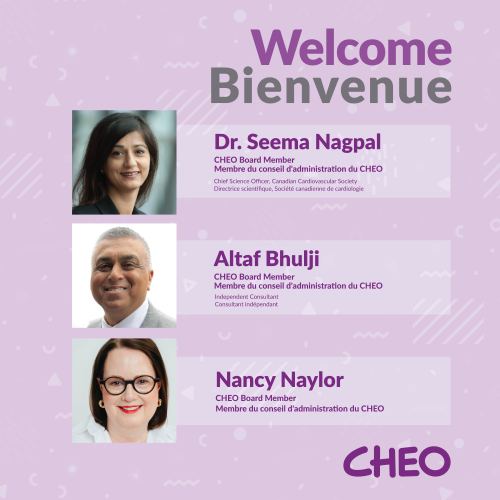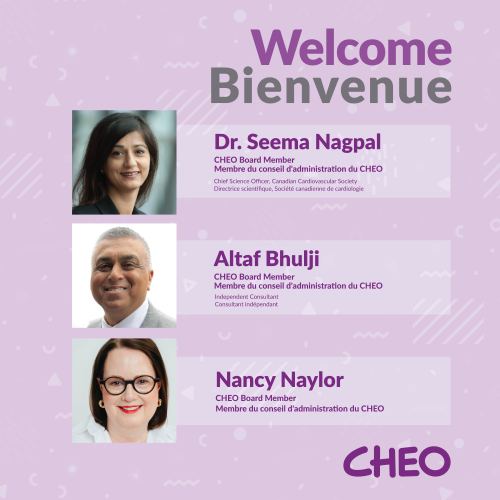 A warm CHEO welcome to our newest board members: Dr. Seema Nagpal, Altaf Bhulji, and Nancy Naylor. Each bring a wealth of experience, expertise, and a shared commitment to the CHEO mission and vision:
Dr. Seema Nagpal: Dr. Nagpal is an epidemiologist with broad leadership experience in scientific operations. Currently the Chief Science Officer of the Canadian Cardiovascular Society, Dr. Nagpal works closely with governments, health care professionals, partner organizations and patient groups to drive impactful change within the health system.

Altaf Bhulji: With over 20 years of experience in the financial sector, hotel management and operations, Altaf holds extensive experience in facility management, finance and environmental sustainability.
Nancy Naylor: Nancy has held several leadership roles in the Ontario public service, including Deputy Minister, and led major projects in funding, labour relations, infrastructure, information technology and public policy.
Find more information about the CHEO Board of directors.

About CHEO
Dedicated to the best life for every child and youth, CHEO is a global leader in pediatric health care and research. Based in Ottawa, CHEO includes a hospital, children's treatment centre, school and research institute, with satellite services located throughout Eastern Ontario. CHEO provides excellence in complex pediatric care, research and education. We are committed to partnering with families and the community to provide exceptional care — where, when and how it's needed. CHEO is a partner of the Kids Come First Health Team, a network of partners in Eastern Ontario working to create a high quality, standardized and coordinated system for pediatric health care that is centred around children, youth and their families. Every year, CHEO helps more than 500,000 children and youth from Eastern Ontario, western Quebec, Nunavut and Northern Ontario.