'I can't wait to see my grandchildren'
CHEO answers the call for support in the vaccine rollout in across Ottawa
At 85 years young, Bobbie Desormeaux is a touch older than the children and youth CHEO staff and medical staff are used to seeing. However, thousands of senior citizens like Bobbi have been interacting with members of Team CHEO since COVID-19 vaccines started to rollout across Ottawa.
"We were counting down the days! It was so good to see the staff here get the vaccine too because they've been working so hard to take care of us and doing such a good job," said Bobbie, resident at Starwood Extendicare nursing home in Nepean. "I have been very lonely. I have phone calls and all that, but I will be happy to go out in the fresh air and visit my family again."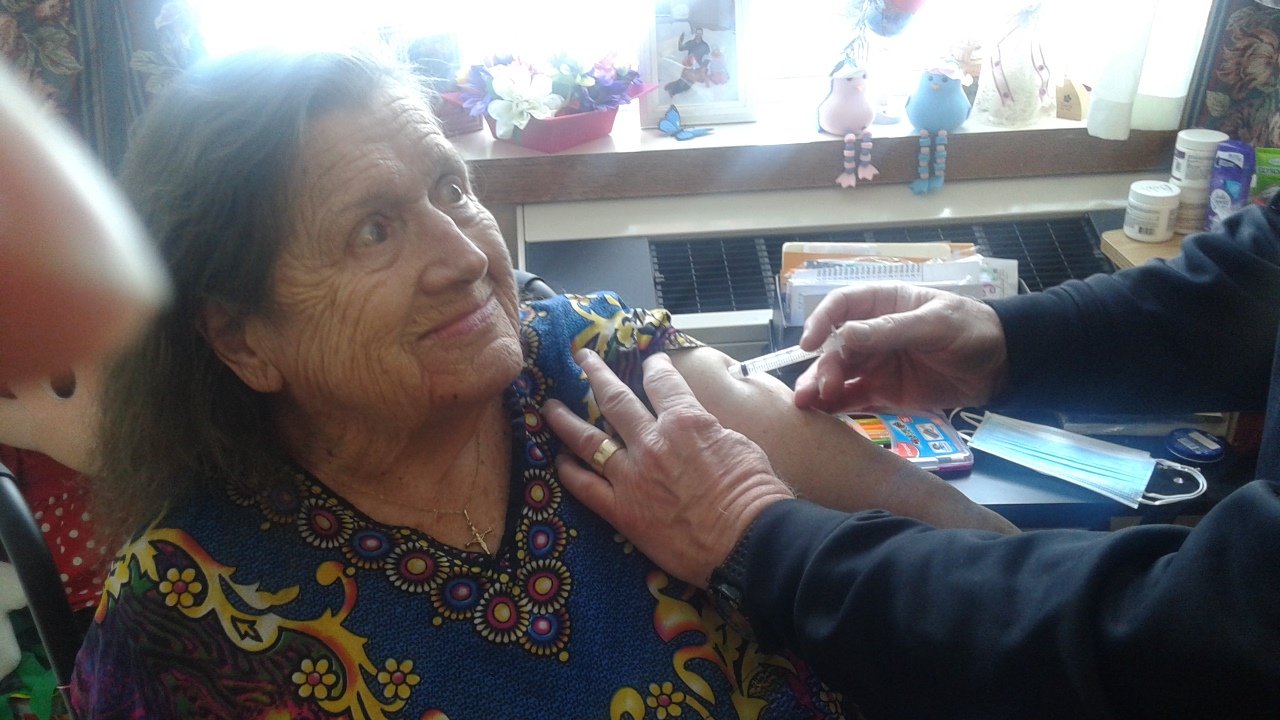 Unlike the flu shot, the Pfizer-BioNTech COVID-19 vaccine requires every dose to be specially prepared after its careful storage in super-cold freezers. Vials must be thawed, diluted and carefully inspected before every dose is ready for use. Enter, six members of CHEO's pharmacy staff who readily volunteered to help out! They've played an integral role in helping to vaccine those in long-term care homes and retirement residences at the government's direction for the first wave of vaccines.
"It's been such an incredibly rewarding experience helping the long-term care and retirement residences that have been hardest hit by the pandemic, and bringing them new hope through vaccination," said Danica Irwin, CHEO Pharmacist. "Everyone is all smiles when we walk in the door and I know the excitement will be just as high when more doses become available for the general public."
When that happens, CHEO has a long list of physicians and nurses who are at-the-ready to help mobilize the City's plans to get a vaccine into the arm of everyone who wants it.
So far, members of Team CHEO have been to over 20 long-term care homes and retirement residences across Ottawa — revisiting some of the same sites CHEO staff volunteered at during the first wave of the pandemic. At the time of publishing this blog, more than 40% of all long-term care homes across the province have had an opportunity to receive the first dose of a COVID-19 vaccine, and more than 83,000 long-term care residents, staff and essential caregivers have been vaccinated. In Ottawa, every long-term care resident and employee has received a first dose, and the City's vaccination teams are now moving into retirement residences.
For more information on the current status of the COVID-19 vaccination rollout in Ottawa, visit the Ottawa Public Health website.
For information on CHEO's ongoing response to COVID-19, visit www.cheo.on.ca/covid-19.
No login? Please enter your details below to continue.