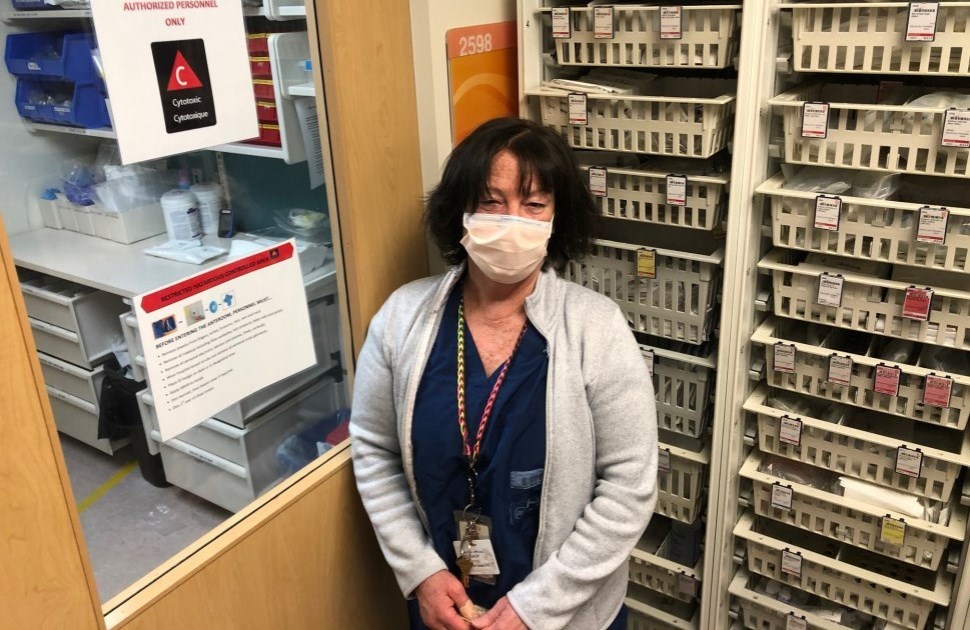 Enjoy "Walk in our shoes," a new podcast about working at CHEO during the COVID-19 pandemic. This podcast series features brief conversations between CHEO's president and CEO, Alex Munter, and various staff and medical staff.
Latest episode: Louise Taillefer, Pharmacy Technician
Listen to episode four, a conversation between Alex Munter and Louise Taillefer. Almost 35 years ago, Louise, a registered Pharmacy Technician joined CHEO.
She has seen a lot of changes. Two new wings of the hospital have been built and funding for a new building — 1 door for care — has just been confirmed which will support children and youth with complex care, special needs and mental health challenges. Pharmacy has transitioned from handwriting and typewriters to Epic, CHEO's world-class electronic health records system, improving the speed and safety of medications at CHEO.
If you think a career at CHEO might be right for you, visit our Careers page.
Past episodes:
Episode three: Sarah Hendry, Mental Health nurse
This episode is a conversation between Alex Munter and Sarah Hendry. Ten years ago, straight from Nursing School at the University of Ottawa, Sarah did her nursing consolidation training on CHEO's mental health crisis unit. She has been a mental health nurse at CHEO ever since.
Sarah's kindness and compassion glows. Thank you Sarah!
For adults with mental health issues, 70% of them first have issues in their adolescence. Mental health nursing professionals like Sarah and her colleagues at CHEO — psychologists, occupational therapists, psychiatrists, social workers and child and youth counselors — know that early intervention and support can truly change the trajectory of a person's life.
If you think a career at CHEO might be right for you, visit our Careers page.
Episode two: Chris Leblanc, Help Desk
This episode is a conversation between Alex and Chris Leblanc. In 2017, Chris joined CHEO as a casual, part-time clerk the Health Records department, working behind the scenes during CHEO's transition from paper files to electronic health records. In July 2019, Chris moved to the Help Desk, taking on the job of supporting computer users throughout CHEO, on the phone and in person.
Little did Chris know that he was about to become very busy. The Help Desk provided (and continues to provide!) critical support to staff who were suddenly working from home, and to clinicians who quickly pivoted to offering more and more virtual appointments as we worked to limit onsite visits. Two big, sudden changes that needed lots of support from the Help Desk.
Note Chris's long hair and beard before you listen. You'll learn why.
Chris was just promoted to being a Business Systems Analyst. Congrats, Chris! Listen to Chris's enthusiasm for a career at CHEO.
If you think a career at CHEO might be right for you, visit our Careers page.
Episode one: Jackson Wu, Environmental Services
Episode one features Jackson Wu. Jackson joined CHEO and Environmental Services 11 years ago. He works all over the hospital cleaning and sanitizing in the Emergency Department and inpatient units. He's part of the team that keeps CHEO clean and safe.
Listen to Jackson sparkle when he talks about his enthusiasm for serving children, youth and families at CHEO.
"Interacting with people, children and families, is the best part about working at CHEO. Ensuring that they are well looked after while their child is in, maybe, a stressful situation. When I see them, I'm just there to help."
If you think Team CHEO would be a good place for you, visit our Careers page.
Note, a French transcript of the podcast is available.