Last updated: June 16, 2021
Welcome!
Welcome to CHEO! We know that information changes quickly during the pandemic and we've put together this page to help you find popular topics, questions and answers. If you don't find what you're looking for, please contact us at webmaster@cheo.on.ca and we'll be happy to help.
You are safe when you come to CHEO and we always strive to deliver exceptional care. We hope you have a good visit onsite and wonderful day!
Coming to CHEO?
Fill out your online self-screening
Can't find what you're looking for?
If you have questions about CHEO's COVID-19 response, call our hotline: 613-737-7600 extension 6720.
If you have general questions about the COVID-19 virus, visit the Ottawa Public Health website.
Parent/caregiver presence policy:

When parents and caregivers come with their children and youth to CHEO, they're not visiting. They are actively working as part of their child's care team, providing us with vital health information only they would know and giving emotional support in a way only a parent or caregiver can.

In order to help keep everyone safe and minimize the chance of transmission of infections during this pandemic, family caregivers will be screened before entering CHEO's main campus, and will not be allowed to enter if they are sick. All children, youth and family caregivers must enter through the main entrance for clinic visits, or the Emergency Department in urgent cases. Other entrances are closed.

Until further notice and effective immediately:

To limit the number of people in the building, ONE parent/caregiver will be allowed to accompany children and youth while at CHEO, whether in clinic, the Surgical Day Unit or the emergency department.
Children and youth who are admitted as inpatients may have TWO designated parents or caregivers present during the day and overnight. Only those who have been screened daily will be permitted at the bedside.
Siblings who are not designated caregivers are not permitted. We appreciate that this requires you to make childcare arrangements for any siblings, and we are so thankful for your support in doing so.
For some outpatients and their caregivers (e.g. persons with disabilities), a second essential support person may be allowed to aid patients and care teams. For patients and caregivers who require additional support, please contact your clinical area to determine if an exception to ONE parent or caregiver at a time can be granted. For Emergency Department (ED) visits, please discuss your need for an exception on arrival to the ED.

Given the seriousness of this pandemic, it is important that designated caregivers refrain from coming to CHEO if they are feeling unwell or displaying symptoms such as fever or cough. Rest assured, CHEO will find extra support for your child if you are unable to be onsite due to sickness.
Frequently asked questions about COVID-19 and CHEO
If you are unable to find the answer you're looking for here, our Patient Experience Team is available to answer any of your questions about CHEO's COVID-19 response! Call 613-737-7600 extension 6720.

Remember, if you have general questions about the COVID-19 virus, call or visit the Ottawa Public Health website.
Coming to CHEO
Frequently asked questions
Is CHEO a safe place to be?
Yes! CHEO is a safe place for kids, caregivers and staff. Here are the key ways we are ensuring the safety of children youth and families during this time:
Everyone is carefully screened when they come to CHEO – this includes all staff, medical staff and families.
Everyone is provided with a mask to wear the entire time they are at CHEO.
We have signage and floor markers throughout CHEO, reminding everyone to keep a safe 2 meter distance.
We made changes to our parent/caregiver presence policy to minimize the number of people onsite.
We have an infection control and prevention team who makes sure CHEO upholds infection control standards and practices in accordance with current provincially and/or federally legislated requirements, and/or currently accepted professional guidelines and recommendations
For more information, read through our step by step guide of what to expect when coming to CHEO below.
What is CHEO doing to screen and protect patients?
CHEO staff are actively screening all patients and visitors. Recent travel history or exposure to sick travellers, along with new symptoms of illness, help us quickly identify children and youth who may have the virus. Any patient who screens positive for possible exposure to the virus will be placed on additional precautions and evaluated further to determine if testing is required.
Our Infection Prevention and Control team is in close contact with Ottawa Public Health and other agencies to help guide decision-making and receive updates on the virus.
Is it safe to bring personal items for my child's appointment or stay at CHEO?
Yes it is safe to bring personal items for your child's appointment or stay. However we ask that you only bring as few items as possible — only the items you need — and wash or disinfect them before and after to prevent the spread of infection. This is especially important if you are coming for a clinic appointment or to our Emergency Department.
What do I do if my child or youth has an existing health condition or has complex care needs?
If your child has an existing health condition, or requires complex care, it is very important you follow Ottawa Public Health's preventive and preparation measures — especially if you are their primary caregiver. In addition, please:
do not hesitate to visit CHEO's Emergency Department if your child is in need of emergency care — we are actively screening all patients for recent travel history, exposure to sick travelers and symptoms of illness
ensure you have 2-3 weeks of medication and medical supplies on hand
consider making a back-up support in the event your child's primary caregiver becomes sick
ask anyone who will be in contact with your child if they have infectious symptoms and ask them to stay away if they do
limit your exposure to public places as much as possible — consider using a grocery delivery service, or asking for help from family and friends
contact your primary care provider or social worker with any additional questions or concerns you might have
Tips and strategies for families
My child or youth needs to come to the CHEO Emergency Department. What should I do?
When you arrive at the Emergency Department, please:
wash your hands with hand sanitizer.
If your child or youth is experiencing any symptoms of COVID-19:
put on masks when you arrive
Let the screeners know about their symptoms and recent travel history, including travel of those close to them.
What amenities and accommodations are available to caregivers at CHEO?
To prevent the spread of infection and keep kids, caregivers and staff safe, we have had to limit some of the amenities available at CHEO right now. Our Ronald McDonald Family Lounges are currently closed.
Computer and internet access
Wireless internet is available free of charge. Simply open your laptop or mobile device and select "CHEO_Guest" from the list of networks. Then click "Connect." Before doing so, please familiarize yourself with our terms of use.
Computers in the Ronald McDonald Family Room and Family Resource Library are currently unavailable. Please use your own devices.
Food services
CHEO's Oasis Cafe and Rainbow Cafeteria are still open to kids, caregivers and staff. Please follow social distancing while in these areas!
We also offer room delivery to kids and caregivers on our inpatient units, including those in isolation. Please ask your care team or our cafe staff for a menu.
New: We've extended our inpatient delivery services to 10pm daily. You can continue to order from our regular menu from 8am - 7pm. From 7pm to 10pm you can now order from our limited after hours menu. Please ask a member of your care team for either menu.
Microwaves and refrigerators
Our family kitchen on 4 West and other units are still open for caregivers. You can use the microwave and refrigerator there while your child or youth is at CHEO as an inpatient. If your child or youth is in isolation, unfortunately you will not be able to use these shared microwaves and refrigerators.
KidCare Pharmacy offers delivery and drive-thru services
CHEO's KidCare Pharmacy now delivers prescription packages to inpatient nursing stations and the Emergency Department, as well as to customers outside the Main Entrance.
For delivery inside CHEO: A nurse simply calls extension 6037 with an order. The nurse who places the order will receive the package at the nursing station.)
For pick-up at the Main Entrance: Call KidCare Pharmacy at 613-737-2316. Once your prescription is ready, KidCare alerts you and you simply drive up to the Main Entrance, where a friendly KidCare delivery person runs your prescription package out to the trunk of their car.
Sleep rooms and accommodations
Our sleep rooms are currently closed. If you want to stay overnight with your child, there are sleep beds available in each inpatient room. Only one caregiver can be on-site at a time.
Rotel — reservations can be made online or by phone
Homewood Suites - Downtown Ottawa — Studio suites for $79, 1 bedroom suites for $104 plus tax. Includes laundry services, to-go bagged breakfast and wifi. These discounted rates for CHEO families can be accessed using code MCD

Holiday Inn East — not accepting those with respiratory viruses)

YMCA. Please call 311 and speak to a crisis worker to receive a referral.
Showers, washrooms and menstrual products
We have two showers available for family caregivers who are staying at CHEO. To access them, call 613-737-7600 extension 6705. Towels are provided.
Male, female and gender neutral washrooms are available throughout CHEO. There are wheelchair accessible washrooms on each floor. Based on youth feedback, we now offer free menstrual products in washrooms across CHEO for youth, caregivers and staff.
Laundry services
The laundry machines in the Ronald McDonald Family Room are currently closed. If you need laundry services, Maple Laundromart on St. Laurent blvd offers services to CHEO families, including pick-up and drop-off for larger loads. Please contact them for pricing information or to arrange for services.
Social work support
Social work support is available 24/7 for children, youth and caregivers at CHEO. Please ask your care team to help connect you with our social work support. They can provide face-to-face or phone support.
Spiritual support and multi-faith prayer room
Spiritual services are available 24/7 for children, youth, caregivers and staff at CHEO. Kids and caregivers, please ask your care team to help connect you with our spiritual support. They can provide face-to-face or phone support.
Our multi-faith prayer room is still open. If you're planning to use the multi-faith prayer room, please:
wash your hands with soap and water, or hand sanitizer, before and after using the room,

do not use the room if another family is already using it.
Do I have to pay for parking to switch places with my spouse or other caregiver?
We have been able to provide free parking for the first months of the pandemic. However, as of July 2, in line with all the region's hospitals we are charging for parking again. For families and caregivers who are switching places to keep someone at the bedside, we have increased the grace period from 15 to 30-minutes on ticketed parking for which there is no charge. This is not possible at parking metres (pay-and-display).
CHEO has designed a number of different parking options because we never want parking to be a barrier to care. Please visit our Parking page for more information, including rates and other details. As always, our social workers are available to help families in financial need explore payment options.
Are there any changes to how my health information is shared?
As part of our emergency response to the COVID-19 situation, CHEO, The Ottawa Hospital and SickKids in Toronto will now allow your patient health record to be securely accessed by partner hospitals should you attend at one of these hospitals during the pandemic. This access is occurring via Epic's Care Everywhere functionality and your health information will only accessed by those health care professionals providing care to you.
Can I still pay my hospital bills in person?
Until further notice, families will not be able to pay bills in person at the cashier window. Instead, please pay your bills online using our online form.
If you have any questions, or troubles accessing the online form, please call our Finance office at 613-737-7600, extension 2242.
What to expect when visiting CHEO: A step by step guide
CHEO is a safe place for children and youth, caregivers and staff. We want you to know exactly what to expect when you come for an in-person appointment. Here is a step-by-step guide of what to expect while our COVID-19 precautions are in place:
Before your visit: complete your online self-screening

Before coming to CHEO fill out your online screening questions on the day of your scheduled appointment. Families who fill out their questions in advance will have access to our "Fast Lane" and spend less time in the screening area.
Arriving at CHEO
Park is in the usual visitor parking and make your way to the main entrance. This is a special family-only entrance where you will show your self-screening email confirmation to our staff greeters and be given masks.
Families who may experience accessibility challenges entering via the Main Entrance can enter CHEO using the Gary Cardiff Wing entrance. Before you arrive, please call our COVID-19 Screening Team at 613-727-7600 extension 6705. They will meet you at the Gary Cardiff Wing entrance to conduct your COVID-19 screening and help you enter the building.
Plan to arrive 15 minutes earlier than you normally would. Because of all our enhanced safety measures you might need a bit more time to get to your clinic.
Take some time to go over what to expect with your child or youth. All our staff will be wearing masks and PPE which can be a bit intimidating! You can watch our superheroes behind the mask video with your child before your visit.
Wear a mask into the building if you have a homemade cloth mask with you. You will be given another mask after you are screened but masks from home are helpful in case you have to line up to be screened.
Main entrance screening and online screening
If you have completed your screening questions online, please have your clearance email ready to show staff when it is your turn.
If you have NOT completed your screening questions in advance, line up using the physical distancing markers in place for your safety. If you or your child are immunocompromised, let CHEO staff at the door know right away! We will safely get you to your clinic, without waiting in line.
Answer the screening questions. You will be asked a few simple questions about your family's health and recent travel. Your answers will help CHEO staff know what precautions are required to keep you safe during your visit.
Put on the masks provided to you and your child. You'll notice everyone will be wearing a hospital supplied mask at CHEO. Please make sure you wear your mask the entire time you're visiting to help protect yourself and others.
Remove your gloves. If you are wearing gloves when you arrive, you will be asked to remove them and sanitize your hands because this is the best way to keep your hands clean. Hand sanitizer will be provided.
Did you know: CHEO has clear face masks which staff can wear to make it easier for our Deaf and hard-of-hearing patients and families to understand and communicate with their care providers! If you would find it helpful for your care provider to wear a clear mask, please let them know when you arrive.

Please note, there may be some cases where a staff member is unable to wear a clear mask because it doesn't fit them properly. To keep you safe, we need to make sure our staff are always wearing properly fitted masks and personal protective equipment (PPE).
Getting to and from your appointment
Make your way to your clinic following the signs posted. Depending on the answers you provided during your screen, you might be escorted to and from your clinic.
Look for new signage in waiting areas that indicate where to sit, and try to perform hand hygiene and physical distancing whenever possible. Young children might have a harder time with physical distancing. Please do your best to make sure they are keeping physical distance too.
If you have been assigned an escort, wait for them to return and bring you back to the main entrance or the Max Keeping wing entrance. A staff member from the clinic would be happy to assist in calling an escort if they are not waiting for you after your appointment.
Sanitize your hands at the hygiene station and return your masks as instructed.
That's it! It's our goal to help you feel as safe as possible when you're coming to CHEO. We'd love to hear how your experience was returning to CHEO so please let us know on social media, or write to us at experience@cheo.on.ca
CHEO Super Helpers
Help your child or youth prepare for their visit to CHEO during COVID-19 using a visual supports story developed by CHEO's Autism Program and Child Life specialists.
What if my child or youth's condition has changed?
If you feel your child's or youth's condition has worsened over this time, we encourage you to contact your family care provider for assessment. If the situation is urgent, please go to the nearest Emergency Department.
Throughout the pandemic CHEO has been evaluating patient lists to make sure that all children and youth are seen when they need to be. We have continued to see children and youth with urgent medical needs in-person, or virtually when possible.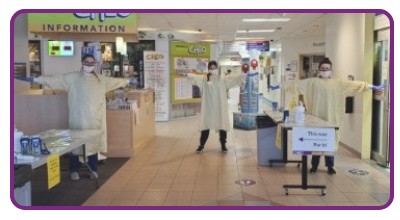 Virtual care
Learn more about virtual care at CHEO
Many clinics at CHEO are offering telephone and video appointments in some cases.
To learn more, or prepare for your upcoming virtual clinic visit or emergency department visit, visit our Virtual Care page.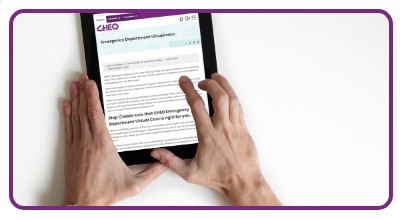 Personal Protective Equipment (PPE) and preventing the spread of infection
Frequently asked questions
What is PPE?
What is PPE?
PPE (personal protective equipment) is the special masks, gloves and gowns worn by staff to keep viruses from spreading. Because PPE covers up the big smiles of our CHEO team, some children and youth might need help to understand why PPE is being worn. Watch our video, the Superheroes behind the masks, to learn more.
Are you accepting PPE donations?
How can I help? Are you accepting donations?
If you're interersted in donating PPE, please visit 613 PPE Donations.
If you have a 3D printer and are able to help make face masks and other PPE, visit Ottawa Maker Community.
Hand sanitizer and hard surface disinfectants
Proper hand sanitizer and disinfectant use can help reduce the risk of infection or spreading infection to others. Check out Health Canada's tips and guidelines on when and how to properly use hand sanitizers and hard surface disinfectants.
My child isn't used to seeing people in masks and gowns, how can I help reassure them?
COVID-19 testing
COVID-19 testing for children and youth
View Ottawa's daily testing update
COVID-19 CHEO Assessment Centre at Brewer Park Arena
The COVID-19 CHEO Assessment Centre at Brewer Park Arena is an out-of-hospital testing site where children and youth (over two months old and under 18 years of age) can get tested for COVID-19 by a health-care provider. It is operated by CHEO, in partnership with The Ottawa Hospital (TOH), Ottawa Public Health (OPH), and the City of Ottawa.
The COVID-19 CHEO Assessment Centre at Brewer Park Arena for children and youth (2 months to up to the day before their 18th birthday) is available by appointment only.
For those requiring extra support for accessibility reasons, please contact CHEO's Patient Experience team at 613-737-7600 x6720.
Hours of operation (effective May 1, 2021):

Monday to Friday, 10:00 a.m. to 6:00 p.m.
Saturday and Sunday, 8:00 a.m. to 4:00 p.m.

Ages: 2 months to the day before 18th birthday (infants under 2 months of age must visit the CHEO Emergency Department)
What to expect during your COVID-19 test at Brewer Park
How to do a combined nose and mouth swab for COVID-19
How to find my results
We know that the results from your test(s) will impact your household, whether it's getting better from your illness or returning to child care, school and work. We want you to know your results as soon as possible, but there are sometimes delays processing results because of high demand. We appreciate your patience and understanding.
Will I get a call?
The CHEO Brewer Test Result team only calls if you tested positive (also reported as "detected").
There are four ways to get your results:
Ontario Health COVID-19 Results Portal (for Ontario residents only)
If you have a valid OHIP number, you can check your results using the online portal.
MyChart (available to anyone living in Canada)
All CHEO patients can sign up for MyChart. This is especially relevant for those who do not have OHIP. To activate your MyChart account, please follow any remaining steps on the MyChart instruction sheet given to you during your registration. Activating MyChart takes between one and three days.
If you are having problems with your activation, or with navigating MyChart to view your results, please contact the MyChart Support Line at 613-737-7600, ext. 6789.
Please do not contact the help line to expedite activation. For proof of status for schools, see "More information" below.
Your primary-care provider (PCP) (any resident of Canada)
If you identified a primary-care provider (e.g., family doctor, nurse practitioner) at registration, your result will be sent to them. Please allow at least 72 hours before calling them.
By email or phone (if you are unable to access your results using the above options)
If you are having difficulties with any of the above methods and it has been more than four days since your test, you can email testinginquiries@cheo.on.ca or call 613-737-7600, ext. 6720.
Please be sure to include your child's full name and date of birth, along with how we can best reach you.
Do I need to self-isolate?
Ottawa Public Health (OPH) emphasizes that all patients who are tested for COVID-19 and their household contacts must continue to self-isolate while awaiting COVID results. Ending your isolation is outlined in this handout from OPH:
High Risk Contact
If you are a high risk contact, and you test negative (not detected) for the virus, you need to continue isolating following Ottawa Public Health guidelines. You may need to get retested, as per Ottawa Public Health. If you develop symptoms after getting tested, you would also need to get retested.
More information
For more information, including school forms (a form to help parents communicate with schools regarding their child's testing), resources for self-care and mental health and more, visit the Ottawa Public Health website.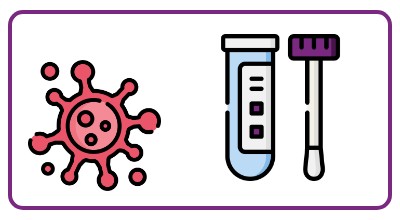 COVID-19 vaccine
Frequently asked questions about COVID-19 vaccination
What about vaccination of highest risk patients aged 12-15?
What is the clinical course of COVID-19 infection in children aged 12 to 15 years?
Evidence to date suggests that in general, children infected with COVID-19 are not at increased risk of severe disease.
The majority of COVID-19 infections in this age group are reported to be mostly mild or even asymptomatic.
However, there are reports that children with underlying health conditions (see below) are at greater risk of symptomatic infection or more severe disease although the evidence is limited and mixed.
Are there any COVID-19 vaccines that are authorized for use in children?
The Pfizer/BioNTech mRNA vaccine has been authorized by Health Canada for use in children age 12 and up
The Moderna mRNA vaccine has been authorized by Health Canada for use in individuals aged 18 and up.
For more information on the approved vaccines in Canada, visit the Ottawa Public Health website.
Have COVID-19 vaccines been studied in children?
There are currently ongoing pediatric clinical trials to assess the safety and efficacy of COVID-19 vaccines in children and youth ranging from ages 6 months to 17 years.
However, there are currently no published data on the safety and effectiveness of COVID-19 vaccines in children under age 12.
Health Canada has recently approved the Pfizer/BioNTech mRNA vaccine for use in children aged 12 and up.
What are underlying medical conditions known to be associated with increased risk of hospitalization or mortality in children 12-15?
Children with underlying health conditions, including chronic respiratory insufficiency, obesity, malignancy and neurodevelopmental conditions have had higher rates of hospitalization with acute COVID-19 but their overall clinical course has generally been favorable.
At this time, conditions as listed by the provincial ministry as being highest risk and high-risk medical conditions are as follows:
Highest-Risk Health Conditions:
Organ transplant recipients
Hematopoietic stem cell transplant recipients
Neurological diseases in which respiratory function may be compromised (e.g., motor neuron disease, myasthenia gravis, multiple sclerosis)
Haematological malignancy diagnosed <1 year
Kidney disease eGFR< 30
High-Risk Health Conditions:
Obesity (BMI > 40)
Other treatments causing immunosuppression (e.g., chemotherapy, immunity- weakening medications)
Intellectual or developmental disabilities (e.g., Down Syndrome)
The list of health conditions is not exhaustive. Health care practitioners should use their best medical judgement to vaccinate patients with health conditions not listed (e.g., rare diseases) that may put them at similar or greater risk to listed conditions.
What are situations that might increase the risk of a child's exposure to COVID-19?
The following are examples of situations where there may be varying increased risk of exposure to COVID-19:
Lives in a long-term care facility
Lives in a group home
Other congregate living environments where there is shared space (e.g. sleeping areas, shared bathrooms, shared kitchens, communal dining spaces)
Attends developmental services
Attends or lives in mental health and addictions congregate settings
Youth justice facilities
Homes for special care
Children's residential facilities
Other factors to consider:
Attending in-person learning (school, education centers)
Limited capacity or unable to comply with physical distancing, wearing face covering
Lives with household member at high risk of exposure
In addition, the risk also varies with community rates of COVID-19 especially in COVID-19 hot spot communities (as identified by provincial data supported by PHU local knowledge and expertise). Current and Local epidemiology should also be taken into consideration.
If I am breastfeeding or pregnant, should I get vaccinated?
For up-to-date recommendations and information on who can get vaccinated — including information on groups who weren't included in the first clinical trials — visit Ottawa Public Health's COVID-19 vaccine FAQ.
Info for children & youth with medical complexities
New: June 3, 2021:
The Kids Come First Health Team's Vaccination Clinic at CHEO provides COVID-19 vaccinations exclusively for youth ages 12 years old and up who are unable to be vaccinated in the community for medical reasons, along with their caregivers. See if your child or youth qualifies.
Kids Come First Health Team vaccine update
CHEO, Roger Neilson House and community pediatricians and family physicians are working together to bring pediatric expertise to vaccine clinics across Ottawa, including at CHEO.
All individuals 12 years of age and older are eligible to book a COVID-19 vaccination appointment through the Provincial Booking Portal or through the Provincial Vaccine Booking Line at 1-833-943-3900 (TTY for people who are deaf, hearing-impaired or speech-impaired: 1-866-797-0007).
Youth must be 12 years of age or older as of the date of their vaccination appointment to receive a COVID-19 vaccine.
Support for youth who are unable to be vaccinated in the community for medical reasons
The Kids Come First Health team will continue to offer COVID-19 vaccines at CHEO exclusively for youth ages 12 years old and up who are unable to be vaccinated in the community for medical reasons, along with their caregivers. These reasons can include:
history of anaphylaxis (severe allergy requiring epi-pen)
patients who have medical complexities or who are technology-dependent that makes it difficult to attend a community clinic (ex: tracheostomy & ventilator or uncontrolled seizure disorder)
immunosuppression
conditions that makes it challenging to be in crowded spaces (anxiety, autism)
other medical reasons that are not listed above but make it challenging for the youth to be vaccinated in the community
If your child requires a vaccination at CHEO for any of the reasons indicated above, please complete the pre-registration form below. A Kids Come First Health Team member will follow up with you within 3 business days to review your eligibility and discuss your options with you.
If you have questions about COVID-19 vaccination for your child, please discuss them with your family physicians or your care team at CHEO. For all other inquiries please contact Patient Experience 613-737-7600 x6720.
Receiving your second dose of the COVID-19 vaccine at CHEO
Did you receive your first COVID-19 vaccine at CHEO? Here is what you can expect for your second dose.
The Kids Come First Health Team will be holding vaccination clinics at CHEO for individuals who received their first dose at CHEO. These clinics continue to be offered based on the criteria established by Provincial guidelines and the availability of the vaccine.
What do these guidelines mean?
To facilitate a safer return to school in September, all youth and adolescents (25 years of age and younger) will be offered a second dose appointment in August.
Adults 26 years of age and older will be offered a second dose clinic appointment based on the date of their first vaccination. Clinic dates will be available in June, July and August.
At this time, we are planning for our next clinic for anyone who:

Is 26 years of age or older and received their first dose at CHEO before April 18th
If you meet this criteria and have not heard from A Kids Come First Health Team member by June 18th, please contact Patient Experience at 613-737-7600 x6720.
For all others that do not meet this criteria, you will be contacted for future clinics based on eligibility and the timelines as determined by the Province.
Want more options or a vaccination clinic closer to home? All individuals 12 years of age and older are eligible to book a second dose through the provincial booking system or participating pharmacies. Visit the provincial website to learn more.
Did you receive your first vaccine at CHEO and are eligible for an earlier second dose due to a certain health condition? Here is what you can expect for your second dose:
Please review and make sure you meet the criteria established by the provincial government
If you meet the criteria, please complete our self-identification form below. A Kids Come First Health Team member will follow up with you within 3 business days to review your eligibility and discuss your options with you.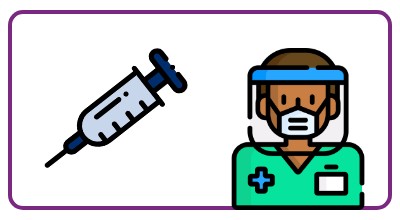 Pharmacy, medications and immunizations
Frequently asked questions
How long should I refill my prescriptions for?
Our KidCare Pharmacy is still open regular business hours. Your commonly prescribed medications will continue to be available, so you only need to keep a few weeks worth of your medications on hand. Please be considerate of how much you actually need, and avoid ordering more than a month's worth of your prescription.
To make sure you continue to have access to your prescriptions, CHEO's KidCare Pharmacy is:
honouring refills for up to a month's supply.
Should my child continue to get their routine vaccines on schedule?
Yes! All routine and toddler immunizations should continue as scheduled. This is one more way you can
keep your child safe and prevent another virus. Please call your family physician to see if they are
scheduling specific times for young or vulnerable populations to get their vaccines.
I've heard that you shouldn't take ibuprofen if you have COVID-19, is this true?
Right now, the reports that ibuprofen can worsen symptoms in patients with COVID-19 are not verified. Our pharmacy recommends that patients diagnosed with COVID-19 continue to manage their fever and pain with either acetaminophen or ibuprofen as usual. Please always speak with your doctor or pharmacist when seeking advice on medications.
We are monitoring the situation and will update these recommendations if new information or guidance is shared.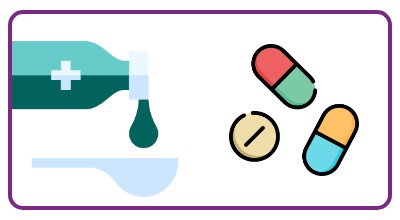 More resources
Parenting, mental health and wellness
Explaining COVID-19 to kids
Parenting, coping and mental health
Back to school
How to wear a mask at school (available in 8 languages!)

Looking for this video in a different language? It's also available in:
More information for children, youth and families
For health care professionals
Hot topics — asthma, development and rehabilitation, fever and more
Asthma and inhalers
There is currently a shortage of the Ventolin inhaler. Quebec pharmacies may supply children 8 years and older with an alternative inhaler such as the Terbutaline Turbuhaler or Ventolin Diskus.
We know that this may not be a medicine you and your child are used to, and want to make sure you know how to take it. Here are some videos from the Ontario Lung Association showing you step-by-step how to use a Turbuhaler and Diskus. Call your physician or speak to your pharmacist if you have any questions.
How to use a Turbuhaler:
How to use a Diskus:
Development and rehabilitation
In response to this unprecedented time, CHEO's Clinic for Augmentative Communication has put together the following resources for parents and their children/youth who use AAC (Augmentative and Alternative Communication).
From My Window is a communication display that can be placed on, or near a window with a view. The words/symbols can be used to take turns commenting on what is seen outside, with particular focus on the emergence of spring.
COVID-19 Explanation provides simply worded information, basic guidelines and positive affirmations that are supported with picture communication symbols (PCS) to aid understanding.
To all of our clients and families – we are thinking of you! Take good care, and stay well.
Fever
Preventing the spread of infection
Hand washing
Videos
Protect, don't infect
Wash your hands
Webpages:
Personal Protective Equipment (PPE)
Multilingual resources including Inuktitut and Inuinnaqtun
Multilingual Resources for Diverse Communities During COVID-19 - Ottawa Public Health
Inuktitut and Inuinnaqtun
Websites and organizations
Handouts
Local contacts and community partners
Food resources in and around Ottawa
Free emergency food resources
Ottawa Food Bank
Eligibility: low income people needing emergency food support
Access: look up your address on the Ottawa Food Bank website to find information about a program near you
Delivery: Available at some locations

The Well
Eligibility: women and children
Access: Serving bag lunches at noon from the door at 154 Somerset St. W. If in need of supplies and food, call 613-594-8861 or send a message via Facebook

Barrhaven Food Cupboard
Eligibility: families living in the Barrhaven area in need of emergency food assistance
Contact: 613-825-4505
Access: Walter Baker Centre, 100 Malvern Drive
Visit the Barrhaven Food Cupboard website.


FAMSAC Food Cupboard
Eligibility: People living in Bayshore, Bells Corners, Crystal Beach, Craig Henry, Manordale and Trend Village
Access: Call 613-820-5428 ahead to make an appointment to come pick up a pre-packaged food hamper
Visit the FAMSAC website.


Kanata Food Cupboard
Eligibility: Emergency food hampers for people living in Kanata area
Access: Call 613-836-7847 Monday to Friday between 9 am and 12 pm. Pick-up at 340 Legget Dr, Door #46

Delivery: Possible if needed
Visit the Kanata Food Cupboard website.

United Muslim Organizations of Ottawa Gatineau
Eligibility: person of any faith, culture or community in need
Access: complete the Ottawa-Gatineau COVID-19 Relief Form.
Visit the United Muslin Organizations of Ottawa Gatineau website.

Subsidized food resources
Good Food Box
Delivers a box of fresh produce to feed a family for a week for $20
Eligibility: Households who currently have limited financial and physical access to affordable fresh fruits and vegetables
Contact: Call 613-860-6767 or visit the Good Food Box website to order

Western Ottawa Community Resource Centre
Frozen meal and grocery order delivery services
Eligibility: Vulnerable, isolated community members living in Nepean, Kanata, Goulburn and West Carleton neighbourhoods
Call 613-591-3686, ext 333 for frozen meals or 336 for grocery order delivery
Food resources in rural areas
Casselman Foodbank
Area: Casselman
Contact: 613-764-5203

Eastern Ottawa Resource Centre
Area: Gloucester, Cumberland, Orleans, Carlsbad Springs, Vars, Sarsfield, South-East communities
Contact: 613-741-6025

Orleans Cumberland
Area: Orleans-Cumberland areas
Contact: 613-830-4357 ext. 158

Riceville Foodbank
Area: Riceville, Curran, Fournier, Plantagenet, St. Isidore de Prescott, Wendover
Contact: 613-715-0867

Richmond Food Cupboard
Area: Richmond, Munster and surrounding rural area
Contact: 613-838-5397

Stittsville Food Bank
Area: Stittsville and surrounding rural areas
Contact: 613-831-0451

West Carleton Food Access Centre
Area: West Carleton, Dunrobin, Carp, Kinburn, Constance Bay, Woodlawn, Kinburn, Fitzroy, Galetta
Contact: 613-832-5685 or email at wcfoodaid@gmail.com
Grocery delivery
Fill My Fridge
Ottawa based grocery delivery service
Eligibility: anyone with financial means
Delivery: delivery fee, minimum order of $80
Visit the Fill My Fridge website.

Bag Half Full
A uOttawa medical student led initiative.
Eligibility: vulnerable persons who are unable to shop for groceries themselves.
Access: can place an online grocery store order and a student will pick it up OR supply the student with a grocery list and they will shop/deliver it.
Delivery: no extra fee.
Visit the Bag Half full website.


Nepean Neighbours Helping Neighbours
Grocery/pharmacy/pet supply pick-up and delivery, and dog walking
Eligibility: living in Nepean area
Access: fill out the service request form at https://airtable.com/shrvf9b0dXVSI4Wne, email at nepean.neighbours@gmail.com, or visit their Facebook group
Delivery: donation fund available to subsidize groceries
Instacart
Private grocery delivery service
Eligibility: anyone with the financial means
Access: put in an online delivery order on https://www.instacart.ca/
Delivery: additional cost, same day delivery
Resources from community partners