About Family-Centred Rounds
Children, youth and their families staying at CHEO as inpatients have the opportunity each day to participate in family-centred rounds. This is a great time to talk with your child's health-care providers, get updates on their care plan and ask any questions you might have. Before COVID-19, these rounds used to take place in-person with your care team going bed-to-bed to visit each patient. To keep everyone safe during COVID-19, we've developed a new way of providing these Rounds virtually using laptops, phones and iPads — we call it virtual family-centred rounds!
Read on to learn about family-centred rounds and virtual family-centred rounds at CHEO, and how to get involved during your stay.
What are family-centred rounds?
Having a patient and their family involved in healthcare decisions is a key part of quality care. For children and youth at CHEO, family-centred rounds are another tool in our toolbox to offer patient and family-centred care.
family-centred rounds are a daily opportunity to meet with your child or youth's multidisciplinary care team and get updates on their status and care plan. These daily rounds help ensure that your family is up-to-date on your child or youth's medical condition, and that decisions about your child or youth's care is made in collaboration with you.
CHEO's Inpatient Medicine units have been offering multidisciplinary, family-centred rounds since 2014.
For more information about what to expect during your/your child's stay, please view our inpatient admissions page.
What are virtual family-centred rounds (vFCR)?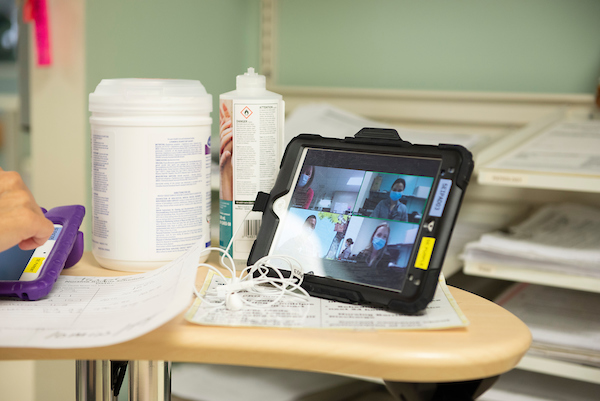 The COVID-19 pandemic brought about challenges to how we offer family-centred rounds, which used to have the care team going room to room, patient to patient. To keep everyone safe and preserve personal protective equipment, we knew that we couldn't keep doing things this way. Instead of cancelling these family-centred rounds, Team CHEO got to work developing a way to offer these rounds virtually. We call this new process virtual family-centred rounds, or vFCR.
Virtual family-centred rounds (vFCR) were developed and implemented by a multidisciplinary team in April 2020, at the start of the COVID-19 pandemic. Virtual family-centred rounds have been happening on CHEO's Inpatient Medicine unit throughout the pandemic, to keep patients, parents and health-care providers safe.
For more information, read our blog on virtual family-centred rounds and continue to read through this page.
What are the benefits of virtual family-centred rounds?
There are many benefits of family-centred rounds, for health-care providers, patients and families. Many of these benefits have been shared with us from family feedback, and others are recognized through research and literature.
Benefits include:
(Virtual rounds are) Less intimidating than in-person rounds
Scheduling rounds allows caregivers (and members of the care team) to be present and prepared.
Names and role of all health-care team members are clearly visible on the screen, which helps patients and families understand who is part of their care team
Enhanced privacy and confidentiality with the use of headsets and earbuds
Enhanced verbal and non-verbal communication through unmasked (virtual) interactions
Improvements in the format and timing of family-centred rounds
Improved attendance by members of the multidisciplinary care team.
Safe, secure and confidential
Reduced infection risk
Conservation of personal protective equipment
An ability for staff and medical staff to participate in rounds even if they are working from home or needing to isolate.
Fulfilling patients and caregivers' desire for safe and accessible virtual care – some preferred virtual to in-person during the COVID-19 pandemic
Though CHEO's roll-out of virtual family-centred rounds was done to support family-centred care during the COVID-19 pandemic, virtual family-centred rounds may continue to have benefits beyond the pandemic. Some of these benefits include:
Caregivers and health care providers are able participate in rounds even when they can't be physically at the patient's bedside because of geography, isolation rules, home responsibilities, transportation or work demands.
Enhanced privacy and confidentiality because discussions on a patient's status and care plan is no longer taking place in the hallway or shared patient rooms.
Reducing the number of providers at the bedside may create a less intimidating environment for patients to participate in their own care.
Ensuring Isolated patients receive the same level of communication and quality of care as non-isolated ones without increasing exposure risks.
While there are numerous benefits of virtual family-centred rounds, there are challenges as well. View our Implementation Considerations section for more information.
Information about Virtual Family-Centred Rounds (vFCR) for health-care leaders and providers
Are you a leader or health-care provider looking to bring virtual family-centred rounds to your own organization? Our vFCR Toolkit has been developed by a multi-disciplinary team of health-care professionals and researchers at CHEO. Our goal is to help organizations continue to deliver family-centred care while keeping staff, patients and families safe with physical distancing and preserving precious personal protective equipment (PPE).
Why this Toolkit
Given our experience and success with virtual family-centred rounds at CHEO, we wanted to develop a toolkit to support implementation beyond our walls, by sharing our process and learnings with you! In 2021 we received a grant funding to conduct an evaluation of our vFCR process and associated technology. Preliminary results are in, confirming feasibility and satisfaction with vFCR, but also highlighting the need for additional training and skill development to maximize efficiency and quality of care.
Learn more about virtual care at CHEO, including virtual family-centred rounds:
What is in this Toolkit
In the Toolkit you'll find information and resources to help you bring virtual family-centred rounds to your own organization, including:
informational videos for families
training materials for health-care providers
evaluation tools to support the implementation and evaluation of vFCR in your organization
Who is this Toolkit for
This toolkit is for hospital leaders, health-care providers and clinical educators working in inpatient areas. The content will be applicable and easily understood by all stakeholders involved in family-centred rounds.
For information on virtual family-centred rounds targeted towards patients, families, and caregivers, visit the full toolkit here.
View CHEO's virtual family-centred rounds toolkit
Questions or feedback?
For general questions about virtual family-centred rounds at CHEO, or questions/feedback on our toolkit, please email Dr. Melanie Buba or Catherine Dulude.