Virtual Family-Centred Rounds (vFCR) Toolkit: An Implementation Guide for health-care leaders and providers
Looking for general information on virtual family-centred rounds at CHEO? Visit our family-centred rounds webpage here!
This toolkit was developed for health-care leaders and providers, by a multidisciplinary team of health-care professionals and researchers at CHEO. Its purpose is to sustain the use of virtual family-centred rounds at CHEO (when appropriate) and support the implementation of virtual family-centred rounds in other health-care organizations.
Why this Toolkit
Given our experience and success with virtual family-centred rounds at CHEO, we wanted to develop a toolkit to support implementation beyond our walls, by sharing our process and learnings with you! In 2021 we received a grant funding to conduct an evaluation of our vFCR process and associated technology. Preliminary results are in, confirming feasibility and satisfaction with vFCR, but also highlighting the need for additional training and skill development to maximize efficiency and quality of care.
Learn more about virtual care at CHEO including virtual family-centred rounds
What is in this Toolkit
In the Toolkit you'll find information and resources to help you bring virtual family-centred rounds to your own organization, including:
informational videos for families
training materials for health-care providers
evaluation tools to support the implementation and evaluation of vFCR in your organization
Who is this Toolkit for
This toolkit is for hospital leaders, health-care providers and clinical educators working in inpatient areas. The content will be applicable and easily understood by all stakeholders involved in virtual family-centred rounds.
For information on virtual family-centred rounds for patients, families, and caregivers, visit our family-centred rounds page.
How to navigate this Toolkit
For staff training
To begin the training, please watch the "Introduction to family-centred rounds (FCR)" videos on this page. You can also view our family-centred rounds webpage for more information about FCR and testimonial videos from CHEO staff and family.
After reviewing the introductory material, please read the brief overview of all team members responsibilities during rounds.
Then its time for more specific training… directed to your role on the team! Please select the tab with the name of your role under the "Training information and resources for each care team member" section. (For example, a nursing student would click the "Training for Nursing staff and Nursing Students" tab, and a medical student would select "Training for Physician team members (staff and learners)".
After selecting your specific tab, you should first read the overview of your roles and responsibilities during rounds. Then, please watch the training video.
After this you will find some documents and tip sheets for you to read, to further prepare you for rounds.
Finally, after reviewing the virtual family-centred rounds training materials in the toolkit, you can take the evaluation quiz. This quiz will allow you to test your knowledge and preparedness to participate in virtual family-centred rounds.
Overview of the vFCR process and roles
The Unit clerk is responsible for creating and posting the rounding schedule and starting the virtual rounds videoconference for nurses and patients/caregivers
The Care Facilitator or Charge Nurse is responsible for enabling and supporting nurse participation in rounds
Nurses will prioritize rounds according to the rounding schedule and inform the Unit clerk, Charge Nurse, or Care Facilitator if they are unable to attend due to conflicting patient care needs.
Physician Teams (i.e. attending physician and team) will commit to starting on time, adhering the rounding schedule, having focused rounding discussions and coordinating with other inpatient units as needed.
Healthcare Professionals (including pharmacists, allied health care providers and consulting physicians) may join rounds for the patients they follow as appropriate
Family-Centred Rounds Standard Content
Step
Actions required
1. Introduction
Staff identify and introduce themselves and their role
2. Initial report

Most Responsible Learner (MRL) shares:

Patient identification
Prioritized Problem List

3. Nursing report

Recent vital signs, especially abnormal vital signs from last 24h
Recently administered medications (especially as-needed meds)

Weight, weight changes

Intravenous fluids and/or diet/feeds:Type, rate, reason

For NG – type, date of insertion, external length

Ins & Outs over the last 6 and 24h: Urine, stool, emesis · All drains & lines

Isolation Status

Current Monitoring (i.e. continuous cardiorespiratory monitoring, nurse in room status, etc.)

Scheduled tests for the next 24 hours

Nursing Barriers to DischargeConcerns about patient and/or plan of care

4. Medication review
Pharmacy or physician team member
5. Investigation review

MRL shares:

Physical exam
Lab results
Imaging results
Consults

6. Health Care Professional report
Provides a report if applicable
7. Care plan

MRL will:

Prompt family for input related to care plan to encourage shared decision making
Impression/Summary statement
Plan of care (focus on next 24 hours)
Criteria and barriers for discharge
Estimated discharge date (EDD)

8. Order read back
Any new orders are read back
9. Patient and Family summary

Senior Resident (as needed)

Lay terms, in primary/first language (if possible)

Ask for and answer any questions from patient/family
Training Material for Multidisciplinary Care Team Members
Training for Nursing Staff and Students
Find more information on roles and responsibilities for nursing staff and nursing students
As the patient's nurse, you are an essential member of the multidisciplinary care team and your presence on daily rounds is vitally important. You should prioritize daily rounds and inform the care team if you are unable to attend due to competing patient care demands.
Your responsibilities in virtual family-centred rounds include:
Introducing rounds to patients and caregivers during your morning assessment and inviting them to join
Being prepared to join rounds at your scheduled time
Participating in rounds as per the rounds standard content above: delivering nursing report, supporting patient and caregiver participation, advocating for patient and caregiver needs, ensuring questions are asked and answered, verifying orders and bringing to the attention of the care team any issues related to inpatient care or discharge planning.
Cleaning and hand off of the virtual care device to the next nurse on the rounding schedule
Troubleshooting rounding and technology issues as required
The care facilitator (and/or charge nurse) is responsible for supporting nurse participation in rounds and ensuring timely transitions between nurses. This may include covering patient care or coordinating schedule adjustment with the unit clerk if a nurse cannot attend rounds as scheduled.
The following resources provide more information on these responsibilities and detailed instructions for nursing:
Training for Unit Clerks
Find more information on the roles and responsibilities for unit clerks
As the unit clerk, you have the important responsibility of setting up the rounding schedule and technology for virtual family-centred rounds. Your specific tasks include:
Preparing and communicating the rounding schedule to the multidisciplinary care team
Setting up and troubleshooting the virtual rounds technology and equipment
Starting the virtual rounds videoconference for nurses, patients and caregivers.
Announcing the start of rounds and helping to keep things on track
For more information about these responsibilities, please view the resources below: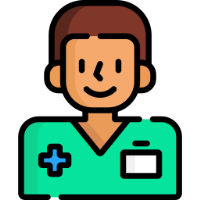 Training for Physician team members and Learners
Find more information on the roles and responsibilities for Physician team members
This training is for all members of the physician team, including: attending Staff physicians, residents, physician extenders (ie. Nurse practitioners, physician assistants, etc.) medical students.
This information applies to the core most responsible physician (MRP) team rounding on each patient daily. If you are a consultant physician please refer to the "Health professionals and Consulting Physicians" section below.
As a member of the Physician Team, you are responsible for starting rounds on time, leading a focused rounds discussion and coordinating with the inpatient units to ensure rounds run smoothly and everyone has an opportunity to participate if they wish.
For more details about physician team roles and responsibilities, please view the training video and resources below: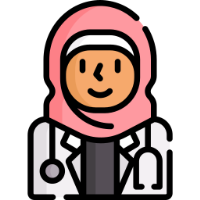 Training for Health-Care Professionals and Consulting Physicians
Find more information on the roles and responsibilities for Health-Care Professionals and Consulting Physicians
This includes, pharmacists, social work, dietitian, respiratory therapists, physiotherapists, occupational therapists etc.
As a Pharmacists or other Health Care Professionals (HCPs), you are invited to join rounds as appropriate. Your participation is highly valued during rounds so that the entire multidisciplinary care team — along with the patient and/or caregiver — can make decisions together. Your involvement is embedded in the CHEO rounds standard content above.
At CHEO there is a schedule and process supporting routine participation of the on-service clinical pharmacist on rounds. Pharmacists access the videoconference meeting IDs using a shared email/calendar. The pharmacist(s) on service will join rounds for one or more teams based on the pharmacist rounding schedule and are available for consult as needed if not present on rounds.
Other Health Care Professionals and consulting physicians are encouraged to participate in rounds for patients they follow. Please connect with unit clerks to obtain the vFCR rounding schedule and videoconference information required to join at the appropriate time.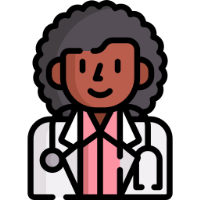 Training for Administrative Assistants
Find more information on roles and responsibilities for Administrative Assistants
Administrative assistants have the important responsibility of scheduling virtual family-centred rounds on behalf of the multidisciplinary care team. Specifically, your tasks include:
Scheduling virtual rounds within the videoconferencing software
Communicating virtual rounds information to all members of the multidisciplinary care team
Maintaining awareness of any scheduling changes that may impact virtual rounds and acting accordingly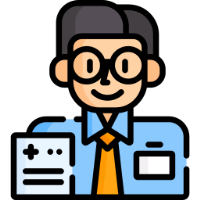 Implementation Considerations
Learn more about vFCR implementation considerations
There is a body of literature highlighting the benefits and challenges experienced by organizations implementing family-centred rounds. Successful implementation processes will vary, but here we provide general recommendations and examples of how each impacted implementation at our own hospital.
We gratefully acknowledge the team at the University of Wisconsin for their work and sharing of implementation principles for family-centred rounds.
Strong Hospital Leadership Commitment and Support
The involvement of organizational leaders (administrative and clinical) is key in order for the project to be prioritized and supported with resources. Ongoing support is critical for sustainability. Hospital leadership should be engaged as early as possible.

Support for vFCR by our IMT (Incident Management Team) was crucial for securing human resources (ie. quality improvement support, auditors) and procuring available technology in order to quickly develop and implement vFCR.
Multidisciplinary Stakeholder Participation
Engaging all stakeholder groups is essential for development of useable vFCR processes and technology, as well as a major factor for successful implementation and adoption. Stakeholders should be involved in the development of workflows, roles and responsibilities, equipment/technology selection and configuration and testing phases. Communication strategies should be developed to ensure active and meaningful participation by all stakeholder groups.

Our multidisciplinary project team included front line staff and patient and family representatives who were key players in identifying improvement opportunities during the project phase (ie. using headset splitters instead of tablet speakers).

We involved the IT team (privacy/cybersecurity, business systems and technical analysts) early and often to identify appropriate and available devices and technology that could facilitate reliable and secure video connections within our facility, to support testing, trouble-shooting and iterative development of technical solutions.

Example of a Multidisciplinary Implementation Team:
Physicians
Staff nurses
Nurse manager/educator
Health professional leads
Resident/learner representatives
Patient and family representatives
Quality improvement and/or human factors experts
Project Manager/coordinator
An Implementation Plan and Timeline
A well thought-out implementation plan will ensure all stakeholders are able to meaningfully participate in the iterative design process and project implementation phases. A plan is necessary for your implementation to remain organized, structured and managed, and ensures clear communication of expectations to the implementation team and stakeholders. Consider including the following:
Timeline of major steps
Development of metrics (ie. outcome, process, balancing)
Collection of baseline data
Usability Testing & Simulation
Training
Piloting vFCR
Iterative improvement cycles
Communication & Training
Training on vFCR process and technology is essential to success. The cognitive load involved in implementing a new workflow while caring for patients in a high-acuity environment cannot be understated. Successful change management is dependent on all stakeholder groups feeling prepared and proficient with the technology and coordination required to efficiently and effectively round virtually. Achieving this level of comfort is particularly challenging given the constant rotation and turnover of staff in hospitals. This toolkit provides multiple resources to ensure appropriate training for all vFCR participants. However, additional training opportunities, such as hands-on equipment review and simulation, may be required to ensure staff are well prepared.
We faced numerous challenges due to high staff turnover and the importance of training was highlighted in our process/technology evaluation study. We found that inefficiencies and frustrations were associated with lack of familiarity with vFCR process and/or technology setup and could be easily alleviated with a short hands-on training session.
Transition from Project to Operations
Embedding vFCR into the day-to-day operations of your organization is key. This requires training and mentorship of clinical leaders who will oversee this process and ensure its ongoing success.
Transitioning oversight of vFCR from the project team to nursing care facilitators (ie. charge nurses) allowed vFCR to run for 18+ months during the COVID-19 pandemic and freed up project team members to focus on other work.
Oversight and monitoring of virtual family-centred rounds was transitioned to our Inpatient Patient Care Leadership Team.
Continuous Evaluation, Improvement and Sustainability
A plan for continuous evaluation of vFCR is necessary to provide feedback to vFCR project owners and to support sustainability. Ensuring pre-established metrics are being reviewed by leadership teams is essential for accountability and opportunities for further improvement. Alignment with hospital/corporate priorities is key to ensuring the long-term sustainability and viability of vFCR within your organization.
Our virtual family-centred rounds project closely aligned with our hospital's "virtual-first" COVID-19 pandemic strategy.
Technology Considerations
Learn more about vFCR technology
There is a wide selection of consumer (ie. commercially available) products and healthcare grade products available to support inpatient virtual care workflows.
We conducted user requirements evaluation and usability testing to support selection of appropriate end user devices. Our device setup was initially based on readily available products (i.e. what we had on hand) which was later optimized once external project funding became available. In our experience, using consumer products with familiar interaction mechanisms and user interfaces supported faster implementation and reduced the need for extensive training.
Virtual family-centred rounds technology used on our inpatient units include
Apple© iPads Gen 8 10.2" tablets in protective cases, each with two Apple© headsets and one headset splitter. There is one device setup for patients and onsite caregivers (to share) and one device setup for nurses (and nurse learners). This allows nurses and patients/caregivers to be physically distanced for rounds.
Nursing devices are mounted on a rolling tablet cart with a height adjustable work surface nurses use to take notes and carry patient/caregiver devices from room to room. The tablet cart (Ergotron SV10 Tablet Cart) has purpose-built hospital cleaning wipes holder and a tip sheet applied to the work surface to remind users of both correct operating procedures and trouble-shooting tips.

Tablets are charged overnight and stored in a secure location when not in use. An overnight charge provides sufficient battery power for the duration of vFCR and other virtual patient care and operational meetings throughout the day.
We are currently running virtual care on a PHIPPA-compliant version of Zoom© videoconferencing software, supported by a secure wireless network. A single videoconference meeting is used for all patient rounds (i.e. providers stay on the meeting – they do not leave to join a separate meeting for each patient). As a result, videoconference meeting details are never provided to patients and caregivers, who join from hospital provided tablets delivered to them just-in-time by their nurse and cleaned in between patients.
Physicians, learners, and health care professionals participating in vFCR join the videoconference from a personal or hospital assigned laptop or videoconference enabled workstation. Due to a lack of available private office spaces at our hospital, learners join from a shared conference room using personal devices – masked and physically distanced – while staff physicians and health care professionals can join from personal offices unmasked. Team members often open the patient's electronic health record in a separate window/screen to support chart review and documentation during rounds.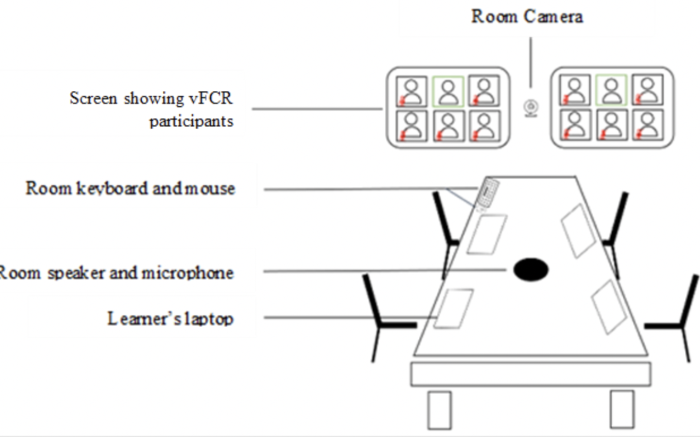 Videoconference meeting details are accessed via calendar invite distributed to the healthcare team by email and updated weekly as the care team changes. Unit Clerks setup the tablets for nursing, patients and caregivers and join the videoconference meeting on all devices just before the scheduled start time of rounds.
We use these devices not only for vFCR but other inpatient virtual care workflows including:
Virtual consults, follow-ups and patient meetings when a physical exam is not required – or to bring in providers or caregivers who cannot be on site for the visit. Virtual consults are most frequently used by our mental health providers.
Virtual participation in leadership huddles, hospital patient flow meetings and other operational meetings.
vFCR technology requirements
Below is a high-level summary of functional and user requirements identified during initial implementation of vFCR technology and validated through a usability evaluation as part of our virtual family-centred rounds evaluation study. A detailed requirements list and findings from the observational study evaluating vFCR Technolocy usability are in press.
End user devices used for virtual family-centred rounds should:
support physical distancing,
support good sound quality (clarity and volume),

have a screen size and resolution that provides a clear picture of participants facial expressions,

allow for easy adjustment of camera angle so participants can show their whole face on screen,

have affordance for intuitive interaction so participants require minimal training.
Tablets or mobile devices should have a protective case that:
uses familiar metaphors for device interaction,

provides protection against drops and bumps,

does not interfere with native mic and speakers,

is easy to clean and able to withstand regular cleaning with hospital grade cleaners.
If devices are on a mobile cart, ensure:
the cart is height adjustable to support ergonomic positioning and use by all,

it supports camera angle adjustment to provide clear view of participant on camera,

the appropriate cleaning supplies are also mounted on the cart to support cleaning between users and patient environments

dedicated storage baskets or locations for accessories (e.g. headsets), if required.
For clinicians, technology setup should support simultaneous view of videoconference participants and review/documentation in the patient's chart. A dual-screen set-up would be optimal for sites with an electronic health record.
vFCR should be supported by secure and reliable videoconferencing software and a wireless network capable of handling the anticipated traffic resulting from numerous devices simultaneously connecting to videoconferences in additional to other wireless network usage.
Key characteristics of vFCR technology
Based on our experience and lessons learned, the most important considerations for technology selection and implementation include:
Work with IT team to identify devices and videoconference software suitable for your environment. Conduct cyber security and privacy impact assessments for both the technology and how you plan to implement/use it.
End user devices and accessories should be intuitive to use; require minimal training to reduce added workload for providers and optimize patient, caregiver and provider experience.
Implement a videoconference software configuration that follows familiar conventions, with visible instructions for use, e.g. pin the videoconference menu to always display onscreen to prevent any confusion or delay trying to find the mute/unmute button.
Conduct usability testing with providers, patients and caregivers prior to selecting hardware and as part of configuration testing to ensure usability requirements are met and workflows are optimized for efficiency and ease of use.
Appropriate allocation of devices (number, type and location) to support physical distancing and optimal participation/engagement in the FCR process.
Provide any required accessories and instructions for use in line of sight of users, e.g. mount hospital wipes on table carts to support cleaning between users and put instructional labels on the tablet case in line of sight to users.
Provide device orientation and training for new staff and accessible tip sheets to support troubleshooting and reminders for any unintuitive or unconventional aspects of system setup.
Provide a secure storage location for shared devices and accessories that is easy for authorized users (staff) to access but prevents against theft.
Have a charging solution that guarantees battery life will last the duration of rounds without the need to charge devices in between.
Ensure the videoconference software and wireless network are reliable and secure to protect patient information, minimize the risk of downtimes and ensure confidence in the system.
Develop, communicate and make easily accessible procedures for full or partial downtime to minimize impact to the rounding schedule and patient and provider experience.
Implement a system for device tracking and management with scheduled updates that do not require user interaction. Schedule updates during minimal use periods and/or cluster with other system downtimes if possible.
Relevant Literature
The following references provide examples of how and what virtual care technology has been implemented at other hospitals:
Ong, S. Y., Stump, L., Zawalich, M., Edwards, L., Stanton, G., Matthews, M., & Hsiao, A. L. (2020). Inpatient Telehealth Tools to Enhance Communication and Decrease Personal Protective Equipment Consumption during Disaster Situations: A Case Study during the COVID-19 Pandemic. Applied clinical informatics, 11(5), 733–741. https://doi.org/10.1055/s-0040-1719180

Fang, J., Liu, Y. T., Lee, E. Y., Yadav, K. (2020). ExpErt CommEntary Telehealth Solutions for In-hospital Communication with Patients Under Isolation During COVID-19. Western Journal of Emergency Medicine, 21(4). https://doi.org/10.5811/westjem.2020.5.48165

Vilendrer S, Patel B, Chadwick W, Hwa M, Asch S, Pageler N, Ramdeo R, Saliba-Gustafsson EA, Strong P, Sharp C. (2020) Rapid Deployment of Inpatient Telemedicine In Response to COVID-19 Across Three Health Systems. J Am Med Inform Assoc. 2020 Jul 1;27(7):1102-1109. doi: 10.1093/jamia/ocaa077. Erratum in: J Am Med Inform Assoc. 2020 Nov 1;27(11):1830. PMID: 32495830; PMCID: PMC7314045.
More information about this Toolkit
Our team
Co-Principal Investigators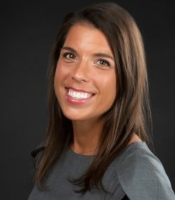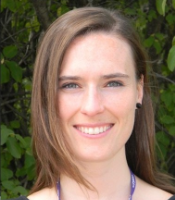 Catherine Dulude, P.Eng, M.Des
Co-Investigators
Dr. Stephanie Sutherland, PhD
Chantal Trudel, M.Sc.
Dr. W. James King, M.Sc., MD, FRCPC
James Donner, BHSc, MMASc(c)
Kristine Jeganathan, MD(c)

Collaborators
Kerry-Lynne Hall, RN, B.Sc.N

Kristal Hennigar, RN, B.Sc.N

Dr. Natalie Sachrajda, MD, Peds Resident
Acknowledgements
We gratefully acknowledge the support of CHEO's Executive Leadership Team, Incident Management Team and eHealth Leadership Team for their support in this work. We also recognize our project team for their invaluable contributions and hard work in the success of this project – Kerry-Lynne Hall, Helen Yoxon, Melissa Michaud, Chantal Nolet, Angel Boyer, Laura Strachan, Leanne Finlay and Keith McIntosh. We are also grateful for the enthusiasm, patience and support of our patient-facing health-care providers.
We gratefully acknowledge the following for their feedback and contributions to this toolkit:
Dr. Anne Rowan-Legg, Dr. Roisin O'Donnell
Nursing feedback: Laura Strachan, RPN
Unit Clerk feedback: Jessica Mahfoud
Admin feedback: Melodie Rhude, Patricia Graziano, Joanne Blagdon
Family feedback: Leanne Findlay, member of CHEO's Family Advisory Committee
Testimonial videos: Dr. Lindy Samson, Tammy DeGiovanni and Courtney O'Reilly.

Website development: Alex Nederlof (Communications Coordinator), CHEO Media House (Paddy Moore, Paula Ravivann, Andre Coutu)
Technology considerations feedback: Anna Wu (Virtual Care Business Systems Analyst), Alex Rabaa (Senior Technical Analyst), Shawn Joanette (Manager IT Security & Infrastructure)
Funding
This project was funded by the Children's Hospital Academic Medical Organization (CHAMO), Innovation Fund 2021-2022.
Publications and media
Buba, M., Dulude, C. (2020). Virtual family-centered rounds: a collaborative necessity during covid-19 and beyond. cmajBLOGS.
Paediatrics and Child Health manuscript: "Innovative Virtual Care Delivery in a Canadian Pediatric Tertiary Care Centre" Goldbloom EB, Buba M, Bhatt M, Suntharalingam S, King, WJ.
Attef, M., Dulude, C., Trudel, C., Buba, M., (2022 in press) Virtual family-centered rounds during the covid-19 pandemic – technology usability analysis In Proceedings of the 2022 International Symposium on Human Factors and Ergonomics in Health Care.
How to reference this Toolkit
We suggest using the following citation for this toolkit
Buba M, Dulude C, Et. Al. ."Virtual Family-Centred Rounds (vFCR) Toolkit: An Implementation Guide for Health-care Leaders and Providers. Ottawa, ON: CHEO; 2022. Available at: https://www.cheo.on.ca/en/vfcr-toolkit
The details of the methodology and findings from the evaluation study of virtual rounds at CHEO, which was used in the development of this toolkit are available in the following article: Coming soon
If you use these materials, we ask that you please cite the above article as well as this toolkit.