Posted on Wednesday, December 01, 2021 12:46 PM
Dec. 1, 2021 — OTTAWA — Today, CHEO has had to suspend offering virtual visits to its Emergency Department for at least 90 days, to keep up with an increased demand for in-person services and reduce the department's wait times.
This suspension allows CHEO to reassign much-needed staff from virtual care to providing in-person support to kids...
Posted on Thursday, November 18, 2021 05:39 PM
OTTAWA, November 18, 2021 – The Children's Health Coalition welcomes additional measures announced today to protect the health and well-being of children and youth and to help keep schools open. Beyond the classroom, we know that the greatest indicator of safety within schools is what is happening outside their walls and we continue to support public health measures in the broader community that help contain the spread of COVID-19.
Families have shouldered...
Posted on Thursday, November 18, 2021 07:30 AM
Canada's Children's Hospital Foundations (CCHF) together with Children's Healthcare Canada (CHC) are thrilled to announce a $26 million investment from Thistledown Foundation to support Canada's 13 acute care children's hospitals across the country. This historic gift recognizes the immense impact of the pandemic on Canadian children, youth, and their families.
A donation of $2 million to each acute care children's hospital coast-to-coast is intended...
Posted on Wednesday, November 17, 2021 09:17 AM
OTTAWA — Physicians now have the opportunity to specialize in pediatric palliative care through CHEO's new Pediatric Palliative Care Residency program, the first of its kind in Canada.
This specialty training program for physicians is a partnership between CHEO, Roger Neilson House and uOttawa's Faculty of Medicine. It marks a historic milestone in recognizing the importance of palliative care for children, youth and their families. Before...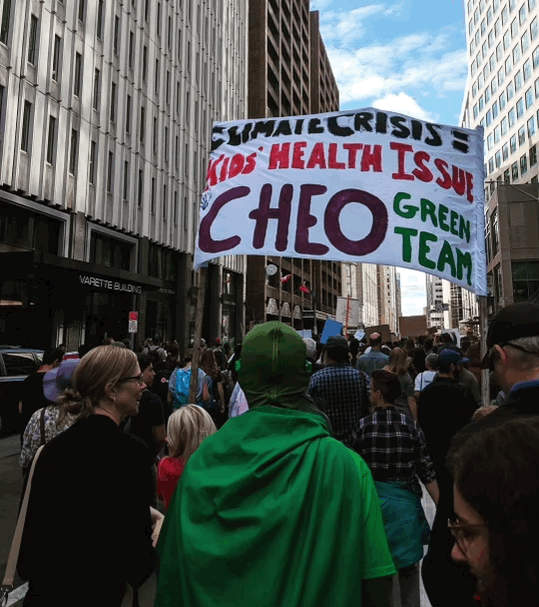 Posted on Friday, November 05, 2021 12:00 PM
OTTAWA — As global leaders convene at UK COP26 to discuss strategies to tackle climate change, CHEO is implementing its own measures and targets to address the global crisis, directed by a mandate from its Board of Directors.
"As an organization with a vision of the best life for every child and youth, CHEO is inherently about creating a better future," says Daphne Fedoruk, CHEO's Chair of the Board of Directors. "That's...