Posted on Monday, June 06, 2022 12:57 PM
OTTAWA, June 6, 2022 – Canadians will benefit from having access to care from more internationally educated health professionals (IEHPs) when and where they need them, thanks to additional federal support for the National Newcomer Navigation Network (N4).
An announcement at CHEO today confirmed an additional $1.5 million in funding from Immigration, Refugees, and Citizenship Canada (IRCC), and underscored that newcomers are critical to Canada's labour force. Many are highly skilled...
Posted on Tuesday, May 31, 2022 06:00 PM
OTTAWA – May 31, 2022 – For more than 20 years, Candlelighters has provided unique programs and services to enrich the lives of children and their families who are coping with childhood cancer and who are receiving care at CHEO. To streamline the services offered to these families, and recognizing care goes beyond the walls of the hospital, as of June 1, 2022, CHEO will take on providing the programs and services currently offered by Candlelighters.
...
Posted on Monday, May 23, 2022 06:08 PM
Last updated on Monday, May 30, 2022
Saturday's severe weather caused widespread damage, disruption, and hardship. Our thoughts are with everyone affected directly and indirectly.
As an essential service, CHEO remains open. We know people count on us and Team CHEO is doing its very best to serve young people and their families at this challenging time. If you can't make it to a planned appointment, don't worry. Just let your clinic/provider...
Posted on Sunday, May 22, 2022 09:57 AM
Due to city-wide power outages, if your child requires electricity for life-sustaining technology and you need support, CHEO's Emergency Department is here for you. Reception centres throughout the city are available for recharging other equipment.
For latest updates, follow the City of Ottawa on Twitter, visit the City of Ottawa's website and consult Hydro Ottawa's website for latest news on power outages.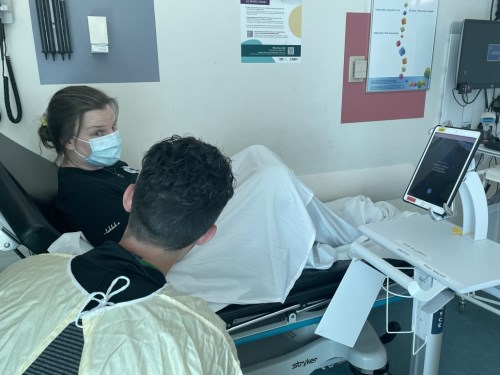 Posted on Thursday, May 12, 2022 12:00 PM
May 12, 2022 — OTTAWA — CHEO patients, their families and clinicians now have access to language interpreters, any time of day, seven days a week – all by app in often less than 20 seconds.
CHEO is the first pediatric hospital in Canada to offer faster access to language interpreters using Voyce, a company that provides on-demand language interpretation service for health-care patients.
"Good, clear and accurate communication...