Posted on Friday, May 14, 2021 12:08 PM
Ottawa, May 14, 2021 — Today, the Youth Services Bureau (YSB), CHEO, and Le CAP, three partners of the Kids Come First Health Team, announce the launch of a new program called Step Up Step Down — a bilingual live-in-treatment program for youth aged 12 to 17 with complex mental health needs. Step Up Step Down addresses a service gap between hospitalization and community care.
"Step Up Step Down is all about working to...
Posted on Tuesday, May 11, 2021 01:24 PM
The information below is from May 10, 2021. For the latest updates on COVID-19 vaccination for children, youth and caregivers — including the new online self-identification questionnaire — please view our statement from May 20.
Ottawa, ON – May 10, 2021 – CHEO, Roger Neilson House and community physicians and partners – all member of the Kids Come First Health Team – continue to support the rollout of vaccines for children and youth and two of their caregivers in our region.
As a...
Posted on Monday, May 10, 2021 10:08 AM
Toronto, May 07, 2021 – We can't give up on our kids; they need to be at the forefront of the provincial lockdown re-opening plan. Schools – essential to the health, well-being and futures of all children and youth – should be the first doors to re-open and must open before non-essential businesses in regions with lower case counts.
Not returning our kids to in-person learning this year will mean that they will be out of school for five months before they...
Posted on Thursday, April 15, 2021 02:41 PM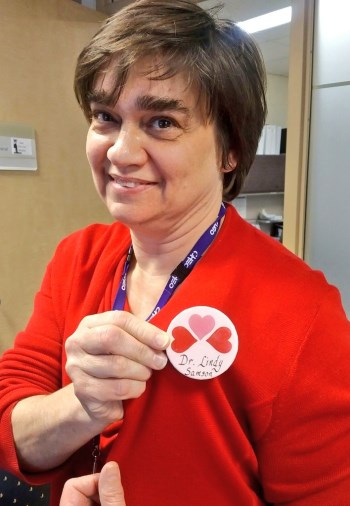 CHEO is excited to announce the reappointment of Dr. Lindy Samson to a second five year term as our Chief of Staff. Dr. Samson's reappointment was approved by the CHEO Board of Directors on April 10.
"Throughout her first term, Dr. Samson's background as an infectious diseases specialist, along with her calm, strong and empathetic leadership have been invaluable to team CHEO and to the children, youth and families we serve," says Daphne Fedoruk, Chair of CHEO's Board of Directors. "The...
Posted on Tuesday, April 13, 2021 11:00 AM
Ottawa — April 13, 2021 — CHEO is readying intensive care beds and staffing as preparation for the potential transfer of adults requiring critical care.
Ottawa's adult hospitals have already admitted record numbers of Covid-19 patients and admissions continue to climb. If patients need to be transferred out of those hospitals, it is preferable for them to be able to stay in Ottawa and not have to be transferred elsewhere in the province or country.
...