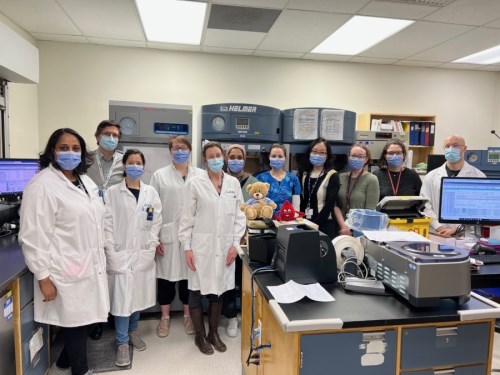 Posted on Wednesday, July 27, 2022 12:00 PM
July 27, Ottawa - CHEO has been awarded the Using Blood Wisely designation by Choosing Wisely Canada, a national campaign aimed at reducing the inappropriate use of red blood cells.
"Blood is a critically important resource that saves lives and protects health," says Dr. Elaine Leung, Chief of CHEO's Division of Hematology and Transfusion Medicine. "It's used in surgeries and to support patients with illnesses....
Posted on Thursday, June 30, 2022 03:56 PM
July 13, 2022: This outbreak is now over.
June 30, 2022 - Ottawa - CHEO is currently experiencing an outbreak of COVID-19.  
An outbreak may sound scary. Here's what it means. CHEO's Infection Prevention and Control program, in collaboration with Ottawa Public Health, declares an outbreak when people (patients, caregivers, staff, and/or medical staff) on the same unit test positive for COVID-19 within a 10-day...
Posted on Tuesday, June 21, 2022 04:13 PM
OTTAWA, June 21 – We know that many parents are very concerned about the global shortage of certain infant formulas resulting from the closure of a large manufacturing plant in the United States. In Canada, this has led to a shortage of specialized infant formulas designed for babies with food allergies and certain medical conditions.
The good news is that the U.S. plant re-opened on June 4 and infant formula will gradually...
Posted on Wednesday, June 08, 2022 06:47 PM
The weather's improving. So are case counts and the wastewater signal for COVID-19. Today, Ontario's Chief Medical Officer of Health issued a statement stating that mask mandates for hospitals will end on Saturday.
But as many people in the community shed layers of COVID-19 protection, CHEO needs to continue with all the layers of protection we have, including entrance screening and masking for everyone.
Importantly, CHEO still has a significant...
Posted on Monday, June 06, 2022 12:57 PM
OTTAWA, June 6, 2022 – Canadians will benefit from having access to care from more internationally educated health professionals (IEHPs) when and where they need them, thanks to additional federal support for the National Newcomer Navigation Network (N4).
An announcement at CHEO today confirmed an additional $1.5 million in funding from Immigration, Refugees, and Citizenship Canada (IRCC), and underscored that newcomers are critical to Canada's labour force. Many are highly skilled...