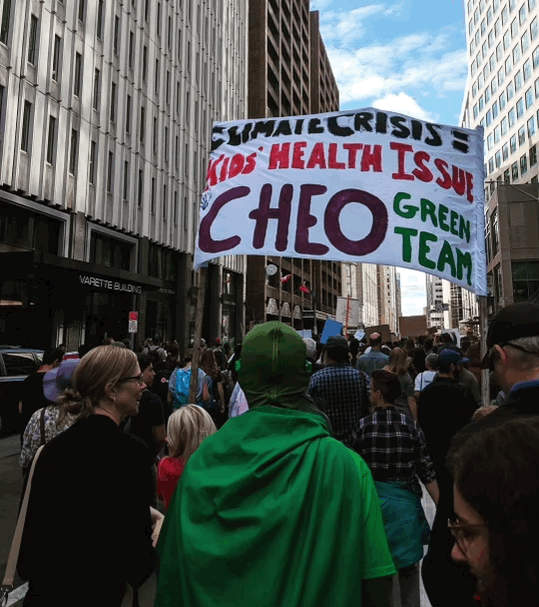 Posted on Friday, November 05, 2021 12:00 PM
OTTAWA — As global leaders convene at UK COP26 to discuss strategies to tackle climate change, CHEO is implementing its own measures and targets to address the global crisis, directed by a mandate from its Board of Directors.
"As an organization with a vision of the best life for every child and youth, CHEO is inherently about creating a better future," says Daphne Fedoruk, CHEO's Chair of the Board of Directors. "That's...
Posted on Thursday, November 04, 2021 02:37 PM
TORONTO/OTTAWA – The Children's Health Coalition welcomes the $8 million in new investments by the Government of Ontario to provide urgent children's hospital capacity to treat eating disorders.
Children's health providers have seen a rise in the intensity and severity of mental illness in children through the pandemic. Eating disorder emergency department visits at children's hospitals increased by 1.5 to 2.6 times with hospitalizations increasing 1.5 to...
Posted on Wednesday, November 03, 2021 05:12 PM
Ottawa — CHEO and The Ottawa Hospital (TOH) are pleased that the provincial government announced that third doses of the COVID-19 vaccine will be available for health-care workers who meet the eligibility requirements set by the province.
Evidence shows that vaccines are safe and effective at reducing the risk of serious illness, hospitalization and death due to COVID-19.
Together, CHEO and The Ottawa Hospital, will open a COVID-19 vaccine...
Posted on Friday, October 29, 2021 04:15 PM
Ottawa — When you enter any CHEO location, take comfort in knowing our team is vaccinated. From the welcome staff you meet at the door, to your care team, from those serving you coffee to everyone in between. And this promise extends to anyone CHEO sends to provide care in homes and in schools. We thank everyone on Team CHEO for their incredible support and compliance with our Universal COVID-19 Immunization Policy. Evidence-based vaccines add one more layer...
Posted on Thursday, October 21, 2021 04:24 PM
The Hon. Doug Ford
Premier of Ontario
Legislative Building, Queen's Park
Toronto, ON M7A 1A1
RE: Response to Premier's Letter on Health Care Worker Vaccination
Dear Premier Ford,
As three leading children's hospitals in Ontario, and in partnership with our provincial partner paediatric healthcare providers, we have advocated strongly throughout the pandemic that children be placed at the forefront of policy decision making. Our top priority continues to be the safety of the children, youth and families...