Annual Report 2021-2022: an introduction from Daphne and Alex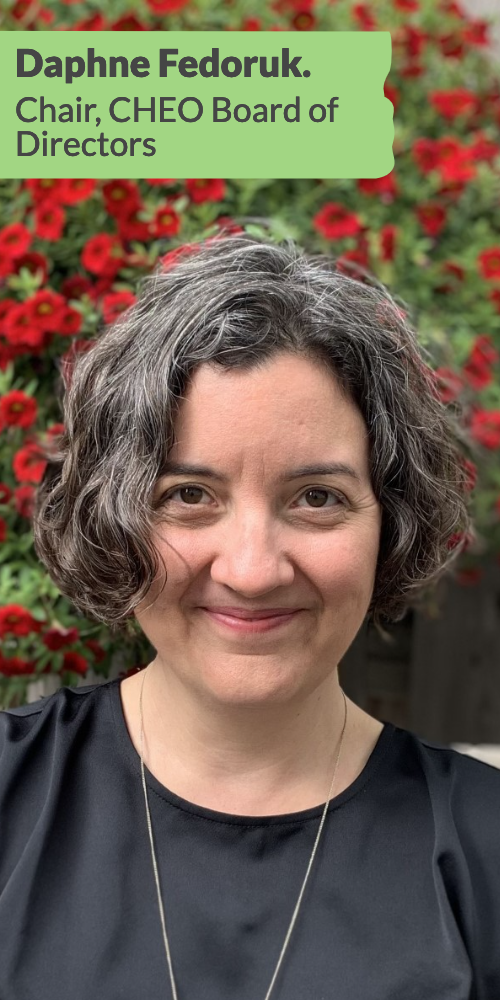 Now heading into the third year of the COVID-19 pandemic, nothing has been business as usual. The pandemic continues to throw new, unexpected challenges at children, youth and families, and our health-care system. Team CHEO (which includes our colleagues at the CHEO Research Institute and CHEO Foundation) is not immune. Care, research and fundraising have not been easy.
Walking alongside CHEO staff, medical staff, learners and volunteers — seeing firsthand their compassion for kids — is an inspiration. Every day matters in the life of a child and Team CHEO shows up for every one of those days to overcome every obstacle and keep essential care available and accessible.
The pandemic surged, receded and surged again. Early in the year, unprecedented in CHEO history, we accepted adult patients into our intensive care unit (they all got the CHEO treatment and left with a CHEO Bear). At the end of 2021, the highly contagious omicron variant arrived with new challenges. In the early part of 2022, when omicron was at its peak, there were days when more than 250 of our staff, medical staff and learners were on work restrictions. Team CHEO colleagues rallied to ensure care stayed available, despite the staffing pressures.
For many weeks, staff, medical staff and learners took their work breaks alone — isolated from their colleagues and friends — to ensure COVID-19 did not gain a foothold in CHEO locations. And if the pandemic was not enough, for almost a month, Ottawa's downtown was occupied — disrupting families, schools and care. Some members of Team CHEO commuted an extra two hours just to get to work. Others slept on-site so they could be certain they would be there the next day to care for kids.
The pressure this year has been relentless and exhausting, especially for children, youth and families. Still, not only did CHEO staff, medical staff and learners keep care available, but this remarkable team brought their ingenuity to bear and expanded CHEO's services.
All to say, Team CHEO is without parallel. We are grateful for their compassion and for putting kids first every day.
Daphne & Alex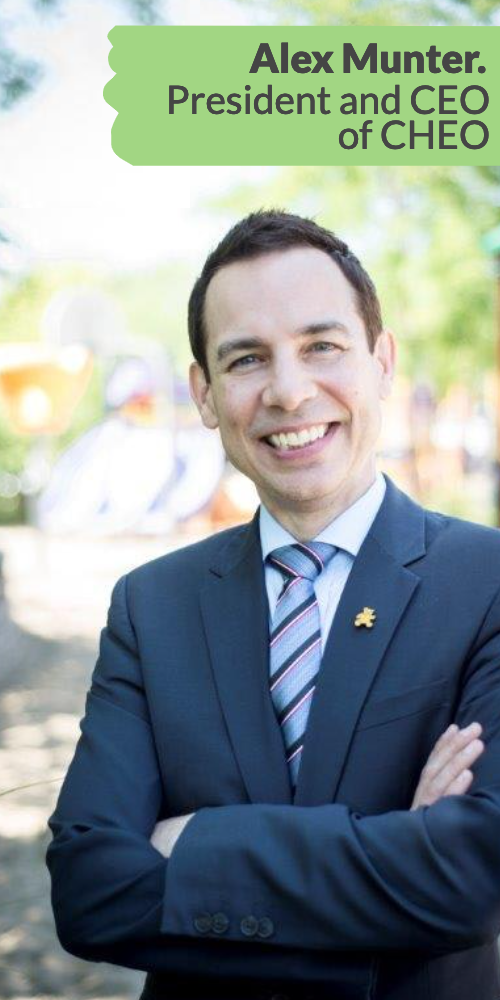 At CHEO
CHEO's Emergency Department

As the only pediatric health and research centre in our region, CHEO's Emergency Department (ED) is on the frontline for urgent care of children, youth and families. Other CHEO departments can occasionally postpone non-urgent care, as the provincial government directed us to do during the first two weeks of January 2022 when Omicron ran rampant, but not the ED. Emergency services are essential 24/7, every day of the year. ED services must be available when needed – always.

In August 2021, 16% more patients visited the ED than usual for that time of year. And that was just the start. Patient volumes rose and rose heading into fall and winter. Many countries saw a viral surge shortly after ending COVID-19 restrictions as viruses that had been quelled by pandemic safety measures bounced back in full force.

Team CHEO swung into action to manage the surge. On short notice, the ED was renovated to provide better waiting space for the comfort of kids and families and to ensure adequate space for physical distancing.

Into the fall, the surge in demand for urgent care continued. In October, CHEO's ED cared for more than 7,100 children and youth in person, a 68% increase compared to the previous October.

In December, CHEO's Virtual Emergency Department was suspended so staff and medical staff could be reassigned to the in-person ED. That helped relieve some of the pressure. The sickest patients are always treated first and that must be at the in-person ED. It was all-hands-on-deck to ensure urgent care was available for everyone who needed it.

Nobody felt the pressure of the pandemic more than the kids, parents and caregivers who visited the CHEO ED during these busy months. Some non-critical patients had to wait 12 hours or more at times. Families deserve our thanks for their patience while waiting so the CHEO staff and medical staff could treat the sickest patients first. And those CHEO ED staff, medical staff and learners deserve special recognition for the long hours they put in getting to every child and youth who arrived seeking care.

More information:

CHEO Mental Health Team

Our kids have taken the brunt of the pandemic. At the outset, CHEO saw a huge surge in demand for mental health services as young people dealt with all the pressures (and unpleasantness of all that screen time and social isolation). Data showed that increasing numbers of visits to the CHEO Emergency Department were for children and youth thinking of suicide and self-harm. Demand for child and youth mental health services increased across the board, with eating-disorder patients up more than an astonishing 200%.

Anticipating this trend would continue in 2021-22 — which it did — CHEO's mental health experts focused on doing everything they could to ensure kids were able to cope with the pressures and maintain their mental health.

Since kids and youth were missing school due to COVID — not just classes but important moments like graduations, talent shows, field trips, end-of-year celebrations, assemblies, sports, drama and clubs — we found that there were lots of things families could do themselves to minimize mental health and development impacts on young people. We put together a working group to compile resources for parents and families and made these resources universally available.

Despite increasing demand and staffing pressures, CHEO Mental Health continued to offer all services throughout the year. To prevent any further issues, we advanced our Virtual Emergency Department (ED) and expanded it to include all hospitals in the region. So, if a young person went into another ED with a mental health issue and the physician there felt they needed to be assessed by a psychiatrist, we could do that virtually instead of requiring the family to come to CHEO. This helped ensure more prompt services, closer to home.

Demand is still high. With the help of the provincial government, we are now developing a partial hospitalization program (basically a day hospital) where kids can stay for 12 hours, get free meals, do their programs but go home and sleep instead of sleeping in the hospital. (We plan to offer this service by Fall 2022.)

More information:

1Door4Care

On March 24, 2021, the provincial government gave final approval for CHEO's 1Door4Care expansion. 1Door4Care will be an integrated care centre for children and youth with special needs or medical complexity, and those facing mental health challenges. This new building will be built in front of the Max Keeping Wing at CHEO's Smyth Campus and bring a full range of services and supports under one roof, saving families countless trips between clinics.

This state-of-the-art, purpose-built facility will include multi-use clinic space, a physiotherapy rehab gym, expanded mental health clinics, indoor and outdoor space where teachers and therapists combine education and therapy, secure space for children who have been abused, state-of-the-art treatment rooms for kids with behavioural issues, advanced technology to enable virtual care, a physical link to the main building on campus, family support spaces and more. Families with these challenges will then enjoy:

faster access to care — less wait time waiting
coordinated visits with multiple services — all specialties in a single visit
integrated services so families don't have to keep repeating their stories
increased peer support for parents and families
modern spaces which have been purpose-build for kids living with disabilities
easy access to emergency care, security, food services and everything the main CHEO campus offers

More information:

CHEO's new IR/Cath and Sim labs

Construction of our new interventional radiology and catheterization (IR/Cath) and simulation (Sim) labs got underway this year. By Fall 2022, the IR/Cath labs will deploy new, state-of-the-art technology to assist clinicians deliver world-class diagnosis and treatment for conditions involved the brain, heart and other organs (these are services our young patients currently must travel to receive). New machines for 3D imaging, injecting contrast into a patient's blood stream, and providing anesthesia without long cables and hoses will equip CHEO clinicians to provide care like never before.

In the Sim lab, a new audiovisual debriefing system will allow medical learners to live stream and record simulations as well as offer instant playback for video debriefing. Existing members of Team CHEO will benefit from ongoing simulation training. Aspiring medical professionals including resident physicians and nursing students can learn and practice new techniques in a virtual environment, benefiting patients and health-care organizations across Canada.

Funds for the IR/Cath and Sim labs were made possible by a generous $2 million donation from CP (through the CHEO Foundation) and through funding from Ontario's Ministry of Health. It will help children and youth to live their best lives.

More information:

CHEO awarded HIMSS Stage 7

CHEO was ranked among the world's safest health providers this year for providing quality care to children and families.

CHEO became Canada's first health-care organization to be designated as Stage 7 by the Healthcare Information and Management Systems Society (HIMSS) for both inpatient and outpatient care.

Stage 7 is the highest achievable level in digital health-care excellence and is the pinnacle for the HIMSS Electronic Medical Record Adoption Model. HIMSS measures clinical outcomes, patient engagement and clinician use of EMR (Electronic Medical Records) technology to strengthen organizational performance and health outcomes across patient populations.

For more than five years, CHEO has maintained a world-class electronic health record. Every child's complete health record is securely available to care teams at the institution, making it seamless for patients to move from CHEO to SickKids (or vice versa) for whatever care is required.

More information:

Accessibility in washrooms

CHEO's goal is to provide kids and families with barrier-free access to facilities, programs, services and more. Families told us that they were encountering barriers when using washrooms. This year, several washrooms on the main CHEO campus were equipped with new, ceiling-mounted lift systems. This lift system allows children and youth to be electrically hoisted from their mobility device and moved to the change table or toilet, the sink and back to their mobility device. Families asked for more information and we published a helpful guide available on CHEO's website. Families can review this in advance and then do not need to depend on the assistance of CHEO staff to use the lift.

More information:

Like Uber Eats for inpatients, parents and caregivers

CHEO Food Services introduced online ordering for delivery direct to a patient's room. It's like Uber Eats, minus the tipping because serving children and youth who are in hospital is thanks enough. CHEO inpatients, parents and caregivers simply download the CBORD® Patient™ app from Apple or Google Play and use it to place an order. Once logged in, patients browse menu options which are customized to their allergies and dietary recommendations. If it is found on a patient's personalized menu, it has been approved by CHEO dieticians and can be ordered. Parents and caregivers order from the guest menu and Food Services staff deliver right to the patient's room.
In the community
Kids Come First Health Team brings home and community care direct to families

For years, families have asked for a more seamless system of care for kids and teens. We agreed. We pushed. The government agreed. It happened.

Whether families need care services in the hospital, at school, in their community or in their homes, the system should be connected, timely and compassionate so parents have more time to simply be parents and not have to manage their kids' day-to-day care. Less time running to appointments means less time off work for parents and less time out of school for kids. These are among the main reasons why the Ontario government transferred the operation of home and community care to CHEO in September 2021. The Kids Come First Health Team (in which CHEO is a partner) now offers a range of supportive services, including nursing, personal support services and therapies provided at home; family-managed home care services; services provided in public, private and home schools; and preschool speech and language services in Renfrew County.

The incredible Kids Come First Health Team is leading the way, once again, becoming the first in the province to take this innovative approach to integrate home and community care with other health-care services.

More information:

COVID-19 testing and vaccination for children and youth

This year, COVID-19 vaccines became available for 5- to 17-year-olds. Getting as many children and youth vaccinated as possible was a high priority. CHEO provided vaccination clinics to kids onsite and supported community clinics to spread CHEO nurses' unique, caring touch.

The CHEO Assessment Centre at Brewer Park offered do-it-yourself COVID-19 PCR test kits. For young people aged 2 months to 18 years who were experiencing symptoms of COVID-19, parents and caregivers could book a date and time to pick-up a kit. These PCR self-swabs are gentle and easy to do at home or even in the Brewer parking lot. In fact, these tests are so easy that kids can do them on their own with just a little parental guidance. To make it as simple as we could, we produced a kid friendly how-to video. Every day at the Brewer site you could see kids and parents in cars, watching the video and completing the test.

Testing took just minutes of a family's time. After completing a test, it was dropped off at the CHEO Assessment Centre and the results were usually available within 24 hours. More kids got tested than ever before, helping to keep schools and families safe.

More information:

Priority vaccination clinic for education

When schools closed, again, at the beginning of January we wanted to make it easier for everyone in the education system to get their COVID-19 booster before heading back to the classroom. Knowing the importance of this added layer of protection, we held four priority COVID-19 vaccination clinics and provided vaccines and boosters to 1,227 teachers, administrators, early childhood educators, custodians and bus drivers. These clinics were staffed by members of the CHEO Research Institute who took a simple idea and made it reality within days, thanks to their vision, dedication and hard work.

More information:

CHEO takes virtual family-centred rounds worldwide

For decades, family-centred rounds have involved a multidisciplinary group of health-care providers (physicians, nurses, pharmacists, learners and others) moving in a group from patient to patient to discuss, inform and collaborate on care plans. In April 2020, CHEO launched virtual family-centred rounds across Inpatient Medicine, and families told us the virtual format makes it easier for them to participate.

Other organizations began reaching out to us for help bringing virtual rounds to their inpatients.

In 2021-2022, funded by a grant from Children's Hospital Academic Medical Organization (CHAMO), Innovation Fund 2021-2022 and supported by the CHEO Research Institute, CHEO built a virtual family-centred rounds toolkit to share out knowledge. Once again, original CHEO research is improving pediatric health care all over the world.

More information:

CHEO Assessment Centre and the Kids Comes First Care Clinic

Two years ago, with 48-hours notice, CHEO created and staffed the CHEO Assessment Centre at the Brewer Park Arena. One day the arena was being enjoyed by skaters and hockey players, the next day it was converted to a COVID-19 testing and assessment centre for kids and families. A year into this initiative, the Kids Come First Care Clinic opened at Brewer Park, adding to the services offered. The clinic offered children and youth with COVID symptoms — who were otherwise unable to access in-person care — the opportunity to see a physician.

Together, CHEO staff and medical staff, with community family physicians from Kids Come First, provided an astonishing amount of care over that last two years:

185,000 COVID-19 tests administered and 6,000 care appointments delivered

March 2022 marked the end of another unique and remarkable chapter in CHEO history. As fewer children were eligible for PCR testing, the Brewer site became an arena again. COVID-19 testing for children and youth moved to CHEO's main campus, with the same convenient drive-through and do-it-yourself swabbing that families told us was the best option for them.

The Kids Comes First Care Clinic also relocated to a temporary location near the CHEO main entrance. This move has proved invaluable as viral illnesses (other than COVID-19) have returned with a vengeance and CHEO's Emergency Department (ED) volumes have been higher than ever before — more than 250 patients on many days.

The Kids Come First Care Clinic extended its hours and, with much thanks to the community family physicians who see patients, it can see as many as 60 patients per day which eases the load on the ED.

More information:

Equity, Diversity, Inclusion and Indigeneity Task Force

To better serve our diverse community and to declare ourselves a truly inclusive, welcoming and safe environment, CHEO, the CHEO Foundation and the CHEO Research Institute established the Equity, Diversity, Inclusion and Indigeneity (EDII) Task Force. Comprised of 20 members with varied lived experiences and from all levels of each organization, the Task Force developed a roadmap for systemic change regarding governance, administration, culture, research, education and patient care related to equity, diversity, inclusion and indigeneity.

From January 2021 to March 2022, the Task Force worked to understand the experiences of its workforce and community. Its report includes 14 recommended priority action items for Team CHEO to implement over the coming months and years to foster belonging for Indigenous and diverse communities.

The work to achieve these goals has just begun, and our journey will involve forging even deeper connections with the communities we serve.

More information:

Supporting our Transgender Community

Every child and youth deserves their best life. CHEO's Gender and Diversity Clinic works to ensure access to care for trans kids and youth, and to provide care and support to families facing anxiety. With everything happening in the world, everyone should know that CHEO stands with and supports the transgender community.

Imagine the anxiety of being a transgender person and watching from afar when in February 2022 Texas law-makers issued a letter to state health agencies announcing that delivering gender-affirming medical treatments to transgender youths constitutes child abuse under state law. The letter states doctors, nurses and teachers are required to report parents who aid their child in receiving such care to the Texas Department of Family and Protective Services.

Being there for transgender children and youth has never been more important. Our year at CHEO happens to close on March 31, the same day as International Transgender Day of Visibility. As more than a dozen U.S. states are considering legislation like Texas, and transgender people in Ottawa are subjected to increasing bigotry and hate. CHEO will always support children, youth and families to understand their sexual and gender identity and lead their best life.

More information:

Support for staff and family during the occupation of downtown Ottawa

If we've learned anything during the COVID-19 pandemic, it's that there is always a new challenge just around the corner. When protesters and big trucks occupied downtown Ottawa for four weeks, CHEO pivoted to ensure first, everyone's safety and, second, access to care for children and youth.

To support staff and medical staff, CHEO provided alternate accommodations for those having difficulty getting to and from work.

To support families whose children could not attend school because roads were closed, we worked closely with our home and school care partners and the Ottawa Police Service to make alternative transport arrangements for these kids. Daily, CHEO Staff checked in with schools to reschedule appointments for those kids who missed school-based therapy appointments.

Our ability to adapt overnight, tuned by almost two years of this worldwide pandemic, was on display once again... making sure kids and families could depend on CHEO, no matter the circumstances.

CHEO Youth Forum Bursary

In 2021, CHEO awarded its first Youth Forum Education Bursary! As a part of the Youth Forum's 20th anniversary, annually, we will grant a $500 financial bursary to two CHEO youth enrolling in their first year at an accredited college or university.

CHEO's Youth Forum is our advisory council, with members between the ages of 12 and 18. Council members meet monthly after school for an hour and a half, where they apply their creativity to take on projects with the goal of making the hospital more teen-friendly. CHEO's food services chef, Chef Simon, also prepares meals for youth members and they receive bus tickets to get to the hospital, high school volunteer hour credits and a reference.

The Youth Forum provides input and advice from a youth perspective on hospital programs, services, policies and planning. The goal is to promote a youth-friendly environment across the organization, educate staff and physicians to ensure the best experience for youth at CHEO, work with the Family Advisory Council to maintain a strong patient and family voice at CHEO, provide an opportunity for youth to participate in special projects and events, provide opportunities for youth to develop teamwork and leadership skills, and most importantly, to learn and have fun!

More information:
CHEO just keeps on being CHEO
CHEO's Top Honours
CHEO is dedicated to being an inspiring workplace, providing staff, medical staff and learners with the support they need to be their best at work and home. It is always an honour to win awards because it is public confirmation of what we already know — CHEO not only talks the talk but walks the walk.
Over the past year, CHEO has continued to be recognized as a world-class health-care organization: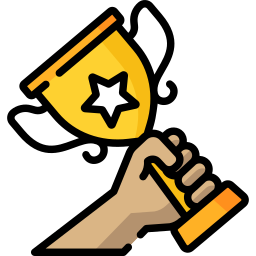 Mollypenny Returned
After a year away due to the pandemic, CHEO's favourite therapeutic clown brought smiles to kids and families once again. Mollypenny returned just in time to celebrate her 20th anniversary a volunteer, bringing jokes, magic tricks and her vibrant blue hair back on site to CHEO's in-patient units in September 2021.
A special look at what Mollypenny means to CHEO can be seen here: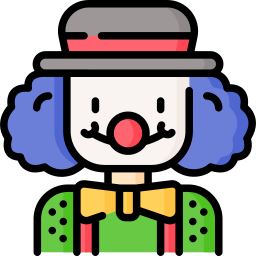 Volunteers bring so much to kids
COVID-19 safety precautions changed so much these past two years. At times, for stretches lasting months, we were without CHEO volunteers and all the joy they bring to patients. Inspired to do more, Volunteer Services launched the Heart Care in 2021.
Heart Cart volunteers shop for whatever will deliver fun for kids — activities, crafts, books and whatever these creative volunteers can think of (or the kids tell them about). On weekdays and during peak hours, once everything is prepared and loaded on the carts, volunteers deliver to clinical waiting rooms.
It's fun on four wheels! Volunteers roam the hospital, helping families find their way around and delivering fun to kids onsite for a clinic visit — all while staying physically distanced to ensure safety. Kids can have fun on the spot or take whatever is on the cart that day home with them for later.
All of this made possible thanks to the generosity of CHEO Foundation donors, who never cease to amaze. Last year, the Foundation's annual CHEO Telethon raised a record $10.9 million to support life-saving treatment, state-of-the-art medical equipment and ground-breaking research. Sincere thanks to our donors and volunteers!
Over the years, CHEO has had thousands of volunteers invest their time, creativity and talents to bring joy to kids and families. CHEO would not be CHEO, and could not do what we do, without them.
More information: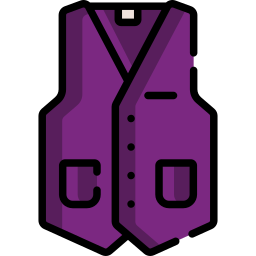 500,000 children and youth served
67,697 Emergency Department visits
112,595 ambulatory
care visits
Financial Operating Statement
Revenue: $373,284
| Percentage | Funding source |
| --- | --- |
| 53% | MOH/OH Funding |
| 22% | Other Funded Programs |
| 12% | Patient Services |
| 11% | Other Revenue |
| 2% | Amortization |
Expenditures: $369,782
| Percentage | Funding source |
| --- | --- |
| 52% | Salaries & benefits |
| 22% | Other Funded Programs |
| 15% | Supplies & Other |
| 5% | Medical & Surgical Supplies |
| 3% | Amortization |
| 3% | Drugs & Medical Gasses |