CHEO currently has more than 10 locations across the greater Ottawa area providing a wide range of programs and services including acute care, Mental Health, Neurodevelopmental Health, Development and Rehabilitation and more. As part of our mission to right-size pediatric care, we are growing our spaces and relocating more of our programs and services to the main CHEO campus. Tune in here for the latest updates on the construction of our CHEO Integrated Treatment Centre (also known as 1Door4Care), expansions within our main CHEO campus, our external campuses and more.
Integrated Treatment Centre (1Door4Care)
A once in a generation investment to improve health services for children and youth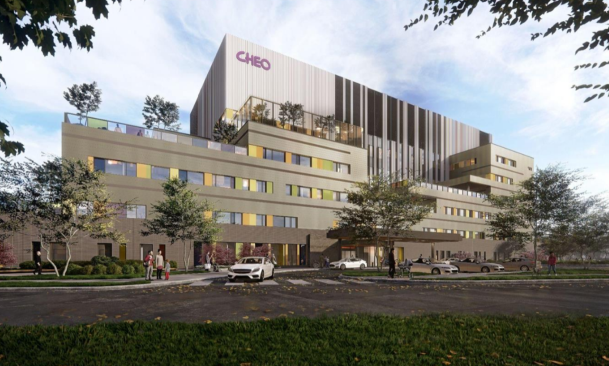 Building an integrated treatment centre on CHEO's campus will improve care and increase access to services for kids and youth living with complex medical, developmental, behavioural or mental health needs.
The 1Door4Care dream began 15 years ago as we recognized the challenges faced by families with children and youth with complex medical conditions. CHEO wanted to create a facility that not only provides everything families need in a centralized location, but also connects these programs and services together, so that families receive integrated, seamless care.
What you can expect
Inspired by Indigenous Peoples' connection to the land, the new building will incorporate elements of nature such as native plants in the landscaping and biophilic design representing flora and fauna from the Algonquin lands.
Connected by a link to the main hospital building, some of the highlights of this 220,000 square foot building will include:
multi-use clinic space,
a physiotherapy rehab gym,
expanded mental health clinics,
indoor and outdoor multi-use space,
a space for children and youth with complex emotional needs,
state-of-the-art treatment rooms,
advanced technology to enable virtual care,
family support and community spaces,
new parking structure.
Expected to be completed in 2028, the new building will serve more than 40,000 families yearly and provide an improved approach to care through a new model being co-created by clinicians and patients.
Photo Gallery: Here We Grow will appear here on the public site.
CHEO is working together with Infrastructure Ontario to deliver this multi-year project, with funding provided by the Ministry of Children, Community and Social Services (MCCSS), and donors through the CHEO Foundation. The project is being designed and built by EllisDon Infrastructure OCH Inc.
A new model of care
With the new facility, a new model of care will be co-designed to help families achieve the outcomes that matter most to them.
We're committed to putting people first and working with family representatives and community partners to build a facility and develop a model of care that best serve their needs. Here are a few examples of how we are achieving this:
Indigenous community survey: With the help of NVision, we are consulting with Indigenous communities to ensure that the facility and its services are a welcoming space for all First Nations, Inuit and Métis families. Here is the link to the survey.
Family advisory committee: The Family Advisory Committee (FAC) consists of a group of individuals and community partners that provide guidance, recommendations and feedback to CHEO. Learn more about the FAC.
News and updates

New CHEO building will reduce wait times and improve patient care journey

Nov. 7, 2023, Ottawa ON – Today marked an exciting milestone for families and caregivers served by CHEO as the organization unveiled the renderings of the CHEO Integrated Treatment Centre, also known as 1Door4Care.