For best results make sure background graphics are enabled.
Burn wounds are some of the most common reasons children and youth visit our Emergency Department. Preventing burn injuries in children and youth is important because burn wounds are painful and can leave scars. Some burns may need surgery (like skin grafts) and your child may need to wear special garments for a long time.
What to do if your child gets burned
First aid
As quickly as possible, remove clothing and place the injured body part under room temperature tap water for 20 minutes. If you do not have tap water, wet towels can be used.
Never apply ice, oils, butter, toothpaste, or other substances to the burn wounds as it may make the burn deeper.
When to come to the Emergency Department
You should seek emergency care for your child or youth if the burn:
develops blisters
is larger than the size of a Loonie
Taking care of burns after your Emergency visit
If your child received emergency care for their burn, they will need care to manage pain and discomfort and to make sure the burn heals properly.

Helping with pain
Most pain from burn wounds can be managed at home with ibuprofen and acetaminophen. Below you will find the doses for your child's weight.
Medicines for fever and pain come in different concentrations (the number of mg of medicine in each mL, tablet or suppository). Check the concentration on the bottle, and read the package directions carefully. If you're unsure, contact your pharmacist or primary care provider so they can help you.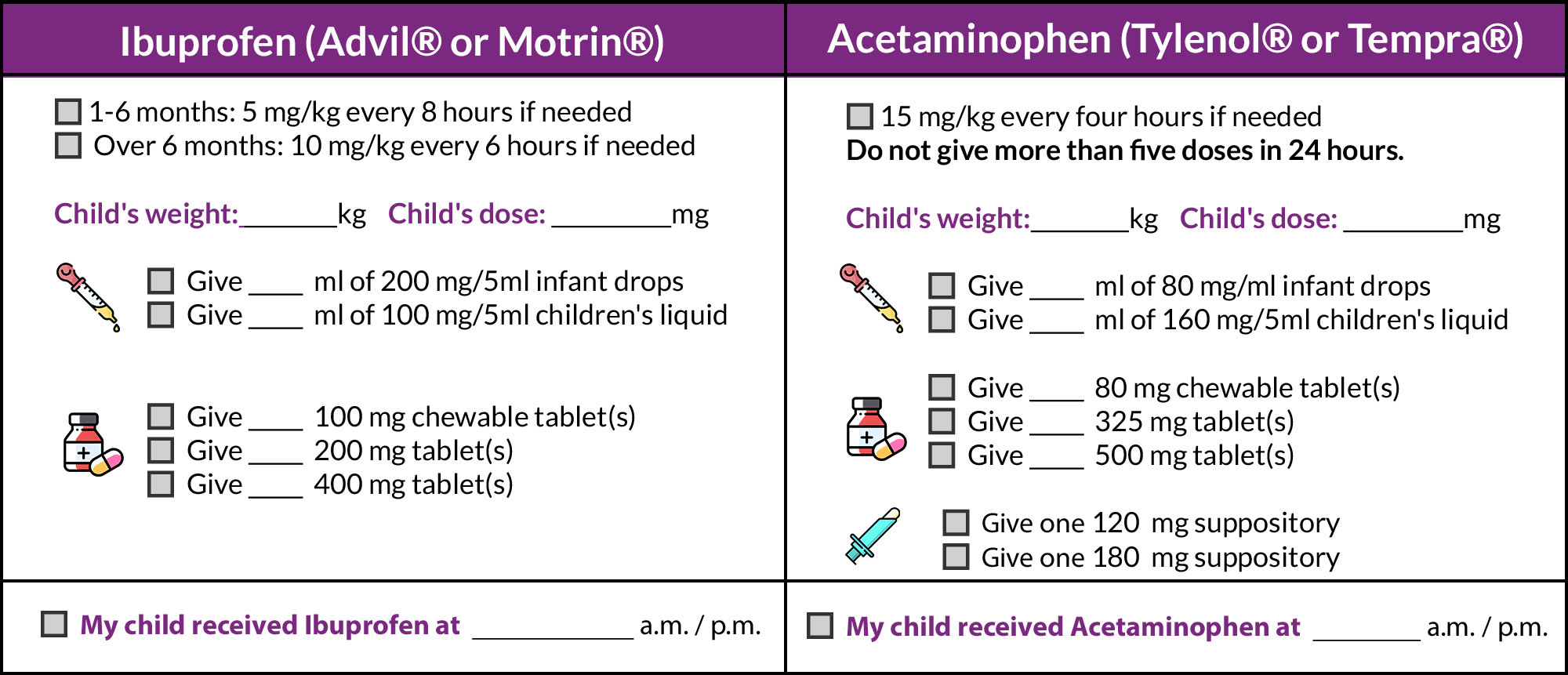 Bandages

There are two types of bandages we apply on burn wounds: hydrofiber impregnated with silver bandages and gauze bandages.
Hydrofiber impregnated with silver bandages
Leave this in place until you see the plastic surgeon in clinic during your follow up.
Avoid washing the area and always keep this dressing dry.
Gauze bandages
These require changing every two days.
After removing the old dressing, clean the area with a wet cloth and then apply Polysporin or Vaseline under the new dressing.
Burns on the face should have Polysporin applied daily for five days, and then Vaseline twice daily after that. Clean the area with a wet cloth between the ointment applications.
Diet and exercise
A healthy diet is important for proper burn wound healing. This includes getting enough water and eating foods that are high in protein. High protein food options include meat, fish, eggs, yogurt, hummus, tofu and cheese.
Your child can participate normally in all activities as long as they're not experiencing significant pain.
Washing
It is very important to keep your child's skin clean. Bathe your child, including the healing skin, in warm soapy water once per day. Be sure to pat the injured area dry but do not rub it. Apply Vaseline or Polysporin to the burn areas that are healed as indicated by your doctor. Remember to avoid washing the burn area if silver impregnated bandages are covering the wounds — please keep it dry until you see the plastic surgeon.
Caring for scars
The longer a burn wound takes to heal, the more likely it will be that there will be a scar. You cannot prevent scars from forming but you can improve the scar's appearance by regular massage with an unscented skin cream. You do this by applying moisturizer to the burned area three times per day after it has healed and massaging it gently into the scar for a few minutes each time.
Itching
Some children experience itch around the new skin after a burn. Regular warm baths and moisturizer help with this. Cooler temperatures can also soothe itchy skin. Sometimes ice wrapped in a towel and applied to itchy skin can feel soothing. Keep your child's nails short to prevent scratching which can introduce infection. Try to pat the area that is itchy rather than scratching it.
Sunlight
New skin will burn easily, even 18-24 months after a burn, so keep your child out of direct sunlight and apply a sunblock with sun protection factor (SPF) of 30 or higher. Reapply after swimming. If the new skin is exposed to sunlight, it will darken unevenly, and this will be permanent.
When to come back to the Emergency Department
You need to come back to the ED if your child or youth:
has pain that is not controlled with Tylenol and Advil as suggested
has spreading redness outside of the edges of the burn
has any green discharge or a bad smell coming from the bandages
has a fever
is not drinking enough fluids
looks unwell
Follow up
Some children require follow up with the plastic surgery team for their burn wound. If this is the case, you will be contacted by the plastic surgery department in the next few days. Plastic Surgery Clinic: C6, main floor, 613-737-2326.
Please give your child Tylenol or Advil 30 minutes before you arrive.
Please bring an iPad or other device to distract your child during the assessment.
Tips to prevent burns
Watch your child at all times, especially in the bath. Many severe tap water scalds happen when young children are being supervised by an older brother or sister.
Fill the tub and check the temperature before putting your child in the tub. Put your forearm in the water to make sure it's not too hot.
Keep appliance cords from hanging down where children can pull them (this will stop children from pulling kettles full of hot water onto themselves).
Keep lighters and matches where children can't see or reach them.
Use a travel mug with a lid when you're drinking coffee or tea near babies and young children • Place barriers around the glass doors of gas fireplaces. These doors can reach 245°C in six minutes, and can take 45 minutes to cool down.
Keep children away from the stove when you're cooking and cook using back burners. Make sure to keep pot handles away from the edge of the stove.

More resources
See a list of CHEO-recommended resources about burns.
Have you registered for MyChart?
MyChart is a FREE secure, online patient portal that connects patients to parts of their CHEO electronic health record, anywhere, at any time. To apply for MyChart access, visit cheo.on.ca/mychart and fill out the MyChart access request form. Once your application has been approved, we'll send you an email with an activation code and instructions on how to log in and get started.