For best results make sure background graphics are enabled.
What is ENFit?
An ENFit is a global patient-safety initiative which makes mealtime and medication administration as safe as possible by reducing the risk of misconnection and leakage. The ENFit feeding tube connectors are purposely designed to be incompatible with the connectors for other delivery systems such as trach tubes, IV lines and catheters.
Why is CHEO transitioning to ENFit?
Enhances child and youth safety
Reduces likelihood of misconnections and disconnections
Features a unique design that does not allow connectivity with other delivery systems
Provides a locking feature that signals appropriate connection and stays in place
Helps prevent formula leaks from tubing during feeding
Did you know? The transition to ENFit in pediatrics has been prepared in collaboration with pediatric institutions throughout Ontario. CHEO is the first children's hospital in the province to convert to ENFit!
What's the difference?
ENFit uses a twist-in connection rather than the friction-held legacy connectors
The design comes with enhanced cleaning practices to prevent build-up or residue from feeds and liquid medications
ENFit system also comes with specific medication accessories that ensure dose accuracy for medications
Why was ENFit created?
ENFit was created to reduce the risk of misconnections. Over the years, misconnections have caused serious harm, and in some cases death, to people of all ages.
The current legacy connectors have a risk of disconnection from medication and feeding ports. Disconnections can lead to children missing hours of feeds.
ENFit Gastrostomy Tubes
CHEO's surgical team is exploring new G-Tubes and G-Tube insertion techniques. The Kidcare Pharmacy will carry ENFit low profile devices (Mic-Key and AMT Mini)
G-Tube primary series will remain as a cook/pigtail catheter, and will require a transition connecter for use
NEOMED PVC Feeding Tubes

The NEOMED PVC ENFit feeding tube features an open hub design that:
Eliminates a floor where breast milk and formula can accumulate which can foster bacterial growth
Facilitates effective cleaning
The closure plug wave pattern:
Allows air flow through the hub, which helps reduce bacterial formation
Minimizes debris from entering the feeding tube opening
How much do supplies cost?
ENFit supplies are comparable in cost to legacy connecters and can be purchased through most vendors and distributers.
ENFit cleaning: inspect before you connect
While the ENFit design maintains a secure connection, it does create a space, called a moat, where feeds and medications can get trapped.
Enhanced cleaning practices are required to prevent residue from building up in the moat.
To prevent clogging, it is important to keep the moat clean. The moat should be cleaned every 24 hours or whenever material is visible.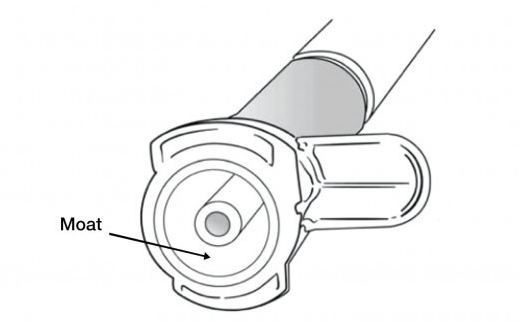 Cleaning tips
When priming the extension set and the pump set/bag, stop priming before fluid reaches the end of the tubing
After drawing up liquid medications with an ENFit syringe, clear the moat by gently flicking the syringe or wiping the tip of syringe with a clean cloth to remove any excess medication
Avoid overtightening the ENFit connections