The health and wellbeing of adolescents requires dedicated expertise. Our experts have come together to provide an adolescent health clinic. We treat youth for a variety of health concerns, including:
adjustment issues related to poor school functioning, chronic illness and or/family stressors and conflict
gender diversity
sexuality (e.g. contraception, teen pregnancy options, counselling, sexual orientation, post-sexual assault follow-up)
transient situational disturbances
Our adolescent health clinic does not treat:
anxiety, depression and suicide
eating disorders
mood disorders
psychotic illness
obesity
For children and youth with these concerns, please visit the mental health section of our website.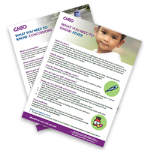 Need more information?

Visit our online resource section to learn about a variety of health topics for children and youth and access CHEO recommended websites, books, apps, videos and more!

Resources and support
How to make an appointment
We accept referrals from:
health-care providers
schools
community partners
Please indicate on the referral form if an interpreter is required and for which language (if language is other than English or French).
Mail or fax the referral form to:
Adolescent Health Clinic (C-5)
CHEO
401 Smyth Road
Ottawa ON K1H 8L1
Fax: 613-738-4258
What happens next
Once the referral has been received, reviewed and triaged, an appointment will be booked. The patient will be notified directly with their appointment time.
Make sure to let CHEO know if the status of the patient changes.
About your appointment
The Adolescent Health Clinic is located in C-5. You will need to bring the following items to your appointment:
health card
any medications