About the clinic
CHEO's Audiology clinic supports youth with suspected or confirmed hearing loss. Our program provides a full range of hearing tests and auditory rehabilitative services. We offer assessments for all children ages 0-6 and children with special needs ages 0-17. The Audiology clinic is located in clinic B on the first floor of CHEO's main campus.
Our clinic is a designated diagnostic and rehabilitation center for the Infant Hearing Program.
Our services include:
diagnostic services
amplification program (hearing aids and bone conduction aids)
cochlear implant (referral form)
auditory verbal therapy
Our clinic does not dispense or sell hearing aids.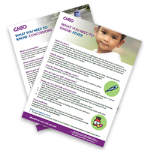 Need more information?

Visit our online resource section to learn about a variety of health topics for children and youth and access CHEO recommended websites, books, apps, videos and more!

Resources and support
How to make an appointment
A referral from a physician is required. Patients may also be referred directly by their Speech-Language Pathologist with the First Words Program or the Infant Hearing Screening Program.
Audiology clinic referral form
Mail or fax the referral form to:
Audiology Clinic (Clinic C-B) CHEO
401 Smyth Road
Ottawa ON K1H 8L1
Phone: 613-737-7600 extension 2197
Fax: 613-738-4222