The CHEO Speech and Language Pathology team evaluates and treats children and youth with communication disorders. We support children and youth who have difficulties with:
language
articulation
voice
resonance
fluency
or who have developmental, intellectual and physical disabilities.
Programs offered
We offer the following speech therapy programs and services.
Please be advised that each service has an eligibility criterion that is required to be met prior to acceptance to the program.
First Words
CHEO is a community partner in the First Words Preschool Speech and Language Program. First Words is Ottawa's Preschool Speech and Language Program for children from birth to eligibility for senior kindergarten. This program, led by the Pinecrest-Queensway Community Health Centre (PQCHC), helps typically developing preschool children reach their full communication potential. First Words focuses on the prevention, early identification and treatment of speech and language problems.
If you're concerned about your child's communication, please complete the First Words Communication Checkup at www.firstwords.ca. Referrals to First Words may also be made directly to the CHEO Access Team (phone: 613-737-2757), (fax: 613-738-4841). If the completed Communication Checkup suggests neuro-developmental concerns your child will be referred to the Access Team for CHEO Children's Treatment Centre services.
Children's Treatment Centre (CTC)
A team of Speech-Language Pathologists and Communicative Disorders Assistants at CHEO's Children's Treatment Centre (CTC) provides services to children who have communication difficulties related to suspected or diagnosed developmental or physical concerns. We may provide an assessment for your child along with recommendations and/or an intervention pathway. Recommendations or intervention pathways may include some of the following services depending on child's profile/need:
Parent coaching and training (example: within group, video, or in person)
Consultation around your child's difficulties and suggestions
Group based intervention
On occasion CTC SLP services will provide 1:1 support with the child and parent (if determined required by SLP).
All recommendations and intervention pathways are determined following SLP assessment.
Eligibility
CTC offers speech and language services to children who reside in Ottawa, Stormont, Dundas and Glengarry and Renfrew County.
Referrals for children in Junior Kindergarten will be accepted if referred before December 1 (of their Junior Kindergarten year). Referrals received after this date will not be accepted. Most children referred during their Junior Kindergarten year will receive a speech and language assessment before the transition to school-based services. For children who are eligible for school but not attending, referrals must be submitted prior to December 1 of the year they turn 5 to be accepted.
For children who have aged out of speech Services at CHEO-CTC: please inquire with your school regarding your child's eligibility for a referral to School Based Rehab Services Speech (SBRS) and/or Speech and Language services offered through the school board.
If you are concerned about your child's communication and their overall development: please make a referral to CHEO Access Team. Your doctor or pediatrician can also refer your child by contacting the CHEO Access Team.
If your primary concern is your child's speech and language development: we suggest you initiate the referral by completing the First Words communication checkup.
For children outside our catchment area:
For children who reside in Lanark-Leeds Grenville please refer to: Language Express
For children who resides in Prescott-Russel please refer to: Words in Bloom
Privacy and confidentiality
CHEO is committed to keeping your information safe and confidential, and follows legislative rules about collecting, using and disclosing your information. Visit our Privacy and confidentiality page for more information.
Speech therapy resources
To find suggested resources, visit CHEO's Speech and language resource page.
Cleft Lip and Palate
Our speech-language pathologists work within our CHEO cleft lip/palate-craniofacial team. They provide speech and language services to children with cleft of the lip and/or palate, submucous cleft palate and idiopathic resonance abnormalities. They provide ongoing evaluation of resonance and speech development.
For children of preschool age living in the Ottawa region, speech and language therapy can be provided by the preschool speech and language program "First Words".
For children of preschool age living in Ontario (outside of the Ottawa region), speech and language therapy can be provided by their local preschool speech and language program.
For children living in Quebec, speech and language services can be provided by "Centre Intégré De Santé Et Des Services Sociaux De L'outaouais (CISSSO).
For school-aged children, services are provided by the school-based rehabilitation services (SBRS) and/or the school board.
For information in regards to the cleft lip/palate program, please contact to the cleft lip/palate-craniofacial nurse coordinator who can be reached at 613-737-2385.
Referral to Cleft lip and/or palate can be faxed to 613-738-4245.
Referral to resonance (hypernasality) can be faxed to 613-738-4244.
Voice
Speech-Language Pathologists (SLP) work within the Voice Clinic at CHEO in collaboration with the Ear Nose and Throat (ENT) department. Our voice clinic helps assess voice disorders for school aged children (5 years+). We provide assessment, patient/family education and make referrals for voice therapy in the community.
A child must have been examined by an ENT specialist to be eligible to receive voice therapy. If eligible, the Voice Clinic SLP will arrange appropriate referrals for therapy.
Referrals for the Voice clinic for school aged children should be sent to CHEO's ENT clinic. You can fax your referral to 613-738-4222.
Tracheostomy
Our speech-language pathologists support CHEO's Complex Airway Clinic. This clinic provides multidisciplinary services to inpatients and outpatients with a tracheostomy.
Services include:
Pre-tracheostomy education and counseling to families
Speaking valve trial when appropriate
Communication assessment and therapy
Feeding assessment and intervention
We can also provide support and consultation to clinicians working with outpatients who have a tracheostomy.
Referrals are made by a physician or pediatrician to the Ear Nose and Throat clinic. Please fax your referral to 613-738-4222.
Saliva Management clinic
Our speech-language pathologists support the saliva management clinic. This clinic provides assessment and consultation to children and youth in our region who have excessive drooling.
Have your physician send a referral to CHEO's ear, nose and throat services by fax to 613-738-4222.
Rehabilitation and other inpatient services
This program is available to residents of Eastern and Northern Ontario and Western Québec from birth to 18 years of age. Our speech-language pathologists are members of an inter-professional rehabilitation team that includes:
Physiatrist
Physiotherapy
Social Work
Occupational therapy
Psychology
Education
Nursing
Neuropsychology
Neurology
Communication Disorders Assistant
Child Life specialists
We provide assessments in these areas:
cognitive communication
motor speech
language
voice
oral-motor problems related to feeding and swallowing.
We also work with referred inpatients who have or are at risk for communication difficulties. Referrals for speech/language services for inpatients are made by the attending physician to the inpatient speech team.
Quebec program
We offer speech and language services to preschool aged children from Western Quebec who do not have a diagnosis of Autism Spectrum Disorder, Global Developmental Delay, or a cognitive impairment. Services include assessment, intervention and consultation.
To access these services, please have your physician or pediatrician send a referral to our Access Team.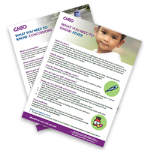 Need more information?

Visit our online resource section to learn about a variety of health topics for children and youth and access CHEO recommended websites, books, apps, videos and more!

Resources and support