The Children's Treatment Centre (CTC) offers many services for children with a variety of challenges including:
developmental disabilities
physical disabilities
severe hearing and speaking difficulties
complex or multiple special needs
Learn about the services and programs we offer:
Adaptive Technical Services
Our Adaptive Technical Services team promotes and facilitates the use and customization of adaptive technology and toys. Our goal is to enhance learning and play for children and youth with special needs. We offer consultations and toy and tech adaptions.
We operate the Adaptive Toys & Tech Resource Centre at both our Smyth Road and Kanata locations. We also offer appointments at other sites.
Clients can access our resource centre and borrow the following items:
Toys geared towards children with complex and special needs
Educational software
Some reference books and DVD's
Communication devices
Specialized computer items (adapted keyboards, mice, etc.)
These resources can be used to help children practice the communication, literacy and motor skills being worked on at home, in school or therapy.

Registration is required to access these resources. Please fill out and return to toysandtech@cheo.on.ca for processing.
Behavioural Services
The behaviour services team provides treatment to children, teens and adults with developmental disabilities who engage in challenging problem behaviour. The service is based on the principles of Applied Behaviour Analysis (ABA) and has two phases:
assessment period
intervention period
We offer group and individual behavior services. We have consultants that work with families, caregivers and staff and train them to be agents of change for the client.
Blind and Low Vision (BLV) Program of Eastern Ontario
Beginning July 16, 2020, the provision of the Blind Low Vision Program (BLV) of Eastern Ontario will transition, in its entirety, from CHEO to the Pinecrest-Queensway Community Health Centre in an effort to streamline current services within one single agency.
Starting May 1st, 2020, all referrals to the Blind Low Vision Program are to be faxed to the Pinecrest-Queensway Community Health Centre. Referrals should be addressed to the attention of Sonia Arruda, Family Support Worker, at 613-820-7427.
Should you have any questions relating to the BLV program and these recent changes, please contact Marika Holmes, Manager of the Blind Low Vision program, at 613-820-4922 ext. 3427 or by email at m.holmes@pqchc.com
To learn more about developmental milestones of vision, please visit The Ministry of Children, Community and Social Services' blind low vision webpage.
CHEO Preschool
The CHEO Preschool is a half-day licensed program for children with physical disabilities and accompanying developmental difficulties who require a specialized environment.
We offer therapeutically based preschool program with resources and support to the child and family.
Our team is made up of:
early childhood educators
physiotherapists
occupational therapists
speech-language pathologists
Our preschool offers service in English and French and accepts children 2 - 5 years old who receive services from the Children's Treatment Centre and live in Ottawa.
There are two CHEO Preschool sites of service:
Smyth Road/central Ottawa (English/Francophone)
Kanata/western Ottawa (English)
Clinic for Augmentative Communication (CAC)
Augmentative and Alternative Communication (AAC) refers to communication methods that supplement or replace speech or writing. These can include non-verbal communication techniques such as facial expressions, eye gaze and gestures, as well as systems and devices such as:
communication displays with pictures/symbols/words
electronic devices with voice output
adapted computer systems
CHEO's CAC may provide communication services to children and youth (0-18 years of age):
with limited speech or whose speech is hard to understand to meet daily needs at home and/or
who have difficulty producing written work at home
The CAC is designated as an expanded level clinic by the Assistive Devices Program (ADP) and therefore is able to prescribe a range of AAC devices and obtain funding for lease or purchase, as appropriate.
Coordinated Service Planning
Coordinated Service Planning supports children and youth with multiple or complex special needs. We also support families through a service planning coordinator who can quickly connect families to the services they need. The coordinator will help monitor your child's needs and their progress through a coordinated service plan.
Diagnostic Services - Psychology and Developmental Pediatricians
Our developmental pediatricians and psychologists provide assessment and diagnosis services for children and youth with physical and developmental concerns. These services are provided to families throughout our coverage area.
Diagnostic Services - ASD Diagnostic Hub
Partnership with community pediatricians for diagnostic assessment for Autism Spectrum Disorder, for children aged 5 and under.
Enhanced Parenting
The Enhanced Parenting program (previously called Caution Parent Learning Program) is an individualized in-home basic parent education program. This program serves families within Ottawa.
Parents accessing this program must report learning difficulties and/or a developmental delay, and have a child in the home under the age of 6. This program consists of weekly to bi-weekly home visits by a behaviour consultant. The Behaviour Consultant instructs, prompts and models skills for the parent in many areas including:
safety
nutrition
hygiene
routine
child development
parent child interaction
child budgeting
FASD Worker Program
The FASD Worker program is one of Ontario's six FASD initiatives, designed to provide clinical support and system navigation to children and youth with confirmed or suspected Fetal Alcohol Spectrum Disorder and their families.FASD Workers provide customized FASD education workshops to professionals and agency staff to improve their ability to support people with FASD.
CHEO has collaborated with Citizen Advocacy Ottawa's Fetal Alcohol Resource Program (FARP) to deliver the FASD Worker Program in the regions of Ottawa, Prescott Russell, and Stormont, Dundas & Glengarry. Service is offered in both official languages.
Infant and Child Development Program (ICDP)
The Infant and Child Development Program is for families with children who are referred to and/or are receiving service from CHEO Children's Treatment Centre (CTC). Consultation with CHEO staff, strategies, resources and information will be available. The Learn and Play group is offered to children from birth to 6 years old.
Please note: If you or your child are showing signs of illness, please refrain from attending the group. CHEO staff reserves the right to refuse entry if a parent or child are exhibiting signs of illness.
Registration is required for certain groups.
All groups will be offered in English and French and facilitated by CHEO and EarlyON Child and Family Centre Learn and play group staff.
Barrhaven
Please note: registration is required for this group, please contact the group facilitator Margaret Saba below.
Time
Mondays between 10:00am - 11:30am.
Location
EarlyON Child and Family Centre, Mothercraft Ottawa
75 Waterbridge Drive, Nepean (Farley Mowat Public School)
More information
Margaret Saba
Phone: 613-831-5111
Email: msaba@cheo.on.ca
EarlyON Child and Family Centre Mothercraft
Phone: 613-728-1839 ext. 228
Please bring a nut-free snack for your child.
Kanata
Time
Tuesdays between 10:00am and 11:30am
Location
EarlyON Child and Family Centre
Kanata / West Carleton
2 MacNeil Court, 1st floor
More information
Denyse Deslauriers
Phone: 613-831-5112
Email: ddeslauriers@cheo.on.ca
EarlyON Child and Family Centre
Phone: 613-591-3686 ext. 490
Please bring a nut-free snack for your child.
Ottawa Centre
Time
Thursdays between 9:30am and 11:00am
Location
EarlyON Child and Family Centre
900 Merivale Rd.
Parking and room entrances are off of Coldrey Ave.
More information
Denyse Deslauriers
Phone: 613-831-511
Email: ddeslauriers@cheo.on.ca
EarlyON Child and Family Centre
Phone: 613-722-4000 ext. 251.
Please bring a nut-free snack for your child.
Ottawa-Vanier
Time
Mondays between 9:00am and 11:00am
Location
Central East EarlyON Child and Family Centre
270 Marier Ave
Parking on the side of the building
More information
Chantal Chatigny
Phone: 613-688-2126 ext. 4021
Email: cchatigny@cheo.on.ca
Central East EarlyON Child and Family Centre
Phone: 613-744-2892 ext. 1432
Please bring a nut-free snack.
Medical clinics
We support and receive support from medical clinics, including:
developmental pediatricians
neurology
physiatrist
orthopedic surgeons
nurses
dieticians
Recreation therapy
Our recreation therapy team provides skills and resources for children and youth to participate in meaningful recreation in their community.
We offer group programs and some individual consultation that allows our clients to try new recreation activities, discover new interests and build life skills.
Respite services
We offer out-of-home respite services for families living within Ottawa. We give emotional support to families caring for a child or youth with significant health challenges.
We offer:
respite for medically fragile or technologically dependent children and youth, and their families
respite programs for children living with autism spectrum disorder
respite programs for youth living with autism spectrum disorder
summer programs
Seating and mobility
Our seating and mobility team works with clients up to age 18 with complex medical, neurological or orthopedic needs. We work closely with the client and their family to provide comfortable, functional seating and mobility equipment that meets their needs.
Our multidisciplinary team is made up of:
occupational therapists
physiotherapists
administrative assistants
program assistants
Social Work
The CTC social work team offers support and counselling to families of our clients, up until the child's 18th birthday. The social work team is made up of social workers and family resource workers. They work towards the social and emotional well-being of children, adolescents and their families. We strive to provide accessible and timely support.
You can contact our on-call social worker or come to the drop-in clinic.
On-call service
We offer over the phone consultation and support with a CTC social worker. Please call 613-737-0871 (press 0). You can reach us Monday to Friday from 9 am to 3 pm A social worker will call you back the same day.
Drop-in service (on hold due to COVID-19)
We offer in-person counselling support with a CTC social worker. This is available every Wednesday 9 am to 3 pm in the Max Keeping Wing of CHEO's main campus at 410 Smyth Road.
Therapy teams
CTC therapy teams provide assessment, treatment, consultation and education to meet your child's needs.
Our team is made up of:
physiotherapists
occupational therapists
speech-language pathologists
They each offer intervention to children attending licensed child care programs throughout Ottawa.
We provide consultation to families and early childhood educators in the community. Our therapists model and demonstrate appropriate activities to help a child develop skills in a natural environment.
Contact us
Our Children's Treatment Centre services are located at our main site on Smyth Road in central Ottawa. Additional programming and services are available at our sites in Kanata, East Ottawa, Renfrew and Cornwall.
Central Ottawa locations
395 Smyth Road
Ottawa, ON K1H 8L2
Tel: 613-737-0871
Fax: 613-523-5167
Toll Free: 1-800-565-4839
Max Keeping Wing at CHEO
401 Smyth Road, Second Floor
Ottawa, ON K1H 8L1
Tel: 613-737-0871
Fax: 613-738-4230
Toll Free: 1-800-565-4839
Western Ottawa location – Kanata
Located in the Western Ottawa Community Resource Centre
2 MacNeil Court
Ottawa, ON K2L 4H7
Tel: 613-831-5098
Fax: 613-831-9098
Toll Free: 1-866-391-2914
Eastern Ottawa location
2211 Thurston Drive
Ottawa, ON K1G 6C9
Tel: 613-688-2126
Fax: 613-688-2142
Toll Free: 1-800-841-8252
Renfrew County location
Located at the back of the Renfrew Victoria Hospital
499 Raglan Street North
Renfrew, ON K7V 1P6
Tel: 613-433-8239
Fax: 613-433-8265
Toll Free: 1-888-790-9166
Eastern Counties location — Cornwall
600 Campbell Street, suite 100
Cornwall, ON K6H 6C9
Tel: 613-932-2327
Fax: 613-932-5688
Toll Free: 1-866-558-2327
Make a referral
To make a referral for CTC services, please contact the CHEO Access Team at:
Phone: 613-737-2757 or 1-800-565-4839
Fax: 613-738-4841
Cancelling your appointment
To provide services to as many children and youth as possible, we ask that you keep all of your appointments. If you need to cancel or reschedule your appointment, please call is as soon as possible.
Please call to reschedule if your child has been having these symptoms in the past 24 hours:
fever
vomiting
diarrhea
cough
congestion
If you aren't sure if you need to reschedule, call us and we can discuss.
If two appointments are missed without notification, or if you cancel three appointments in a three-month period, we may re-examine your services.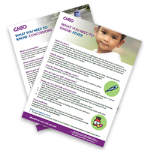 Need more information?

Visit our online resource section to learn about a variety of health topics for children and youth and access CHEO recommended websites, books, apps, videos and more!

Resources and support